Our family will be spending Christmas 2017 in Aruba.  We have a time share at Marriott's Surf Club and have spent Christmas there for 8 of the last 10 years.  A Caribbean Christmas has become a tradition for our family.  Because "eating in" is much more economical than eating meals "out", it is important to plan the menus ahead.  There is a great kitchen in the time share with everything we might need, except maybe a crockpot which would be ideal.  Historically we eat either Christmas Eve or Christmas Day dinner at our favorite restaurant on the island, Madame Jeannettes.  We have planned our meals in a variety of ways over the years and developed our grocery lists accordingly.  Last year my daughter in law and I divided up breakfasts, lunches, and dinners equally–planning, shopping and preparing.  We both went slightly over the top and vowed to do things simpler this year.  She has no time for pre planning, and I don't want to spend overtime in the kitchen.  I have taken on the job (and it is a job) of meal planning and preparing the shopping list.  Because there are no staples it can be an arduous task.  By planning ahead carefully, I can pack some of the spices and non perishables that we will need and take them from home.  I would also like to make meals as THM compliant as possible.  In essence this take organization…real organization.
Our breakfasts will be compromised by several THM favorites which will also feed a family.  The only deviation from healthy eating will be the Creme Brûlée French Toast which is a holiday favorite of the Grand girls and they have already made me promise that it would be included.  Actually if I would make this every single morning, they would be happy.  Christmas morning 2017 will feature their favorite.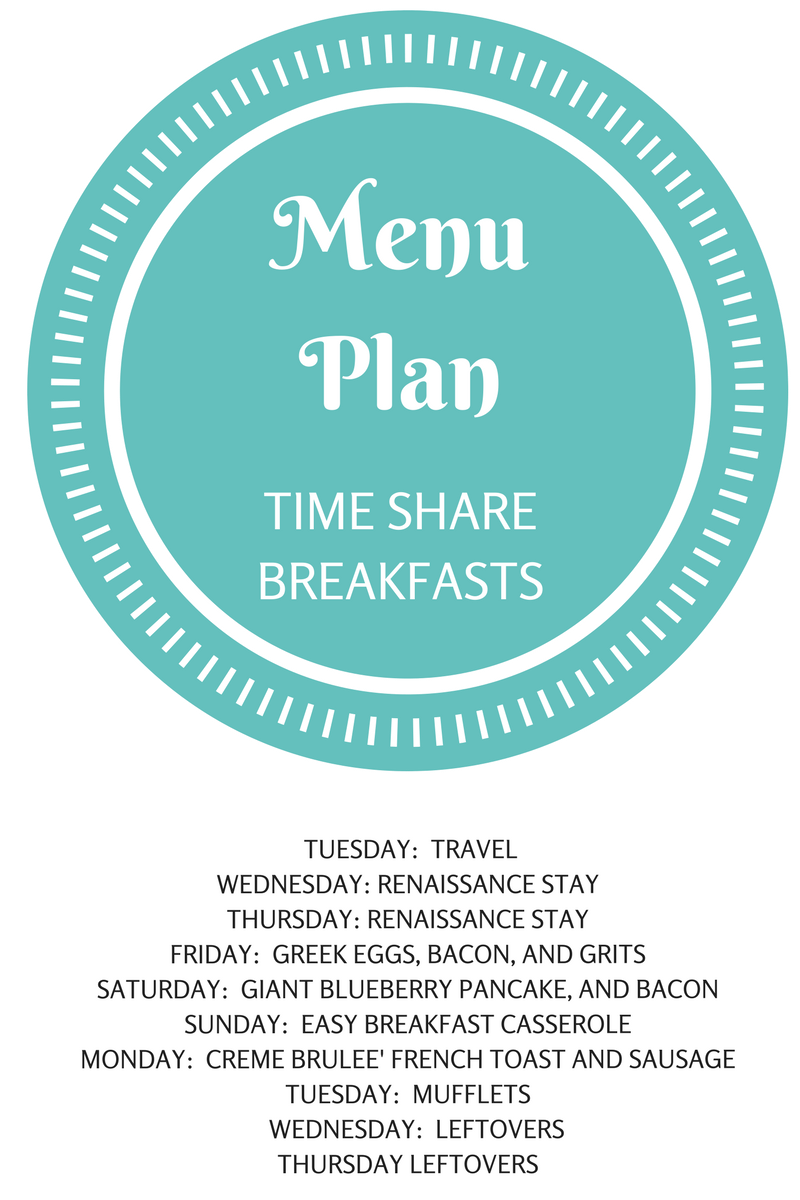 Giant Blueberry Pancake page 261 Trim Healthy Mama Cookbook
Easy Breakfast Casserole page 328 Trim Healthy Table Cookbook
Mufflets page 237 Trim Healthy Mama Cookbook
Timeshare lunches are normally based upon Brats and Burgers left over from our initial grill and subsidized with soups and salads.  The tuna ceviche will be an adult break from the brats.  Because I had difficulty figuring out our Christmas Dinner menu and the grand girls are accustomed to a traditional Sunday Brunch at the Marriott, I elected to treat them to Christmas Day Brunch and make the rest of Christmas Day fuss free with finger foods, appetizers, hors D'oeuvers and lots of decadent sweets.  The Gazpacho has become a lunch tradition because it goes well with left over burgers and brats and it is cool and refreshing break when we have been in the sun.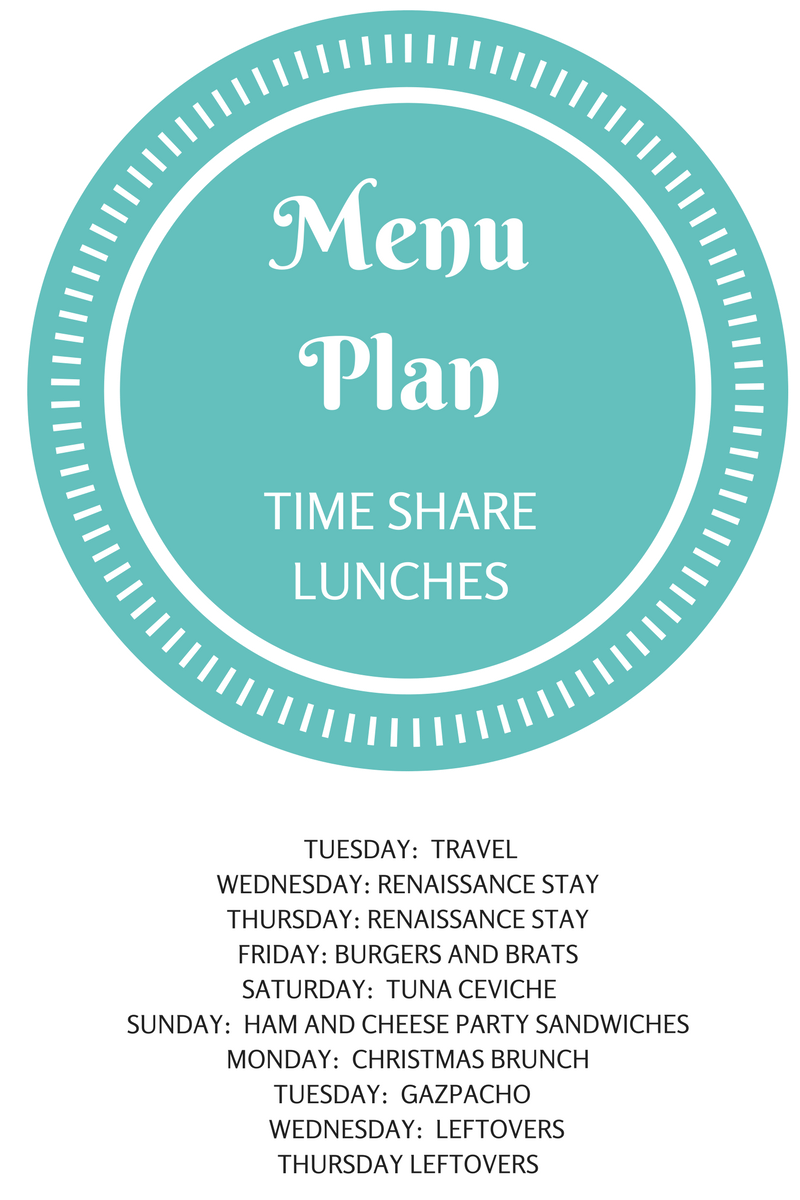 Hawaiian Swiss and Ham Sliders
Our dinner menus will include the traditional grill out of burgers, brats and Italian sausages.  We will use the leftover meats to supplement lunches.  Since I have never felt comfortable purchasing meat other than chicken, all of the rest of our meals with be chicken.  We marinate chicken breasts in a pineapple/soy sauce based marinade recipe that I received from a cousin years ago used by the Marriott restaurant where she worked.  It is amazing and we will marinate enough chicken to enjoy on two separate nights.  I plan to mix up the sides to make the meals seem very different.  Normally we grill vegetables to go with the chicken one night, a mix of whatever fresh vegetable that we can find.  I hope to find sweet potatoes to roast for the second night.  The oven roasted fajitas should be quick and easy and I know something everyone will enjoy, plus I can easily pack tortillas in our luggage.  We always get plenty of fixen's for large salads as well, a Greek salad with the burgers and brats, tossed salad with the chicken and Mexican kale salad with the fajitas.  On Christmas Day the 'Ole Buckeye and I decided to pop for the Christmas Brunch.  The rest of the day will be spent relaxing and nibbling on various appetizers, hors d'oeuvres, and Christmas cookies and candies.  Drinking will accompany all the the dinners, and some lunches and breakfasts as well.  My daughter in law will be in charge of 2 appetizers and I will be making pinwheels and chip dip.  I am also taking a variety of cookies and candy in my trusty carryon bag.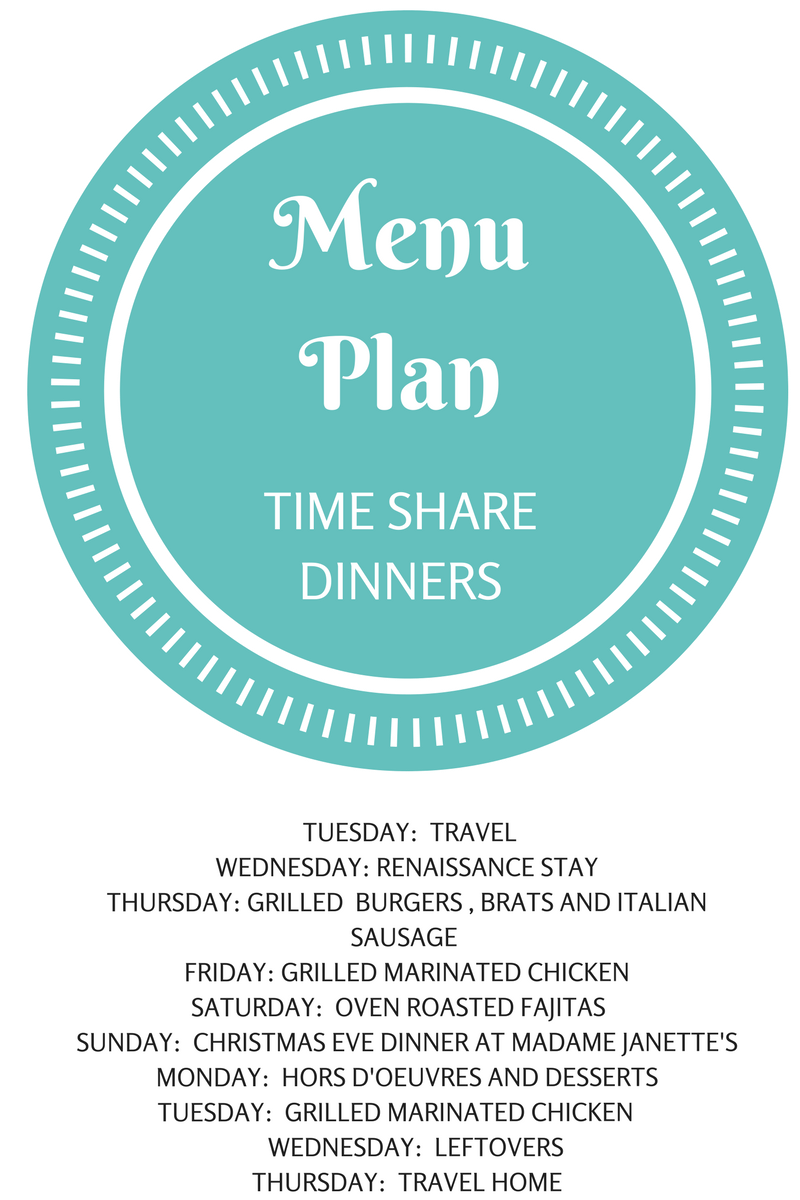 The menu is planned.  The grocery list compiled.  I just hope that all of the ingredients are available when we make our trip to the grocery.  If not there will be some quick and immediate menu adjustments and the whole trip will become more difficult.
You might notice that 2 nights are being spent at the Renaissance.  The 'Ole Buckeye and I decided months ago to add a few days of vacation just for the two of us.  The Renaissance has a private island available for guests and we have always wanted to explore the experience.
We are excited to spend Christmas 2017 in Aruba with family and newly created traditions over these past years.  We look forward to eating well.  I am excited to continue to enjoy our healthy eating with THM and share some of these meals with the family.
Christmas 2017 in Aruba will be yet another wonderful time for family, food and fun. Bon Appetit!
Footnote…
A quick review of one of last week's meals.  I made a birthday dinner of recipes specifically requested by my daughter.  She is newly on the THM plan, and I wanted the meal to be special for her.  We had had the Crock Pot Spinach Lasagna several months ago and she is a fan.  Recipes from Three Forks in the Road.  I made only one revision to the original recipe.  The meat I incorporated into the recipe was 1/2 ground beef and 1/2 spicy hot Italian sausage.  (1 pound of each).  The result…outstanding.   The meal was a huge success and I have included three of the links to the recipes for you.   My daughter was delighted to have leftovers going into Christmas week.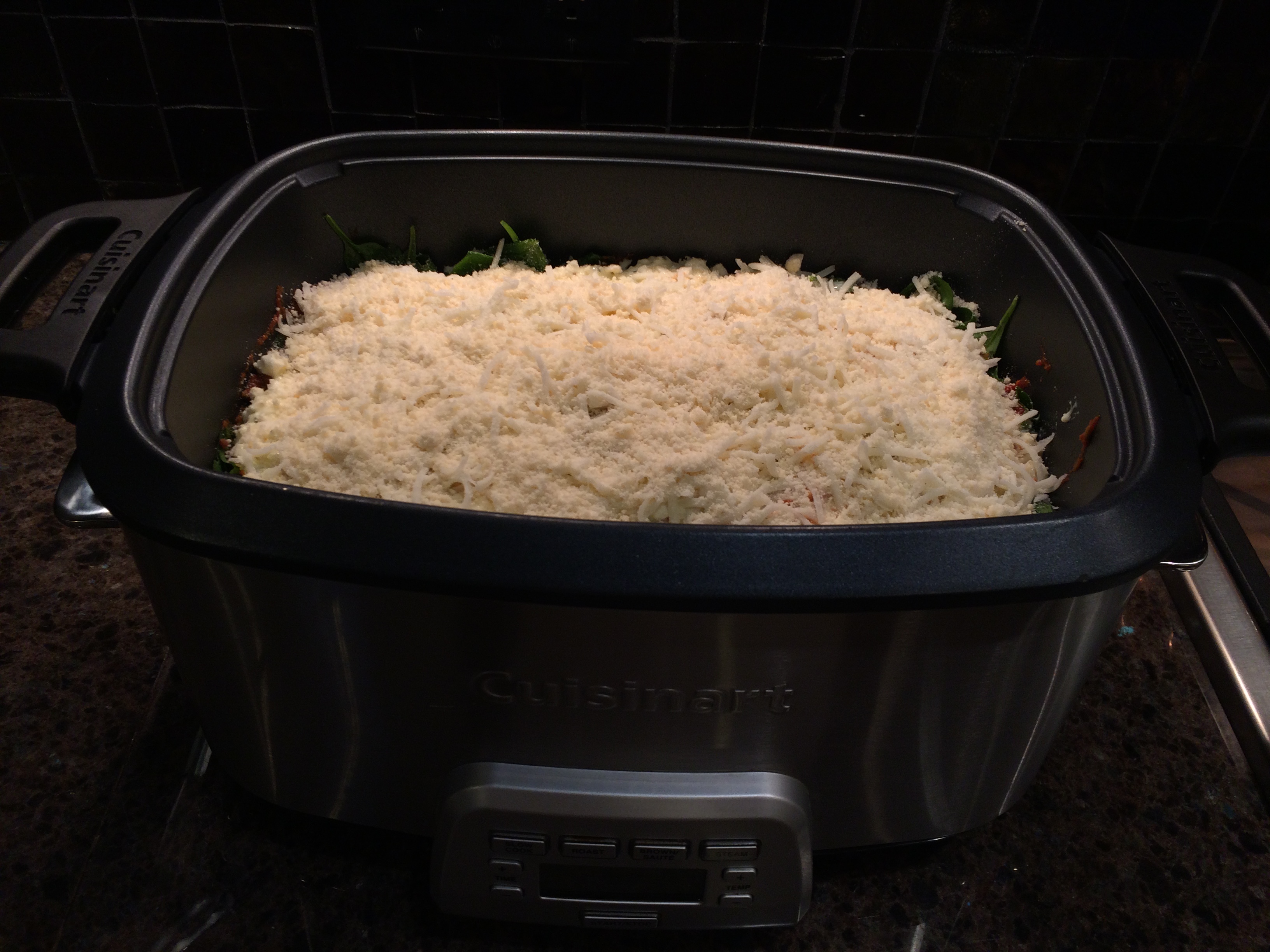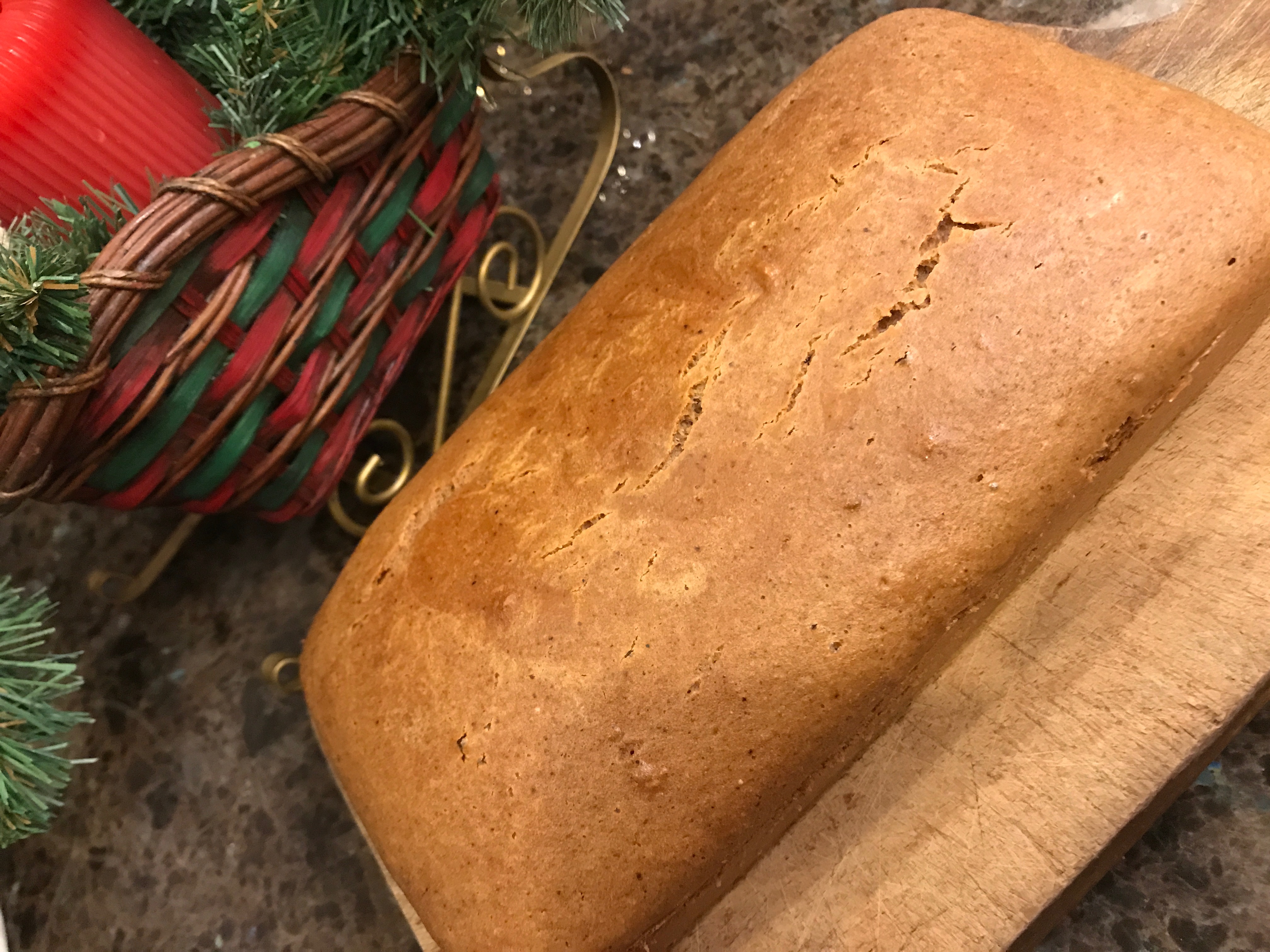 I can't believe I never took a picture of our pie…we have had it twice now and my daughter has planned it for Christmas as well.
Food and Family, it doesn't get better.  Take time, make time and enjoy each other.
Merry Christmas and Happy Holidays!