Menu Plan Week 78 with Trim Healthy Mama
It is interesting planning the menu for week 78.  Beginning Wednesday evening, Valentine's Day, we will be taking care of our 11 year old grand daughter for 5 days.  Our son is away on naval maneuvers.  The 13 year old has been selected to attend an Elite Camp, since she earned a national "top 16" ranking in her age group in soccer.  She will be competing in Phoenix over the holiday weekend and her mom will be traveling with her.   I will need to not only formulate a menu plan, but make it easy to prepare, and exciting to eat for the 11 year old, while remaining on the THM eating plan…no easy feat.
I have done some preliminary meal preparation so that our schedule can be flexible and executing meals should not be an issue.
The breakfasts for week 78 will include her favorites as well as several frozen meals on reserve.  I have frozen a giant pancake as well as an easy breakfast casserole.  The 11 year old is a LOVER of creme brûlée French toast, so that is a menu must.  She also enjoys my Greek eggs.  That being said I have a preliminary breakfast plan.  She also loves Honey Nut Cheerios and I happen to have a box of those on reserve in our pantry.  I am not certain how much time we will spend at her house versus ours, since we are also dog sitting.  Originally this was to be a 4 day holiday weekend for the girls, but due to snow make up days, they return to school on Monday and Tuesday.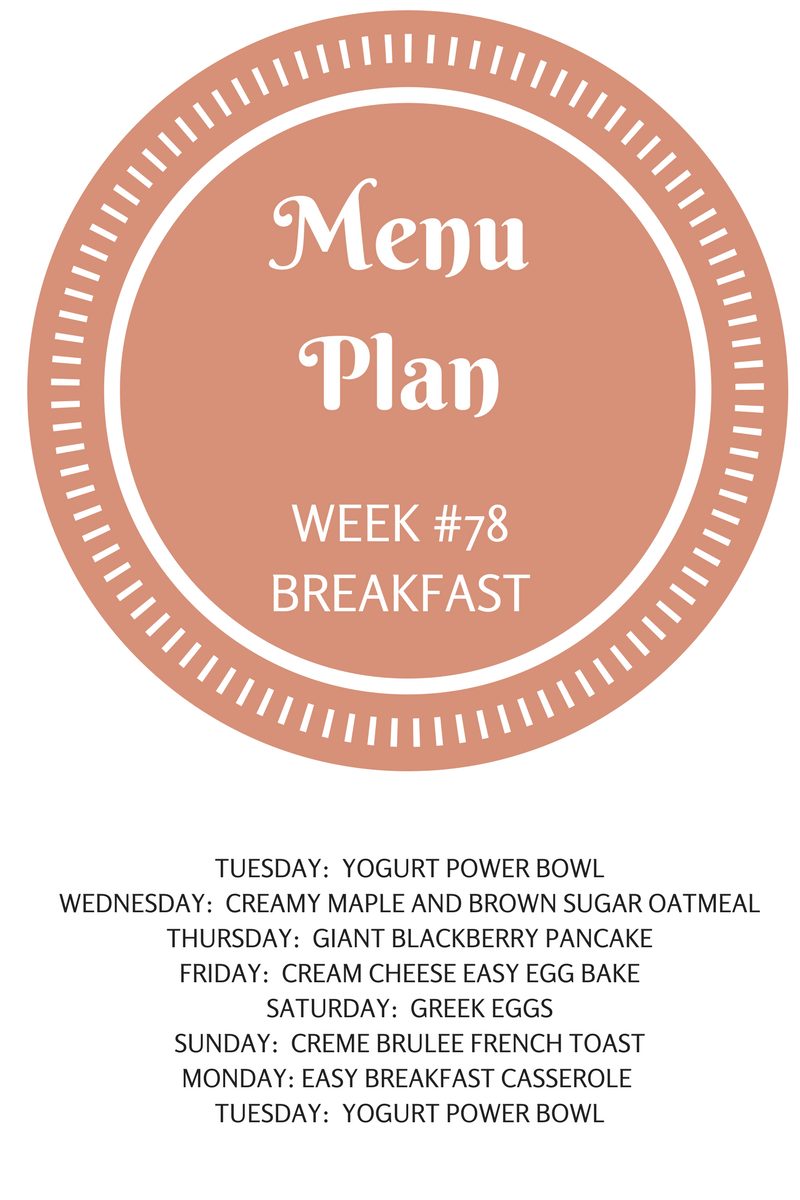 Previous Post with Creme Brûlée French Toast Recipe Link
The lunches for week 78 should be fairly easy as far as the 11 year old is concerned.  She will pack her lunches and there should be several options on reserve at her house.  In addition I will be taking her on a shopping spree at least one day which will also involve a lunch "out".  As a Christmas gift I gave both of the grand girls a gift certificate good for a shopping spree to select a new outfit.  The 11 year old has compiled a whole list of places she wants to explore next weekend in order to find the perfect ensemble.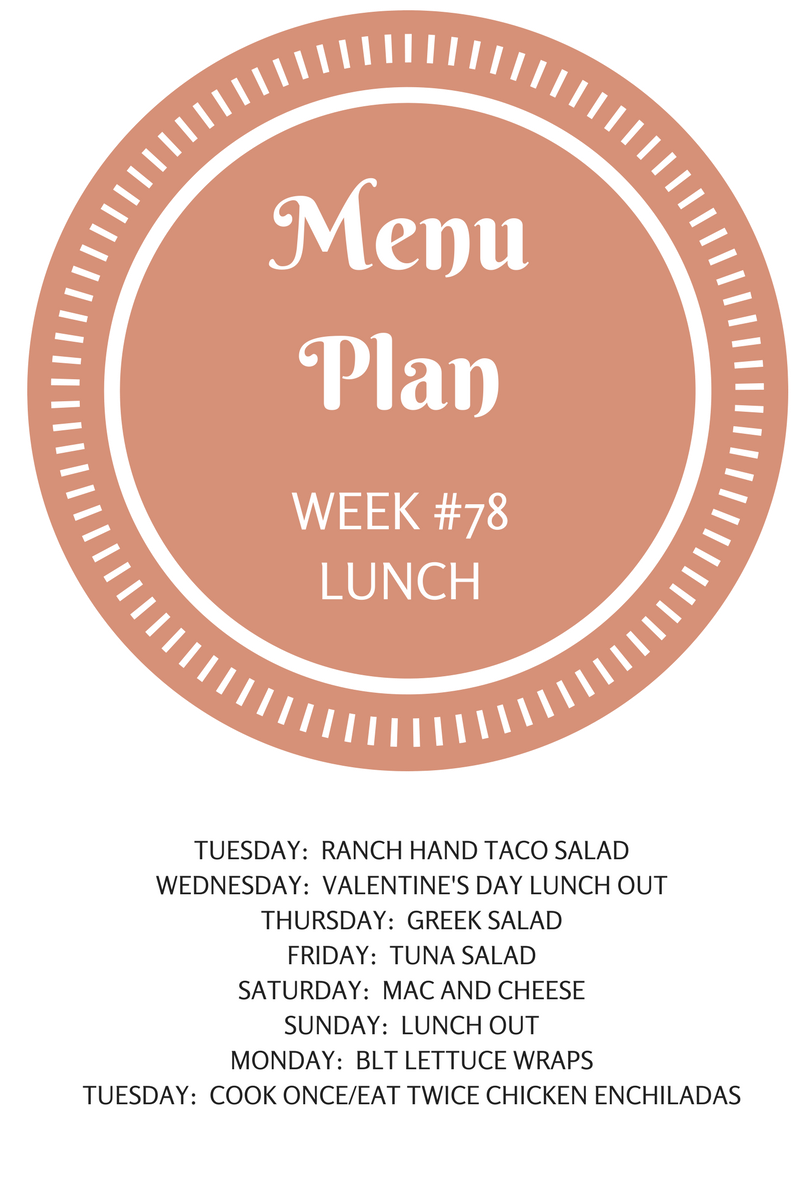 The plan for dinners during week 78 consists of several meals that I prepared in advance.  They are waiting in the freezer.  After a family dinner at our son's home several weeks ago, the leftover enchiladas were frozen to be enjoyed at a later date.  Since they remain in their freezer and are holding one of my much needed 9 x 13 casserole dishes hostage, they are on the dinner menu.  I have also frozen a casserole of the award winning chili pie.  I know that both of these meals will be winners with the 11 year old.  In fact we have enjoyed the chili pie so much that it will be added to our meal rotation.
Wednesday is Valentine's Day and the 'Ole Buckeye loves chicken or veal piccata so I will make a special meal for him.  I just don't know at this point if we will be sharing it due to travel times.  The Mississippi Roast is a favorite crock pot meal and I anticipate a long shopping spree day on Sunday.  It will be good to have a no fuss meal waiting for us when we return home.  The Mediterranean Chicken was featured by Ina Garten when she was cooking with the Wilson sisters and I have wanted to give that recipe a whirl ever since I saw the show.  I have found if I don't make a recipe within a few weeks of its' appearance on a TV segment, I forget about it.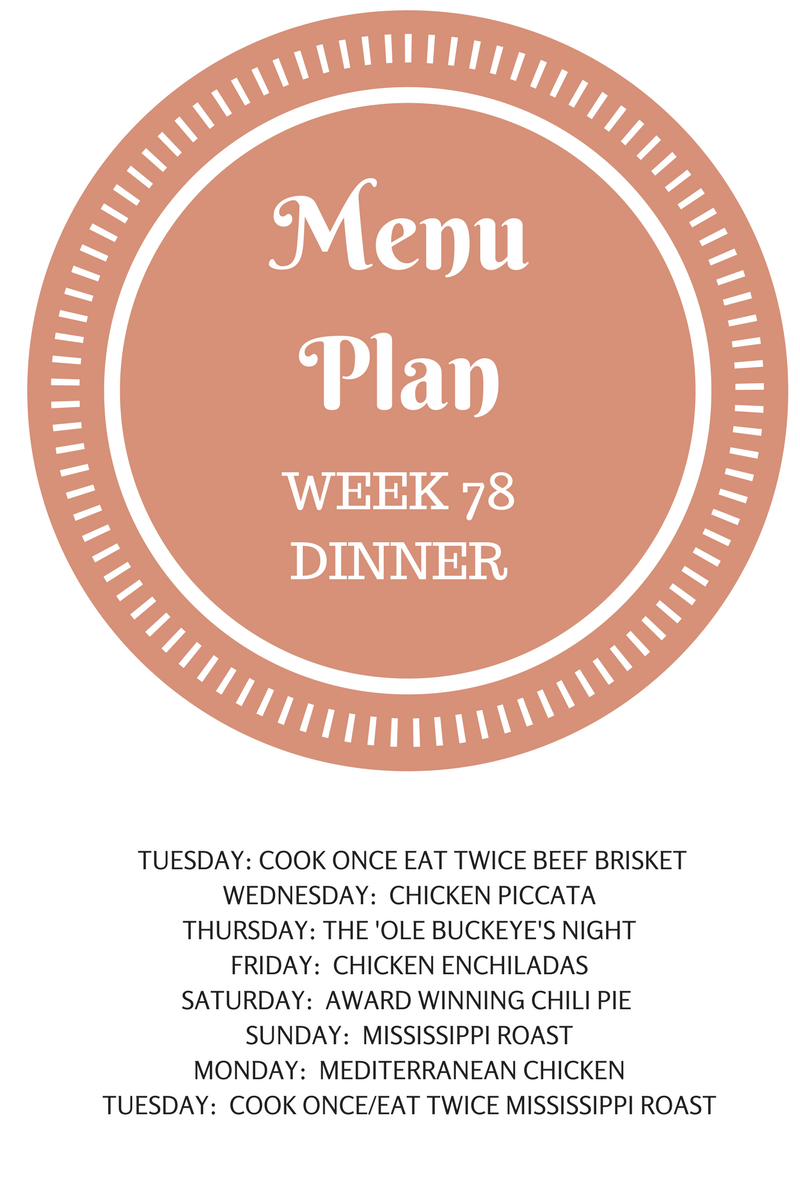 As I prepare for the week ahead I will do a brief recap of some hits and misses from new recipes that I tried last week.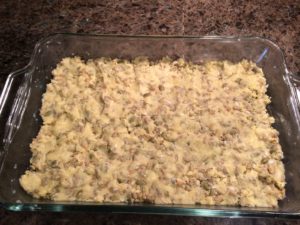 These breakfast bars had great flavor but they were super crumbly and I cannot imagine using them as a snack when out running errands.  I did like them broken up and mixed with my non fat Greek yogurt.  It made a great quick breakfast.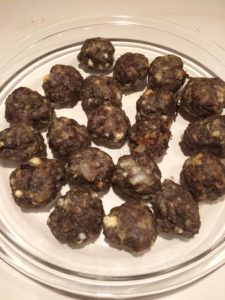 As directed, I used very lean ground beef to make these meatballs.  Although I found them to be very dry (obviously due to the lean beef) they were fairly flavorful.  I did make the tzatziki sauce linked in this recipe and it added the moisture and additional flavor needed.  Since I already have a variety of great meatball recipes this one will most likely not be a repeat.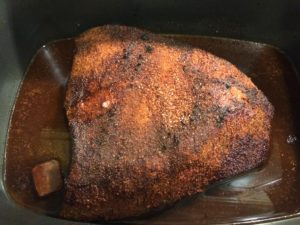 All I can say about the brisket is Wow!  We loved the rub, we loved the way the house smelled while it cooked, we loved the flavor.  We loved it!!  It is a keeper and a year round entree good enough for entertaining as well.  To make it THM compliant I used homemade ketchup with stevia Sugar Free Ketchup and THM Brown Sugar.  Sugar Free Brown Sugar  My only regret might be that just once as a left over I would love to smother it in the BBQ sauce on a "bun"!  Oh well…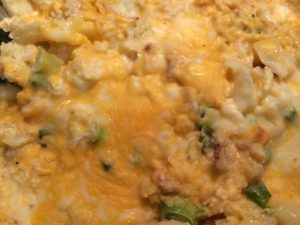 I have made a recipe similar to this in the past.  The 'Ole Buckeye really enjoyed it and I am certain it will become a mainstay as a side.
So as another week of exciting eating ends I look forward to our adventure during this next week as we spend one on one time with our grand daughter.  She loves to cook, especially desserts, so I am certain we will do some experiments in the kitchen.  It would be fun for her to do some do-ahead meals for her family when they return.  All of them will be back together and I think it might be great if she could hostess a meal on her own as a surprise.  We will see what the busy week brings.  I am certain however that we will continue to have great healthy meals and happy times.  Bon Appetit!
What Exactly Are You Looking For?