Menu Plan Week 65 with Trim Healthy Mama
The menu plan for week 65 will be shorter than usual because early Sunday morning we will be leaving for a 9 day trip celebrating a milestone birthday.  I have determined that this birthday is worthy of a year long celebration!  I have not convinced the 'Ole Buckeye.  Because we will be gone for an extended period of time week 65 will be filled with meals based on utilizing the perishables and foods remaining in the refrigerator.  Because we had house guests last weekend we have a variety of leftovers, some enough for 2 of us and others enough for just one of us.  We may need to divide and conquer, flipping coins on who finishes which meal, although I have already called dibs on the Greek Feta and Shrimp!
Breakfasts this week will be pulled from the freezer.  I will pull the remaining blueberry pancake and sausage patty quiche which were individually frozen for later use.  We will finish the berries and yogurt as well, making breakfasts easy.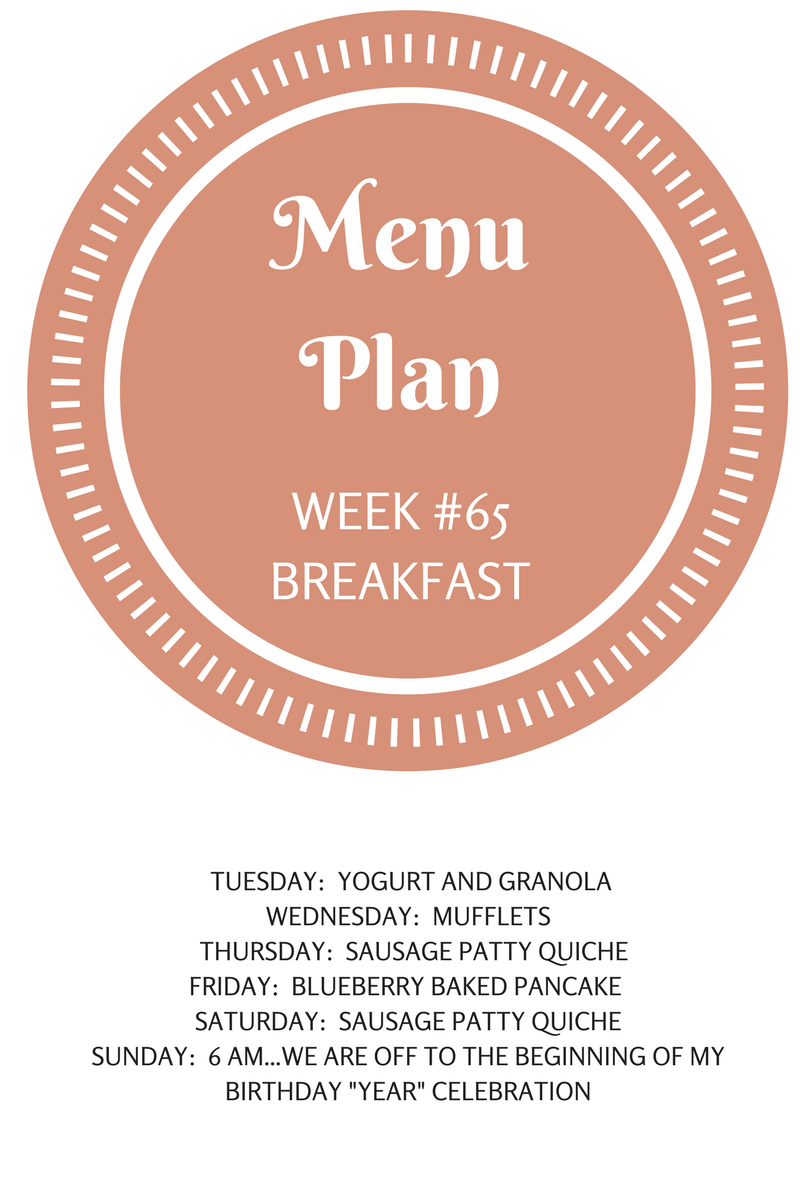 Lunches will consist of whatever is left over that would not be enough for dinner.  Obviously I am never certain when I plan this way, but I am making an educated guess.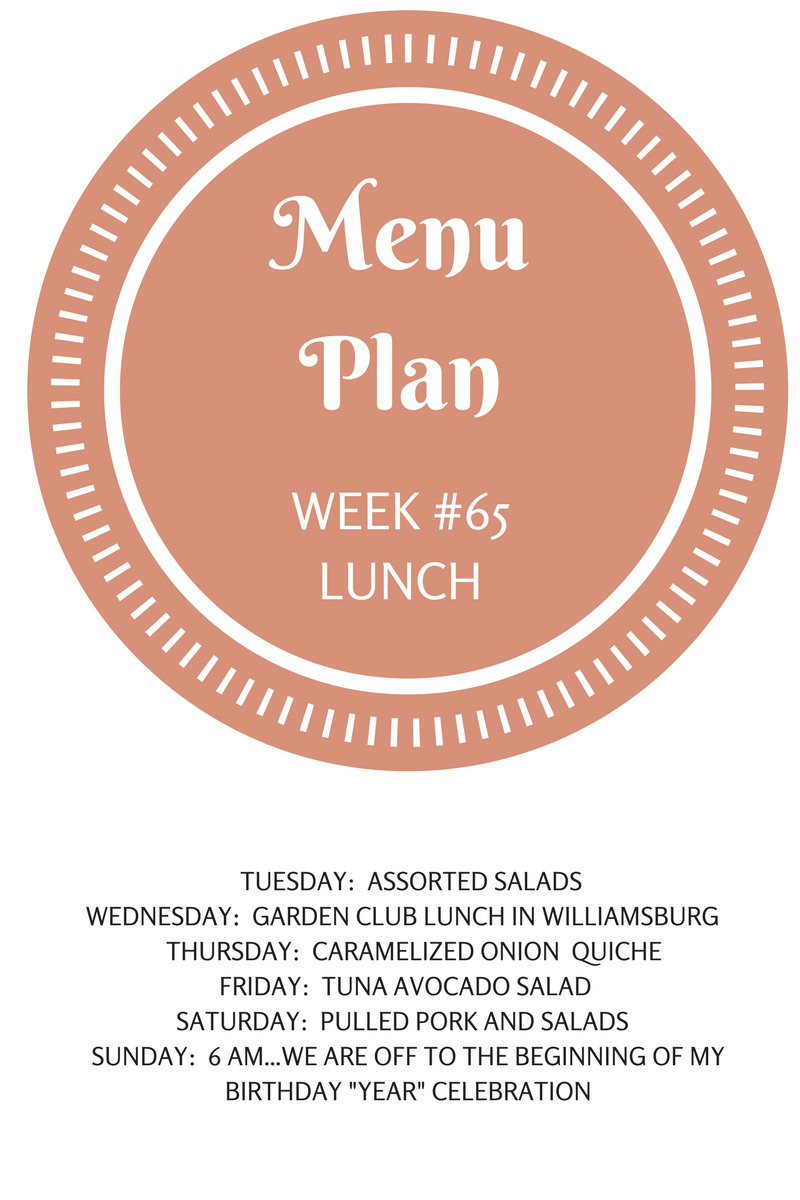 The dinner menus for week 65 are composed entirely of left over meals from this past weekend.  Because I planned in advance for out of town guests and tried to be overly prepared for all meals, I have enough left for the two of us as long as I supplement with salads and additional sides.  That makes it super easy to recuperate from the past weekend as well as prepare for our upcoming trip.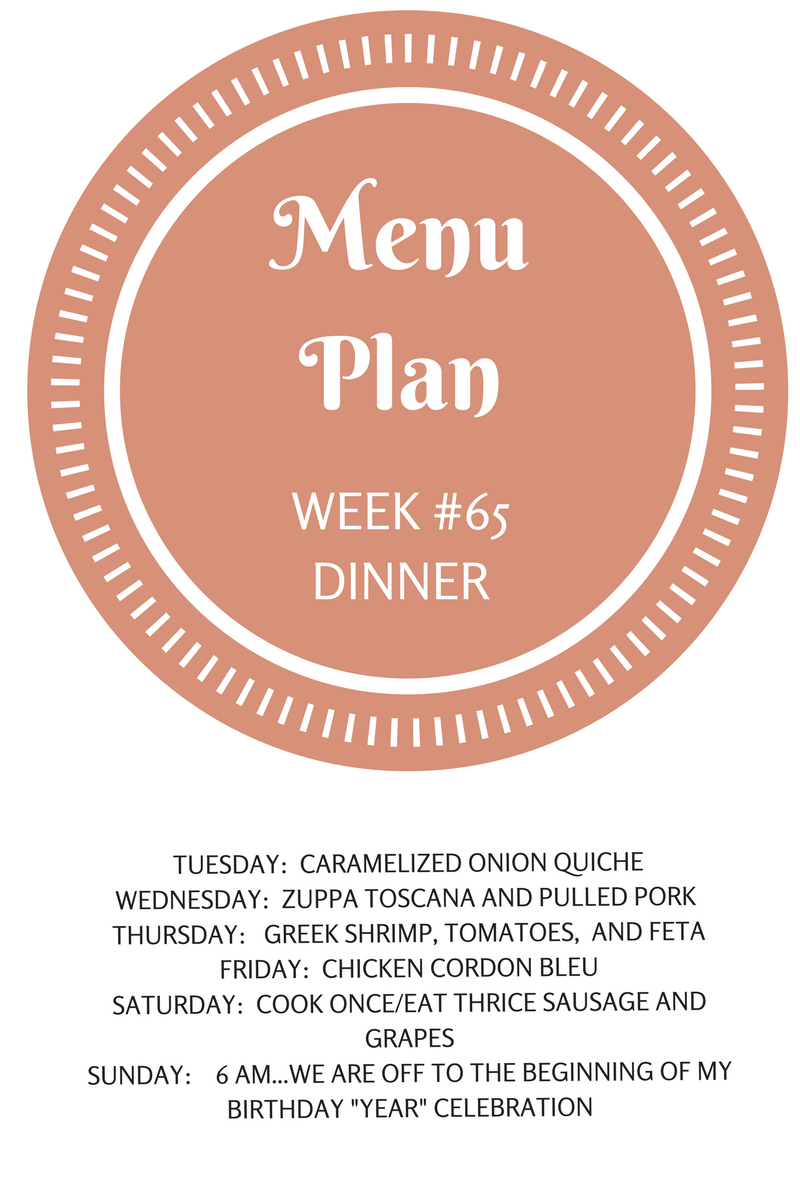 HITS AND MISSES WEEK 64
The 'Ole Buckeye has grown to love North Carolina BBQ sauce, a vinegar based sauce.  Since I had pulled pork in the freezer that would be perfect last weekend for lunches, I decided to try a new recipe for the BBQ sauce.  There is a link to the recipe that I used but I made several modifications after reading the reviews.  I used Texas Pete Hot Sauce, the juice of a lemon and subbed THM brown sugar for brown sugar.  I heated it to bind the flavors and put it over the pulled pork.   A thumbs up from the 'Ole Buckeye.
Greek Shrimp, Tomatoes, and Feta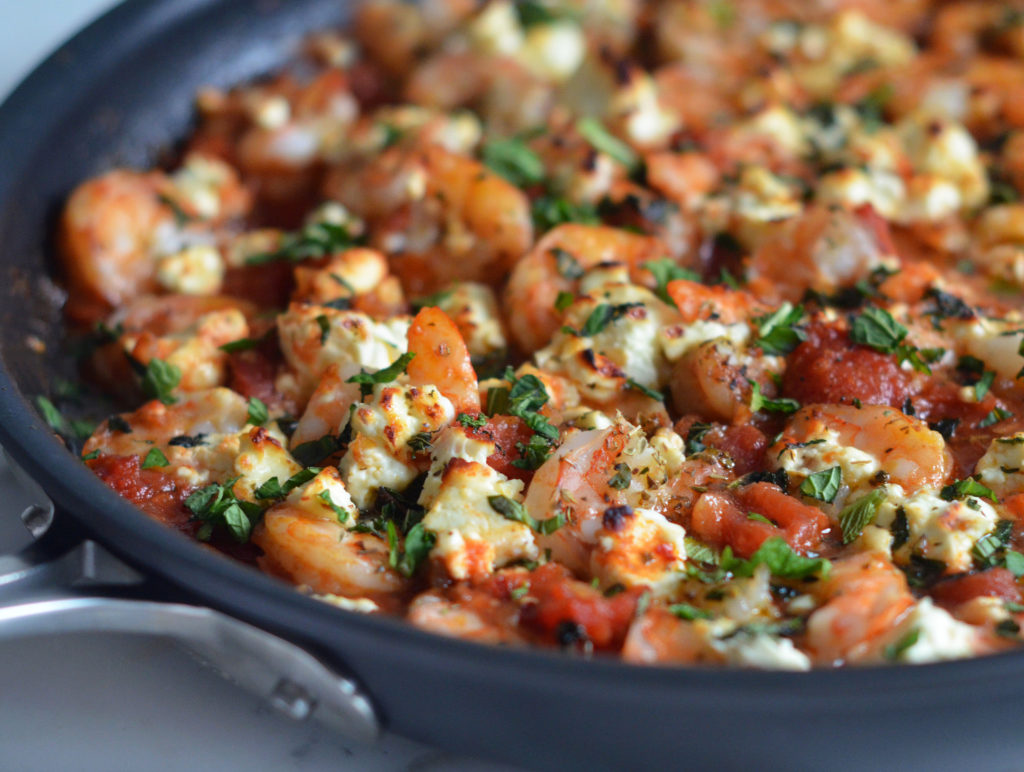 No picture AGAIN! I used the image from "Once Upon a Chef".  Once Upon a Chef.   Do you know how your heart sinks as you prepare dinner for guests and then casually ask if they like shrimp…and they are VERY tentative in their answer…"I can eat it".  Wow.  That was my entree along with a Greek Salad.  Well they LOVED the salad, and she ate her entree' saying it was good, and he had seconds.  I found out later that she hates shrimp cocktail, but she really did enjoy dinner.
I haven't made this entree in quite sometime…why?  I love it!
Family Dinner…Burgers and Salads and So Much Fun!!!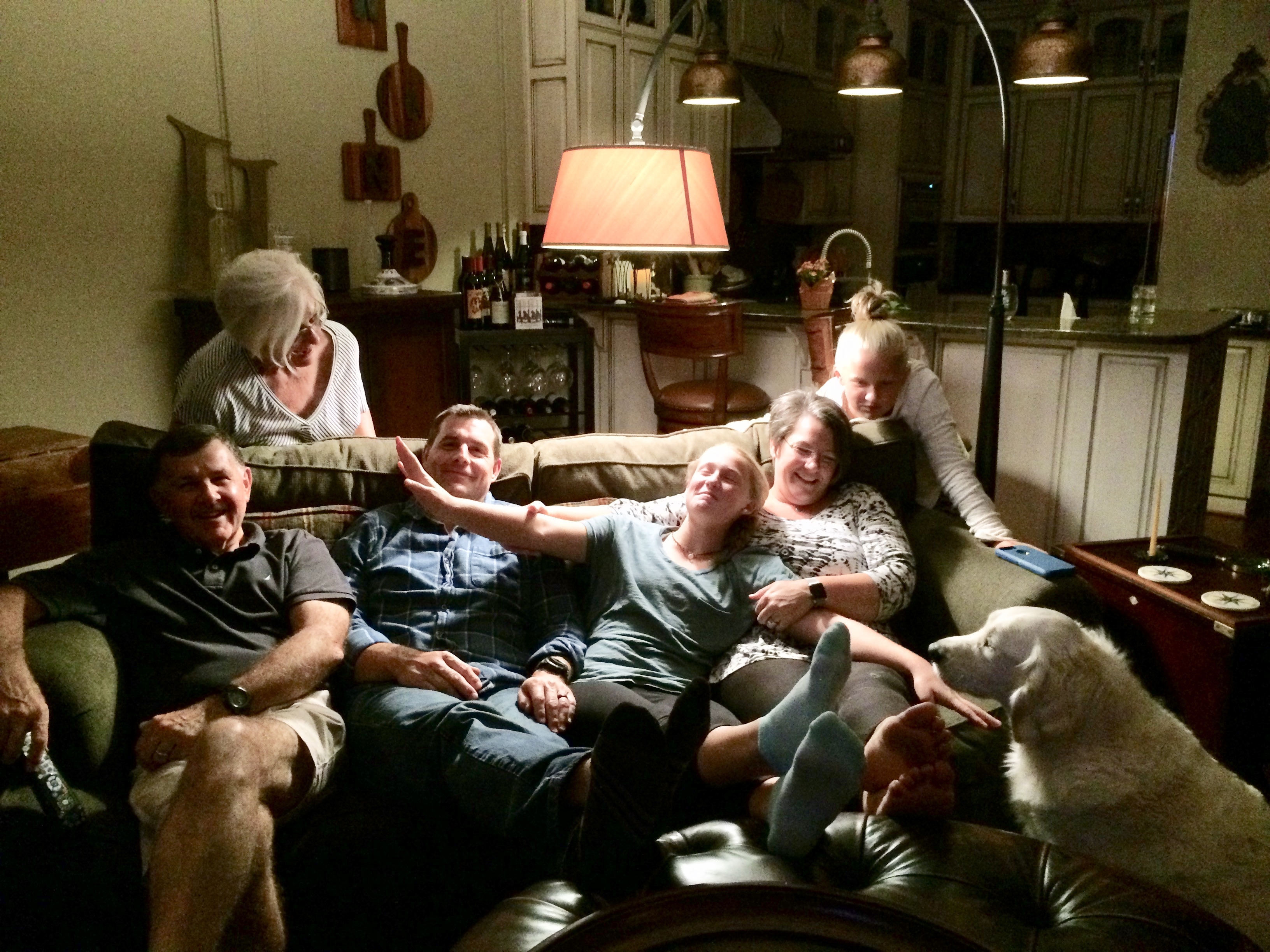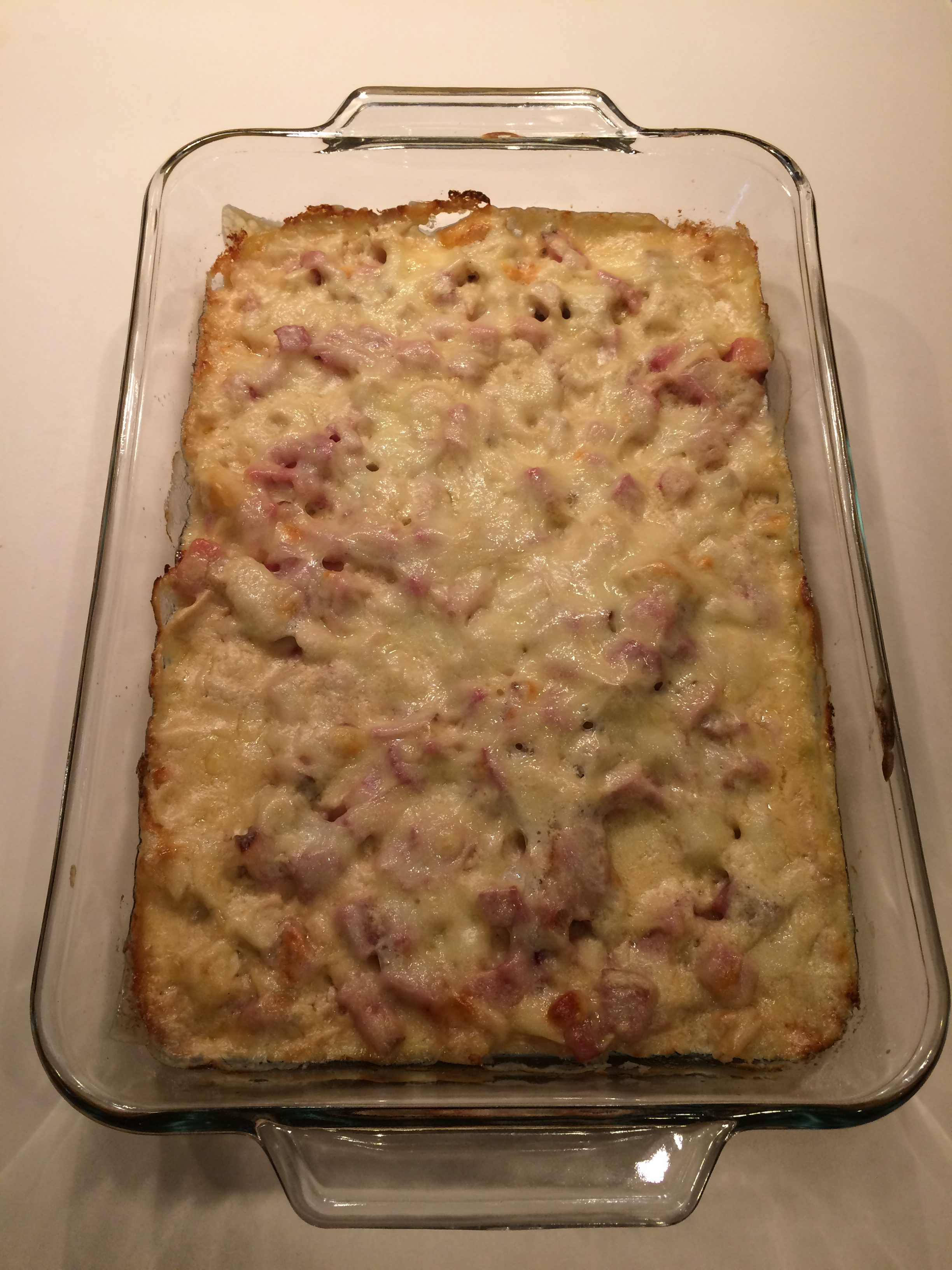 I made this casserole in advance just in case I wanted to serve a late lunch before our weekend guests left for their flight back to Chicago.  I served it with a tossed salad.  I was glad that it was available because we were able to relax in the courtyard and enjoy white wine and lunch.  Would I serve it again.  No.  It was a disappointment.  Don't get me wrong, it wasn't awful, just not up to my expectations.
So there you have it.  once again much of our enjoyment was experienced around a table.  We had such a wonderful weekend with lifelong friends.  We had time to experience historical Virginia, eat well, drink well, continue the tradition of a Eucre contest and share with each other.  How much better can it get?
It was melancholy to watch them go, but it has also been exciting to begin preparing for our trip that lies ahead.  We look forward to yet another week of great food as we continue to follow the Trim Healthy Mama eating plan.  Bon Appetit!
What Exactly Are You Looking For?