The menu plan for week 61 is filled with several meals originally slated for week 60.  The past week was a busy one and as it turns out several of the preparations simply fed us more meals than I originally anticipated.  The berry peach cobbler baked oatmeal fed us for several additional breakfasts, as did the bacon and eggs cottage casserole.  Week 61 now includes breakfasts planned for last week and I have the ingredients on hand.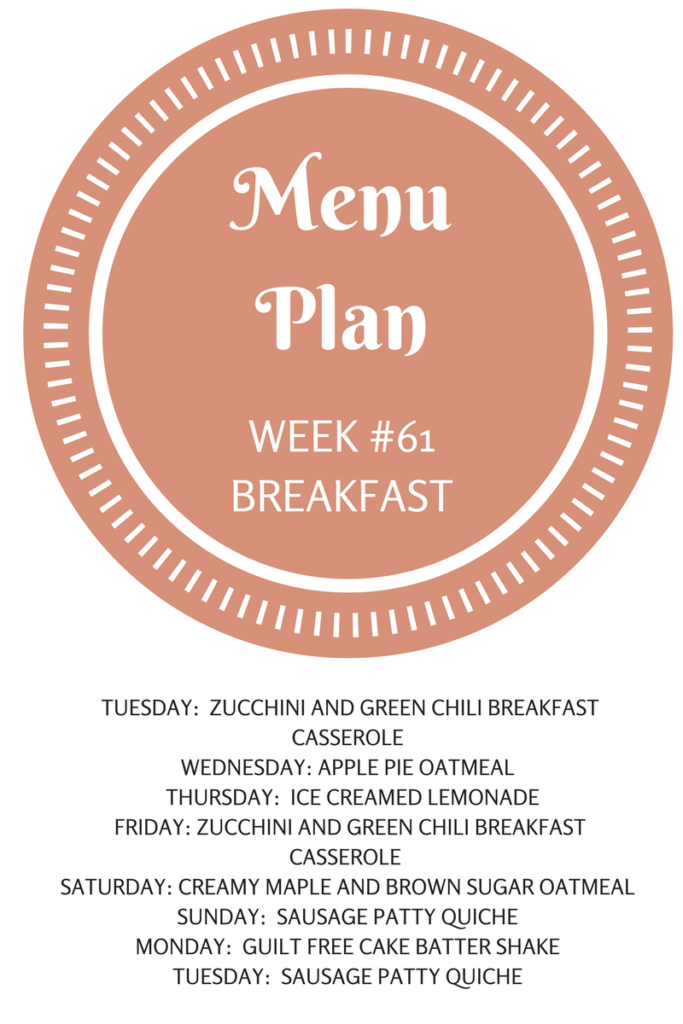 Zucchini and Green Chili Breakfast Casserole
Creamy Maple and Brown Sugar Oatmeal
The lunches planned for week 61 are a mix of new recipes and easy repeats.  I am also anxious to do my own spin on the tomatillo chicken quesadillas.  I am beginning to find that I am being much too aggressive in my lunch plans.  Often we are on the go and it is much easier to grab something simple.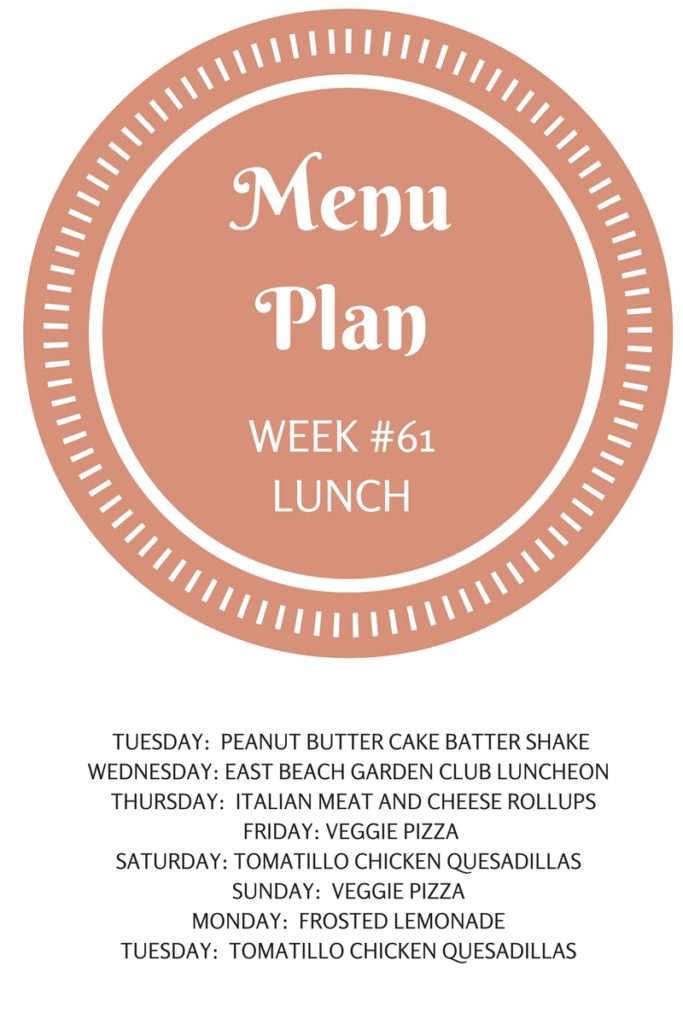 The menu plan for dinner during week 61 showcases chicken in a variety of ways and features one meal which I prepared and refrigerated last week.  The Bacon Ranch Chicken Casserole will be Tuesday evening's highlight, moving the fajita pasta to later in the week.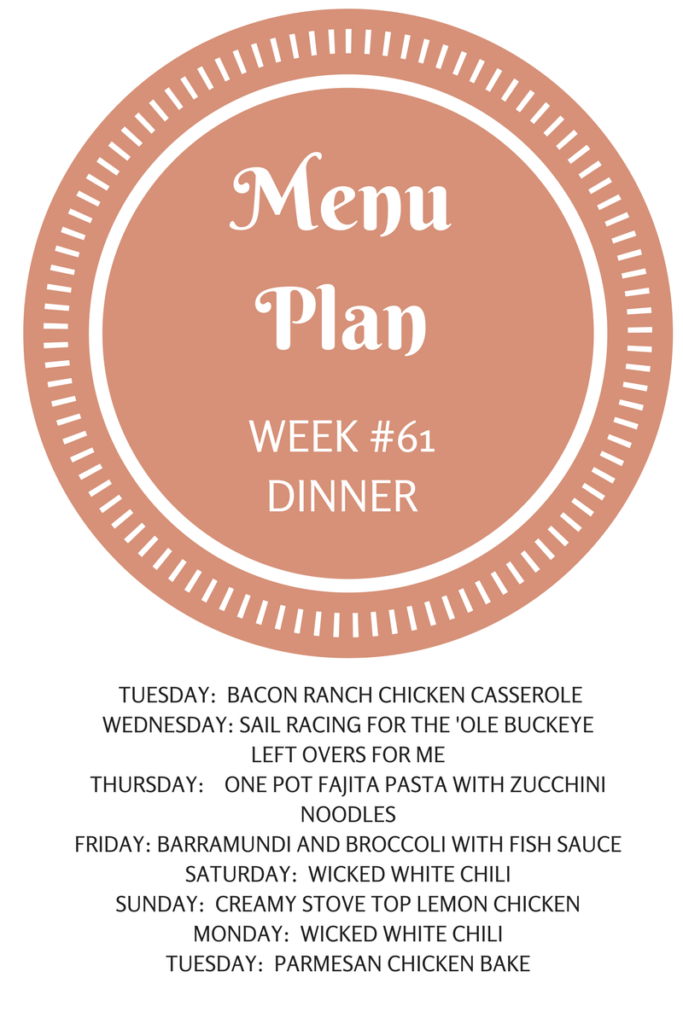 Wicked White Chili E Meal page 37 Trim Healthy Mama Cookbook
Creamy Stove Top Lemon Chicken
Once again I have linked to the new recipes so that you can make them along with me if you like.  I have also included the hits and misses from last week.  I would love any feed back you might have if you are cooking along with me.
HITS AND MISSES FOR WEEK 60
Bacon and Eggs Cottage Casserole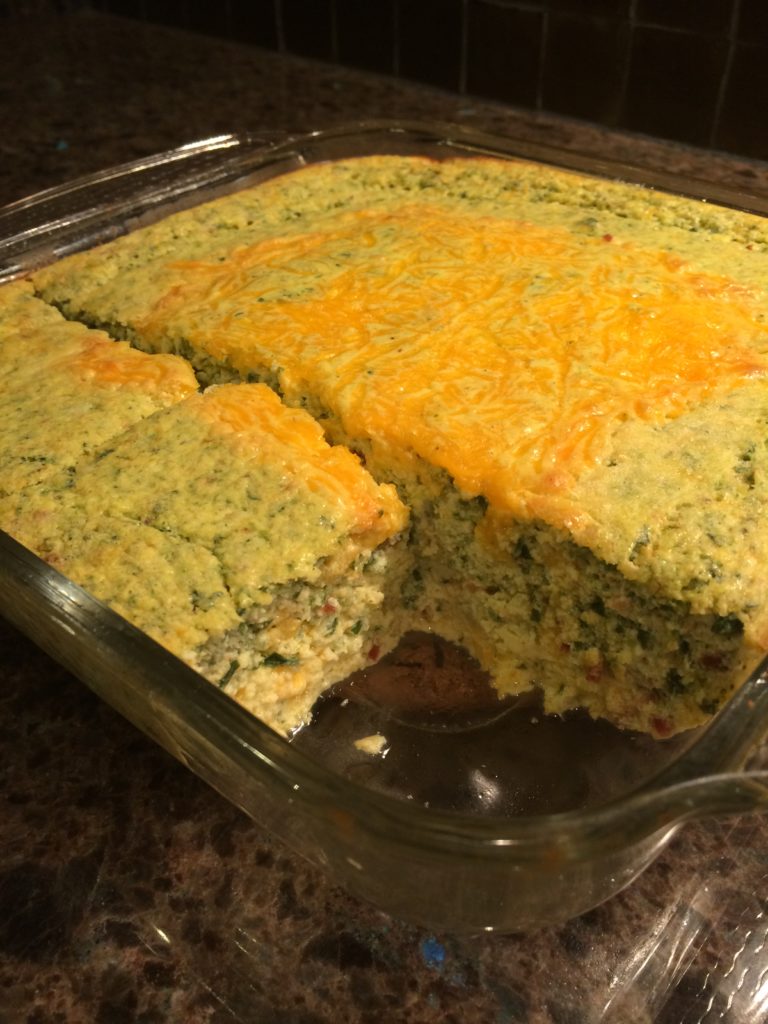 I must admit that I seldom get up early in the morning to make breakfast.  However, occasionally I wake up early and cannot go back to sleep.  This casserole is perfect for those mornings.  It takes very little time to blend together but you do need 45 minutes for it to bake.  Is it worth it?  Absolutely!  This casserole is like a fine souffle…light and fluffy with great flavor.  It would make a great breakfast, brunch, lunch or dinner.  Yum.  It is also easily reheated for cook once/eat twice meals.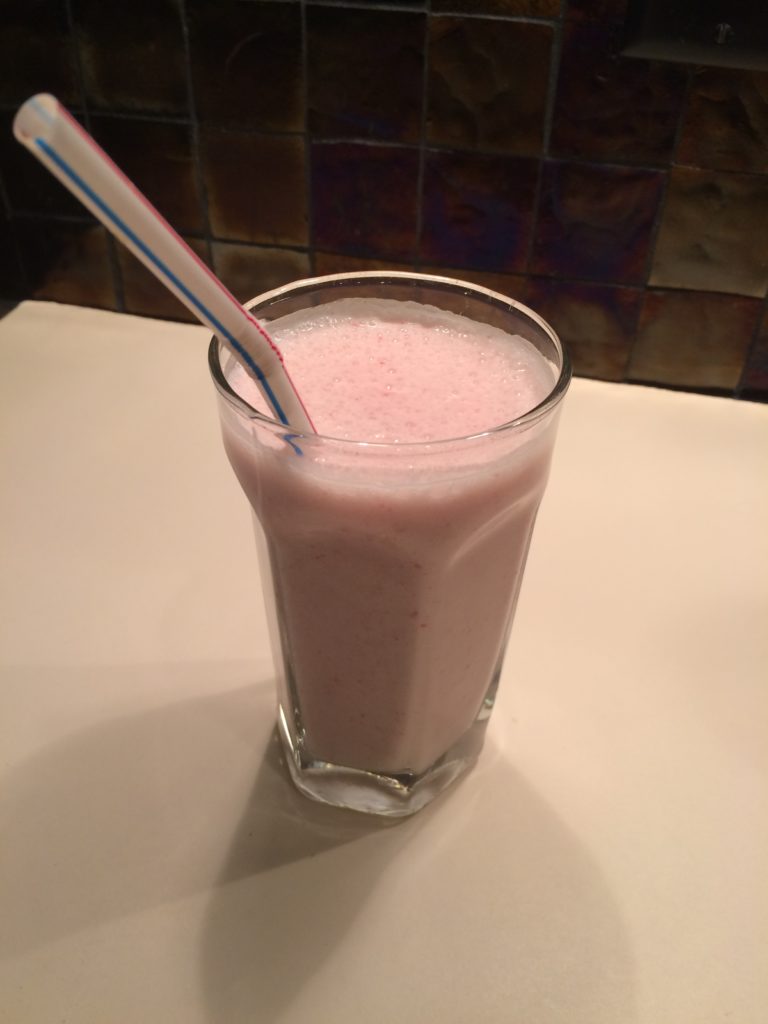 I have been attempting to try several shakes and smoothies for my morning breakfasts.  Several have been outstanding.  I added this to the menu plan because I had fresh strawberries that begged to be utilized before they were past their prime.  Although this shake was filling, it was not a favorite.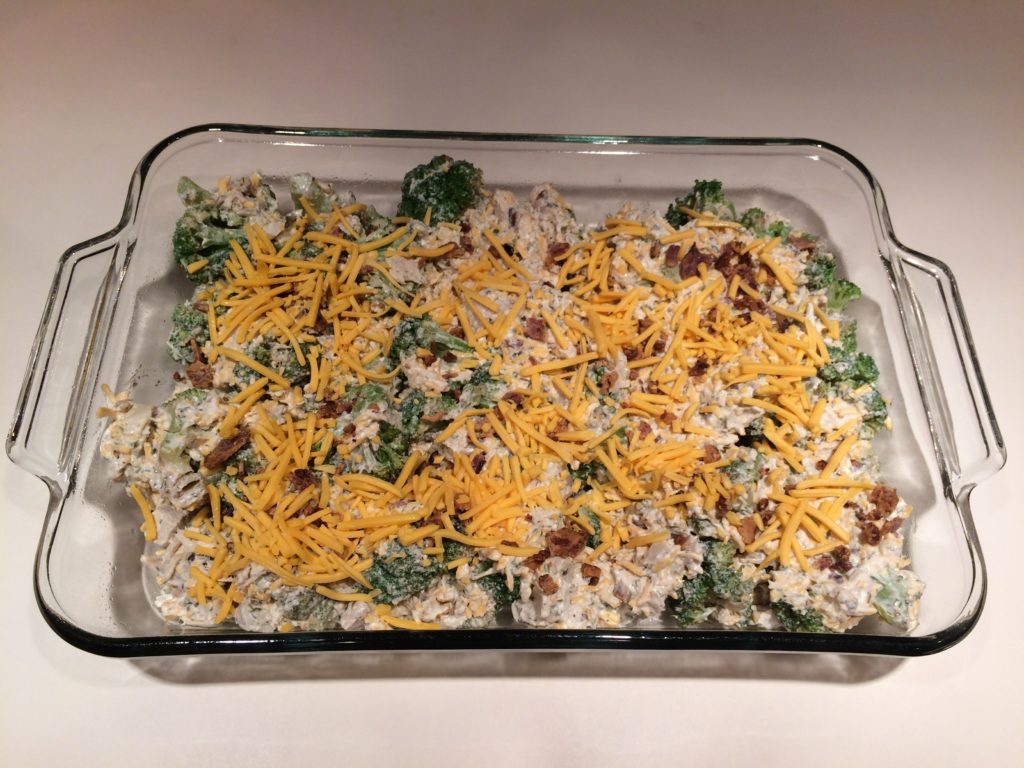 The beauty of this casserole is that it utilized chicken that I had cooked and frozen in convenient packets when I made my bone broth.   In addition it put to use a big portion of broccoli (which we buy at Costco) that needed to be incorporated into a meal.  I made this ahead as the recipe suggested and it remains refrigerated and ready to eat.
Crispy Chicken Cheese Quesadillas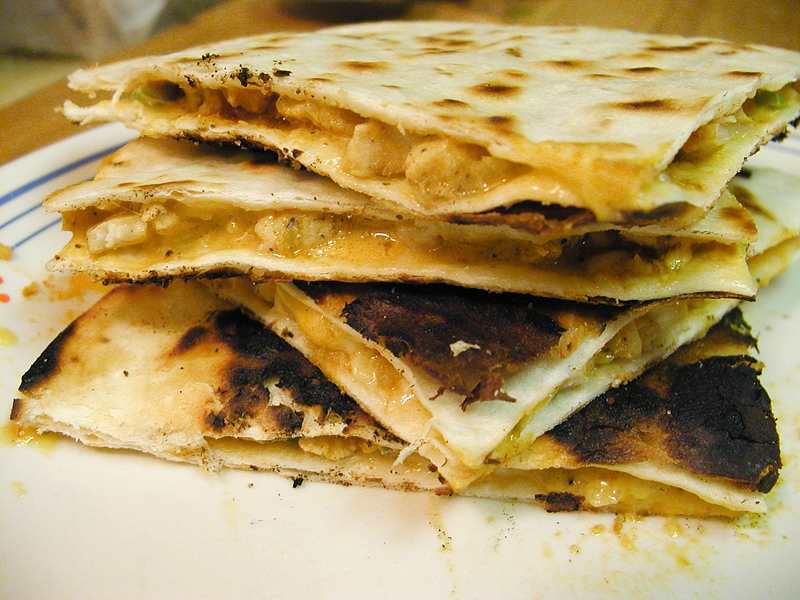 I doubled plus this recipe and made it for lunch for the 'Ole Buckeye and I.  He had a regular tortilla and I had a low carb tortilla.  We topped the quesadillas with a verde salsa.  They were fine, but did not compare to the quesadillas that  I have made in the past.  However this recipe did introduce me to so many possibilities.  I had not considered Quesadillas as part of THM eating, but of course they work.  I have decided to adapt a favorite of ours in the menu plan for next week.
Peanut Butter Cake Batter Shake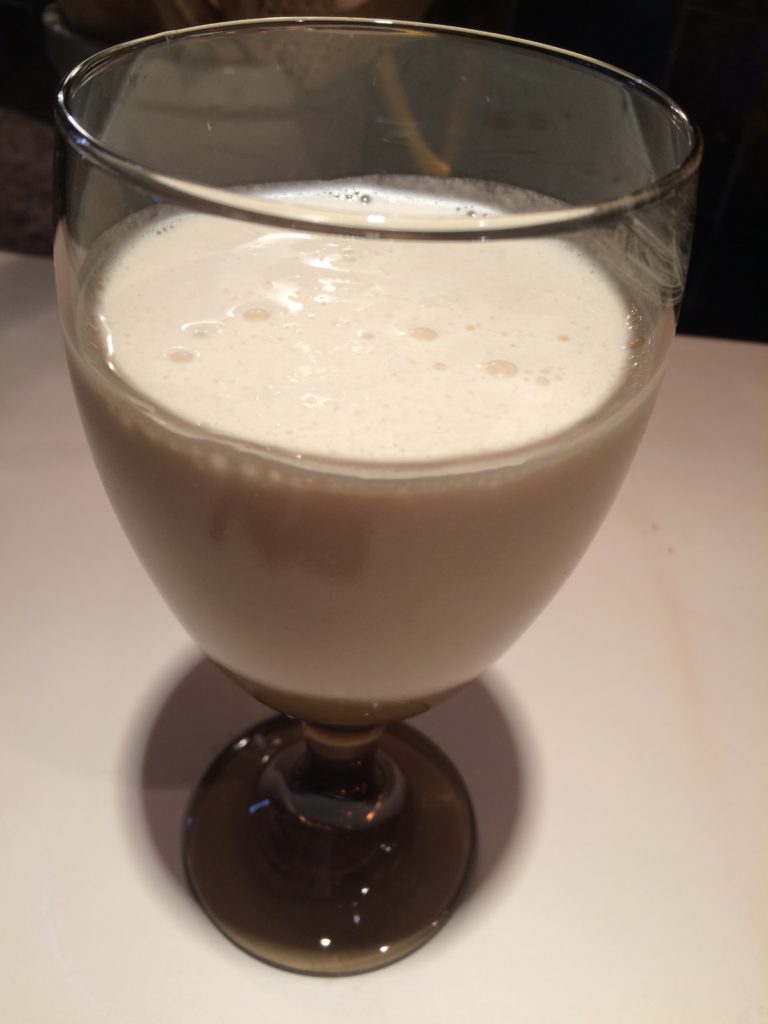 This shake was filling and delicious, even though I inadvertently added more butter extract than I should have (and I eliminated the almond extract).  This is a keeper.  In fact I could drink this quite often and be extremely satisfied.  I will try it with peanut flour the next time to save on calories.
So there you have it.  Good meals ahead and good ones enjoyed.  We are off to another week of enjoyable and healthy eating.  Bon Appetit!
SaveSaveSaveSave
SaveSave
SaveSave
SaveSaveSaveSave
SaveSave