The menu plan for week 53 is becoming slightly more complicated.  While I will continue to post menus for our evening meals each week, I will also begin to plan  breakfast and lunch as well.  Beginning with week 53 I will be making a more concerted effort to plan all of our meals so that I have the ingredients on hand to comply with the Trim Healthy Mama Diet.
As I continue the learning process, I am finding that breakfasts and lunches are more challenging than dinners. Part of the issue is that I have gotten into the bad habit of skipping breakfast most mornings and eating a fairly unbalanced lunch.  The THM plan is requiring a good breakfast and lunch as well as maintaining a 3-4 hour eating schedule.  My problem…I am seldom hungry that soon.
At this point I have not fully initiated the program.  I am still learning and assembling food choices on the plan.  Since I have an abundance of food in the pantry and refrigerator that I do not want to waste, I want to gradually convert.  Initially my intention is to follow the plan fairly closely while the 'Ole Buckeye continues to eat many of our stockpiled items.  I actually do not foresee that he will ever be completely on the THM plan.  His metabolism is excellent.  I am currently thinking that he will be more of a "crossover" eater.  That will be an easier transition for our family all around.
As I review these past weeks, I will say that one of the biggest changes that I have noticed is the increase in my energy and the reversal of my 3-4 o'clock slump.  I think that means that things are beginning to work.
In review, the evening meals for week 53 were fairly simple to plan.  We have leftovers as well as an abundance of eggs.  I am continuing my attempt to create more room in my freezer.  As I spent time reorganizing my stash, I discovered an unmarked foil wrapped parcel as well as a plastic container with something orangish unmarked.  They are in the process of defrosting and will be featured in the Friday "mystery meal".  (Does anyone else stick things in the freezer without labeling and later forget the contents?)
The end of the week will feature my sausage vegetable casserole in hopes of utilizing the remaining vegetables that need to be eaten before our road trip.
Another road trip? you might ask. The 'Ole Buckeye and I are in the screening process for global entry and have an appointment for an interview at Dulles in Washington DC the afternoon of July 3rd.  My research shows that the rehearsal for the 4th of July celebration in Washington DC on the mall is on the evening of the 3rd.  We are planning to spend the evening in the city and begin our trip back home on the 4th, stopping in Williamsburg for their celebration on the 4th.  Sounds like an all American holiday to me!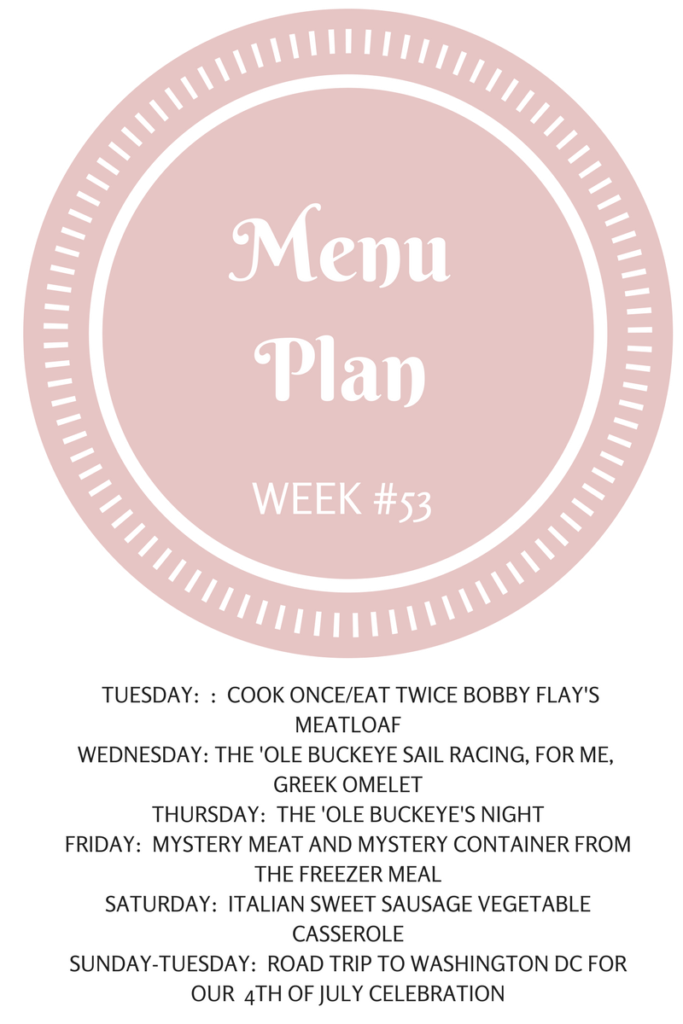 So there we have it.  Week 53 will be an interesting conglomeration of eating at home and lots of great eating on the road.  Hopefully I can find good options at the restaurants that we choose and continue the journey of great eating and well being.  Bon Appetit!
SaveSave
SaveSave
SaveSave
SaveSave
SaveSave
SaveSave
SaveSaveSaveSave
SaveSave
SaveSave
SaveSave
SaveSave
SaveSave
SaveSave
SaveSave
SaveSave
SaveSave
SaveSave