The Menu Plan for week 72 following the Trim Healthy Mama way of eating is complete.  After the hustle and bustle of the holidays and assisting our son and his family with their move into their newest home then packing up our daughter for her move north, I am faced with a disorganized and truly dirty house filled with holiday decorations awaiting their return to boxes and bins.  Ahead of us we face a three day weekend taking care of the grand girls in their disorganized and box filled new home.  Obviously we will not return to normal living quite yet.
My menu plan for the weekend of week 72 must include favorites of the grand girls while allowing me to continue my THM eating plan.  There will be several meals that I will eat separately from what I prepare for them.  I will attempt to make some changes in the recipes to accommodate my eating plan or prepare an independent entree for myself.  I am hoping there are enough leftovers to allow just that.
Breakfast includes one new THM recipe, the Breakfast Casserole.  The weekend features favorites for the grand girls including their favorite breakfast treat…creme brûlée French Toast, which I cannot eat and which is impossible to create in a THM friendly version.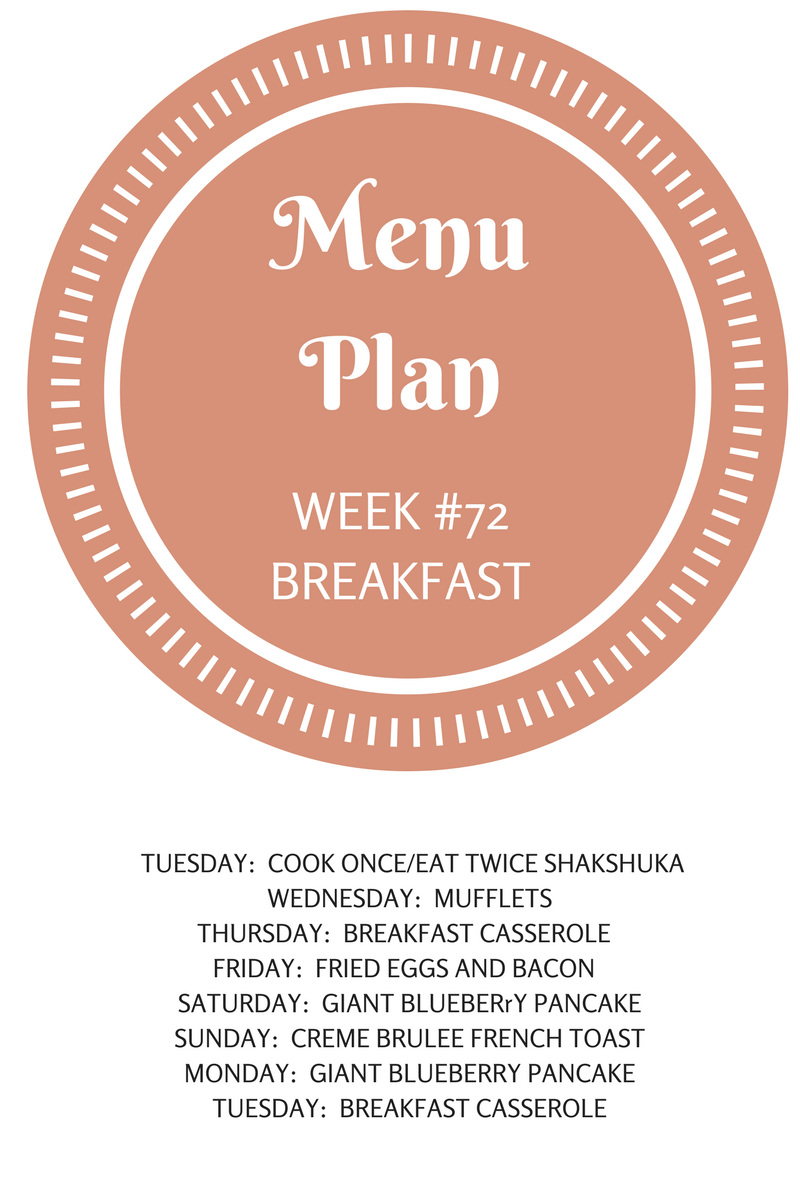 Breakfast Casserole page 238 Trim Healthy Mama Cookbook
Since it is forecasted to be a very cold and snowy week in coastal Virginia (much colder than normal) soup is on menu plan 72.  Not only will it be warm and filling, but it will service us for several meals as well.  Soup is one of my favorite cook once/eat twice meals.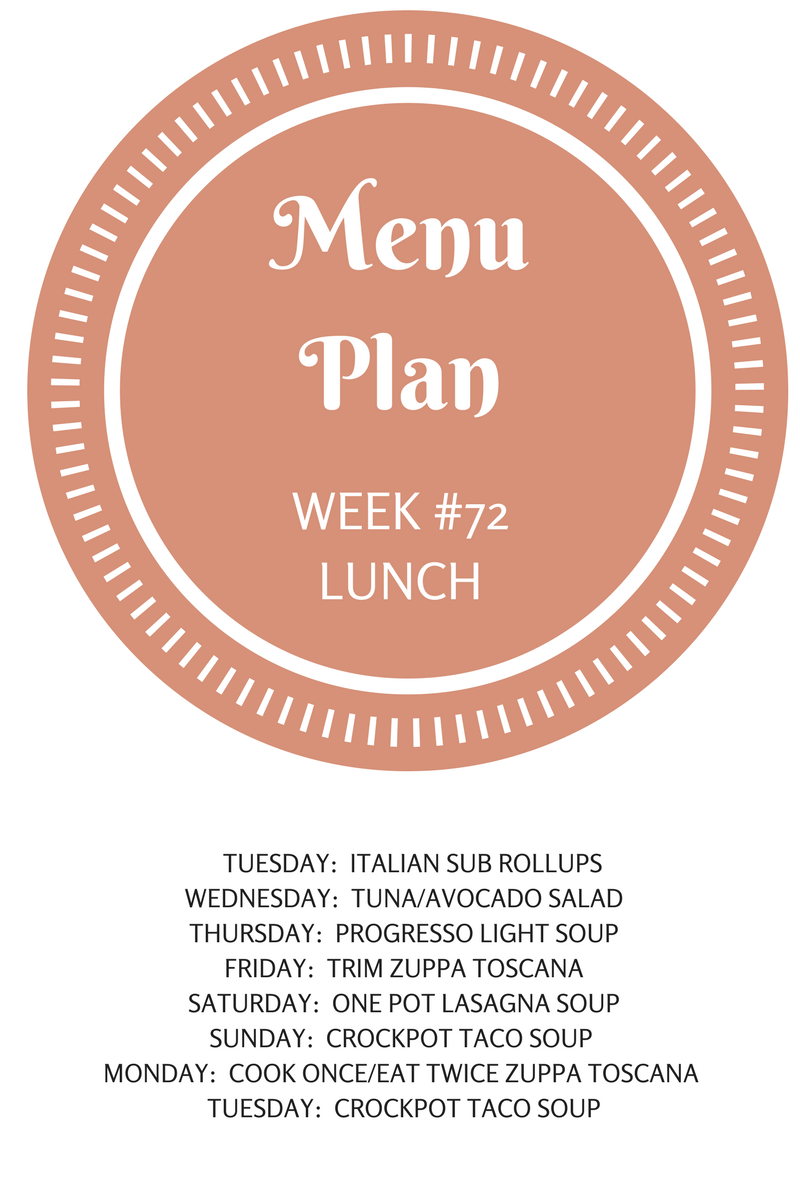 This post includes the link to this taco soup.  It had rave reviews from the entire family and is soooooo easy to make.  Just throw ingredients in the pot and go.
The Lasagna Soup is not THM complIant, but a favorite of the grand girls.  I will simply eat another soup.
The menu plan for dinners during week 72 is filled with favorites.  In order to make their favorite sausage macaroni and cheese, I will need to make a homemade velvetta cheese in advance.  I am also going use the ingredients to make a separate small casserole utilizing a black bean pasta for me instead of the regular pasta,  yet another experiment.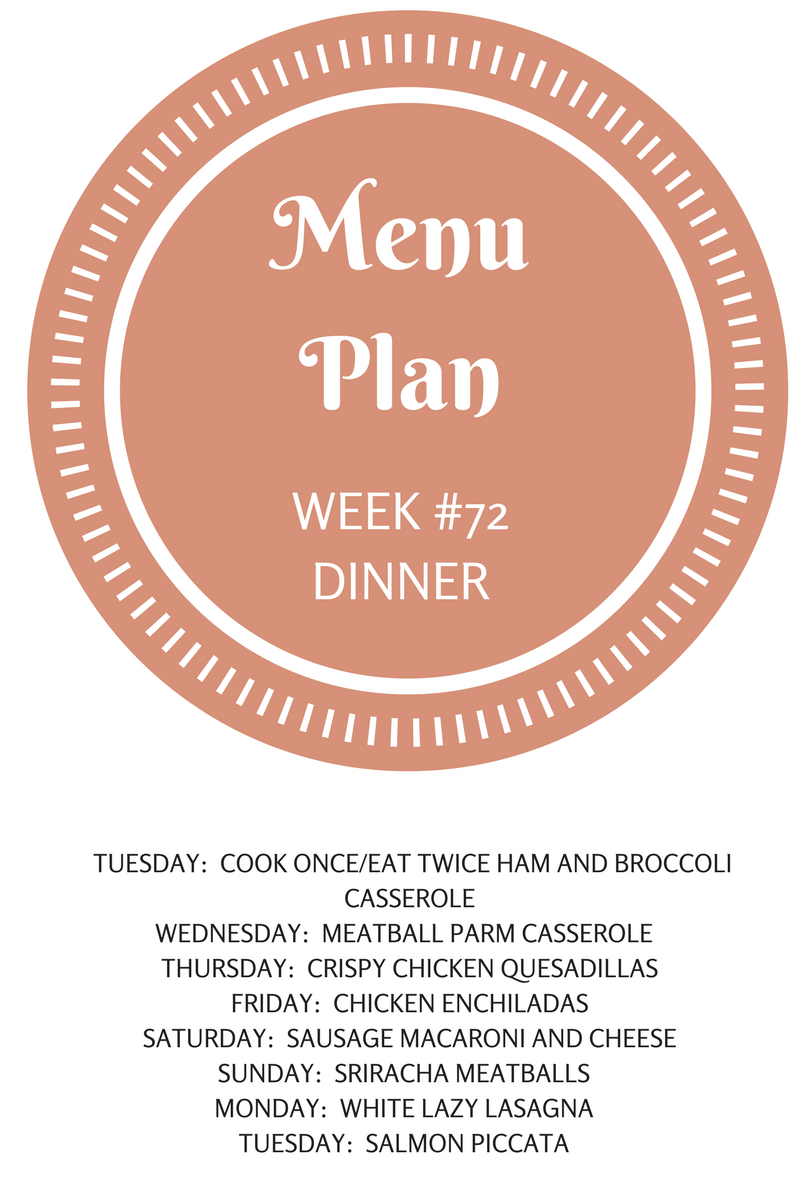 Crispy Chicken Cheese Quesadillas
There were several changes to last week's menu.  The Shakshuka became a cook once/eat twice lunch and the broccoli quiche will appear at a later date.  On Monday I prepared an evening meal for the entire family since it would be the last time we would all be together for sometime.  I shelved the crispy chicken quesadilla until this week and prepared the taco soup (which was a big winner) and chicken enchiladas (a family favorite) using low carb tortillas.  Because the soup was so filling, there were enough enchiladas left over to serve once again this weekend with the girls.  They are tucked in the freezer awaiting a cook once/eat twice meal.
Hits from last week included the crockpot taco soup and the ham and broccoli casserole.  Actually I was not a fan of the casserole but my daughter and the 'Ole Buckeye liked it very much.  Creamy Ham and Broccoli Casserole  I used leftover spiral honey ham slices and I think the unappealing thing to me in this casserole was the "sweetness".  I think it would be much better with  smoked ham.
And so we enter another week of healthy eating and attempting to get life at home back to normal.  I am not a lover of putting the Christmas decor away and the need to do it before the weekend is certainly not appealing.  The end of the holiday season is always a little sad.  The house changes from festive to mundane, at least that is what it seems initially when the decor is removed.  January will be especially sad since our daughter will not be with us.  We grew accustomed to her face and thoroughly enjoyed these last months during her life transition.  I was downhearted to see the darkness in the carriage house last night.  It is gratifying to know that when life serves us a curve ball it can be a blessing in alternate ways.  2017 contained lessons, but more numerous were the blessings.
Now I look forward.  Here's to a wonderful 2018.  Bon Appetit.