Week 50!  That's a lot of menus and even more meals.  I must admit as I prepare for the week ahead it is difficult especially after all of the fresh fish and tropical drinks in St. Thomas.  Initially I had planned a delivery from Blue Apron.  Instead I opted to cook from the freezer.  We have so much food on hand it is difficult to rationalize bringing in even more.  With that being said, the 'Ole Buckeye made a trip to Costco for milk, bread, eggs and fresh vegetables.  Since I am still experiencing vacation lag, I asked him get a Rotisserie chicken to get the week started.
I am in the process of educating myself with a new eating plan and until I have figured out how it works and why, I am simply continuing my low carb meals.   I am also researching some of the food staples used by the plan and trying to decide which might be the best choices to purchase in the beginning.  I am looking at different protein powders in particular, because I have heard so many different opinions about them.  The plan Trim Healthy Mama was introduced to me by my sister's blog.  Initial investigation has caused a lot of research and even more questions.  Some of the ingredients, classified as staples are quite foreign to me, i.e.., whey protein powder (Swanson or something else?), Glucommannan Powder (whatever that is), Xylitol and Erythritol, Defatted Peanut Butter, Dreamfields' Pasta.
This post contains affiliate links, which means that if you click on one of the product links, I'll receive a small commission for any sales that come from my recommendation. Thank you in advance!*** Yesterday I introduced you to the most wonderful nutrition/recipe book to hit the weight loss shelves; Trim Healthy Mama!
Sorting through all of this information while waiting for my book to arrive from Amazon will take time.  Then the reading…a lot of time.
In the meantime the meal plan for week 50 will continue with basic low carb meals with as little sugar as possible.
One thing that makes me happy is that I did not gain any weight while in St Thomas.  I ate well and drank better.  Luckily the hard fought initial weight loss did not suffer.  I didn't loose weight, but hallelujah I didn't gain any either.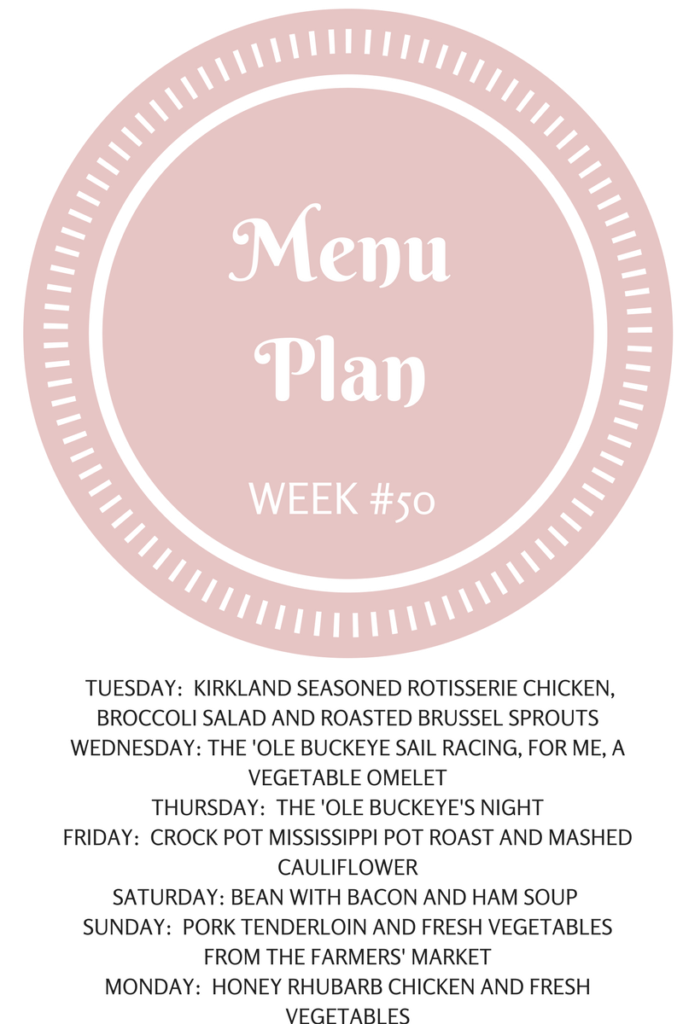 So now I am back to the basics.  Menu plan 50 will delve into frozen reserves, holding off on a weekly grocery run (except Costco), and wait for the East Beach Farmers' Fare on Saturday to take advantage of fresh from the farm and bay.  Aside from the soup I will be following a low carb diet and continue to learn about the TFM plan.
Here's to week 50 and good eating.  Bon Appetit!