If you are like me, you are constantly looking for healthy recipes that utilize the abundant  summer produce found at the Farmers' Markets and in our own gardens.  Over the past months several of my menu plans have included recipes that do just that.  Not only are these recipes heavy on summer produce, but they are extremely healthy as well.  In fact most of them work quite well on a low carb diet with some modifications.
I happen to be using Suzanne Sommer's diet as the basis of my current diet plan.  There are a variety of things I do not do on her diet and I am exploring other similar plans that incorporate the same philosophy but include some of the foods I love and think are important.
One of our all time favorite meals is Roasted Sausage, Potatoes, and Peppers.  I know, I know…Potatoes????  Here's the deal.  The 'Ole Buckeye is not on a diet.  In fact that is a big contention in our lives together.  He eats more that I do at every meal and has no weight issues.  So, how do I keep us both happy?  I adapt this recipe by adding twice as many peppers and onions as well as twice the amount of sausage.  Sometimes I use Italian hot sausage and sometimes I use half and half, Italian hot and Italian sweet.  It normally makes two trays when spread out evenly to roast.  It also happens to be perfect for cook once/eat twice meals.
When I serve this the 'Ole Buckeye eats it as prepared and I eat mainly the sausage, peppers, and onions.  (I will admit that I do sneak a potato or two.)
This recipe has also become a staple in the cooking routines of my daughter and daughter in law.
The one adjustment that I have yet to try is using a chicken or turkey sausage instead of our favorite Johnsonville brand.  It is on the docket for a trial run and I will let you know if it is successful.  Sometimes it is hard to deviate from past success.
Italian sausage, potatoes, bell peppers and onions oven-roasted with fresh rosemary in an olive oil and parmesan cheese dressing. Yes, I'm still on a roasting binge. No, the end is not near. One of the many things I love about roasting is the oven does most of the work!
Roasted Italian Sausage, Peppers, Onions, and Potatoes
Another family favorite which I have been making for many years is a Sweet Italian Sausage Casserole.  Years ago I made this quite often especially in the summer.  As with many of my recipes, it went by the wayside as I experimented with new and trendy.  I have gone back to this favorite for several reasons.  It fits extremely well into a low carb diet plan, it is healthy and hits the notes of comfort food, but most of all it is just plain Good!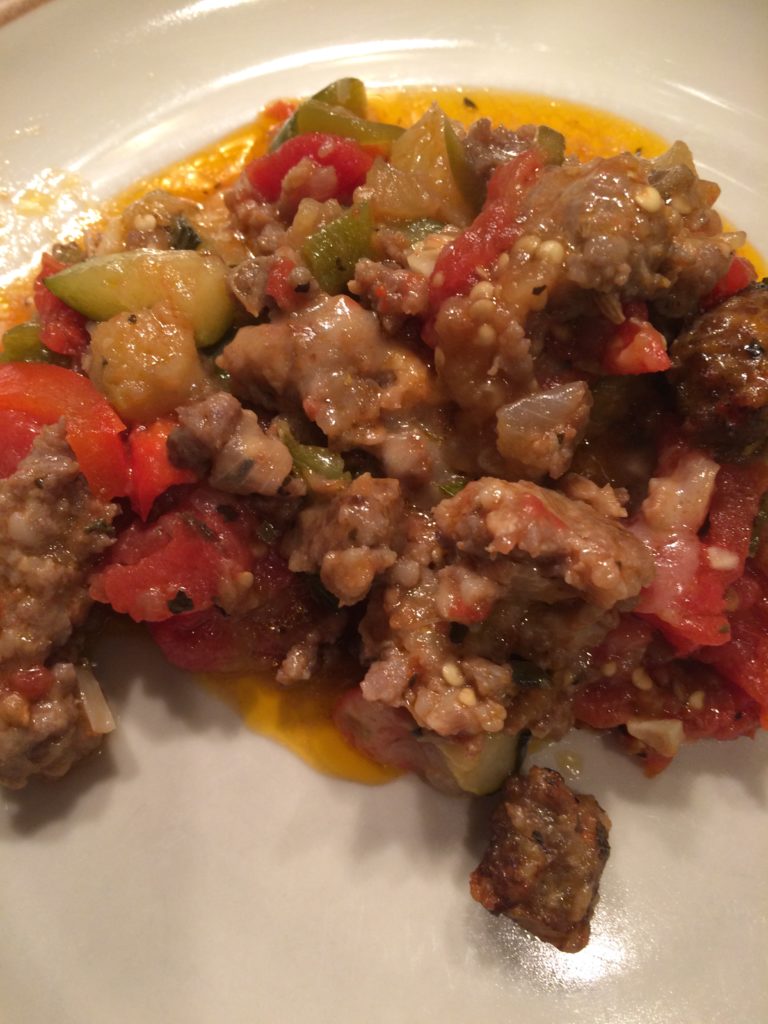 In times past when I have made my vegetable casserole, I nearly always had leftover eggplant.  Most often it would go unused in the refrigerator until it was past prime…really past.  A google search helped me out the last time that I completed making this casserole. The left over salted, rinsed, and dried slices of eggplant stared at me from the counter and prompted me to try eggplant pizzas.  With the name of Julia Child preceding the recipe name, how could I resist.  I will admit, that I made the pizzas on a Wednesday night while the 'Ole Buckeye sailed…just for me.  I actually enjoyed them as a light dinner.  The 'Ole Buckeye…never.  He will not have the chance to experience these little treats.  I know exactly what his response would be.
When I prepare these in the future, I will be a little more creative.  The first time I made them with what I happened to have on hand.
I love this recipe for Julia Child's Eggplant Pizzas made on a base of roasted eggplant. The eggplant pizzas are low-carb, Keto, low-glycemic, gluten-free, meatless, and South Beach Diet friendly; use the Recipes-by-Diet-Type Index to find more recipes like this one.
The newest addition of my low carb, meatless menus is Zoodle Rosa.  I had a spirilizer for quite some time before I actually used it.  My first try was to make zucchini noodles.  (Zoodles)  My first attempts were not hugely successful.  I was cooking them too long and I was not removing some of the moisture.  I have learned after trial and error that these tasty noodles can indeed be used in the stead of pasta.
Zoodle Rosa has become another favorite.  I have used this recipe as a main dish as well as a side.  It reheats extremely well and I have frozen it for reuse at a later time successfully.
Remember that horrific gift my husband gave me a few years ago? Turns out, it isn't so horrific after all. Once I was able to forgive him for buying me a kitchen gadget, dusted it off and embraced this wonder that I've had in my cupboard for far too long, I've become slightly obsessed.
I make all of these meals year round, but with summer fast approaching and the arrival of farmer's markets, and garden explosions I wanted to put them out there as suggested meals for your summer menu planning.
May your gardens produce abundant summer produce.  Bon Appetit! and a toast to healthy summer eating.