As I began to address the task of designing the menu plan for week 75, I asked myself if the time and trouble that this task takes is really worth it.  I use the word task because indeed this has become a weekly undertaking involving research, planning, and posting.  It has at times become a weekly grind, a responsibility that I have assigned myself, a deadline that must be met.  Is it worth it?  The answer…a resounding "Yes"!  I cannot explain how often I revert back to the plan during the week.  I often say to myself "Oh Yes…I really wanted to try this". There are times that I look in the refrigerator and am thankful that I have all of the ingredients I will need for the meals that I have planned.  Yes, the "task" takes time and effort, but the reward is priceless.  In the long run the "task" saves me time and money.
My type A world of retirement has possibly become overly organized.  I clean the house on Monday, I do the final menu plan and write the blog on Tuesday as well as the weekly grocery shopping.  On Wednesday I review the new grocery specials at several of the grocery stores in the area and begin formalizing my next menu plan by utilizing the foods that are on sale.  Thursday through Sunday are days open to whatever projects or activities that might evolve.  I have tried extremely hard to avoid being overly committed to schedules or tasks for at least half of my week.  There are actually some days that I don't do much of anything.  I do most of my meal prep on Tuesdays and Saturdays especially if the menu calls for a more complicated preparation and requires more time.
The menu plan for week 75 will utilize lots of green, yellow, red, and orange peppers.  They were on sale for the first time in weeks.  Blueberries were on special as well, so the giant blueberry pancake will reappear.
The breakfast plan for week 75 includes the cook once/eat twice frittata with kale, roasted peppers and feta which I made for the first time last week.  Week 74 Recipes  This was a huge hit with the 'Ole Buckeye.  I have three new recipes planned, as well as the repeat of a favorite, Giant Blueberry Pancake, page 261 of the Trim Healthy Mama Cookbook.  I am so glad that blueberries continue to be on sale.  I have adapted this recipe for our family by baking it in two separate deep dish pie pans instead of a 9 x 13 baking dish, making it possible to freeze one for later use.  When the grand girls were out of school due to the snow, I took one over for brunch.  They were delighted, seconds and thirds all around.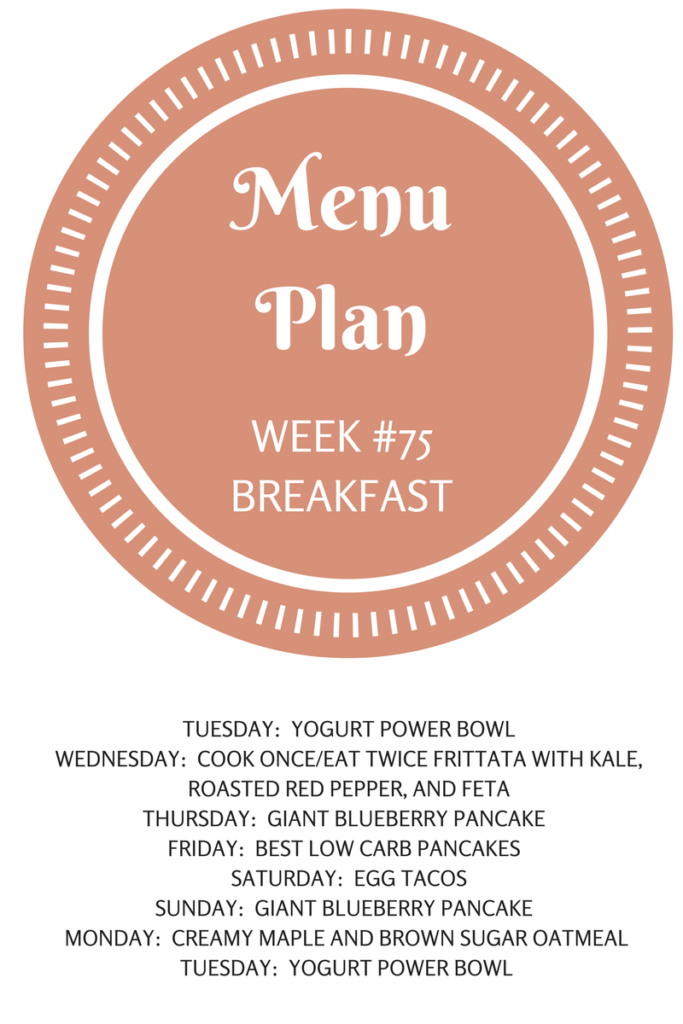 Creamy Maple and "Brown Sugar" Oatmeal
Lunches planned during week 75 continue to spotlight soup.  The lentil soup and white chicken chili are cook once/eat again meals.  There will be yet another remake of the Zuppa Toscana a true family favorite, page 87  Trim Healthy Mama Cookbook.  We have Greek burgers and salad leftover from dinner last week…not enough for a dinner but plenty for lunch.  I am highly intrigued with the Greek Quinoa Salad from Bobby Flay.  I found one similar from a THM post, but this one looks more flavorful.  I will adapt the recipe to make it more compliant by reducing the amount of olive oil.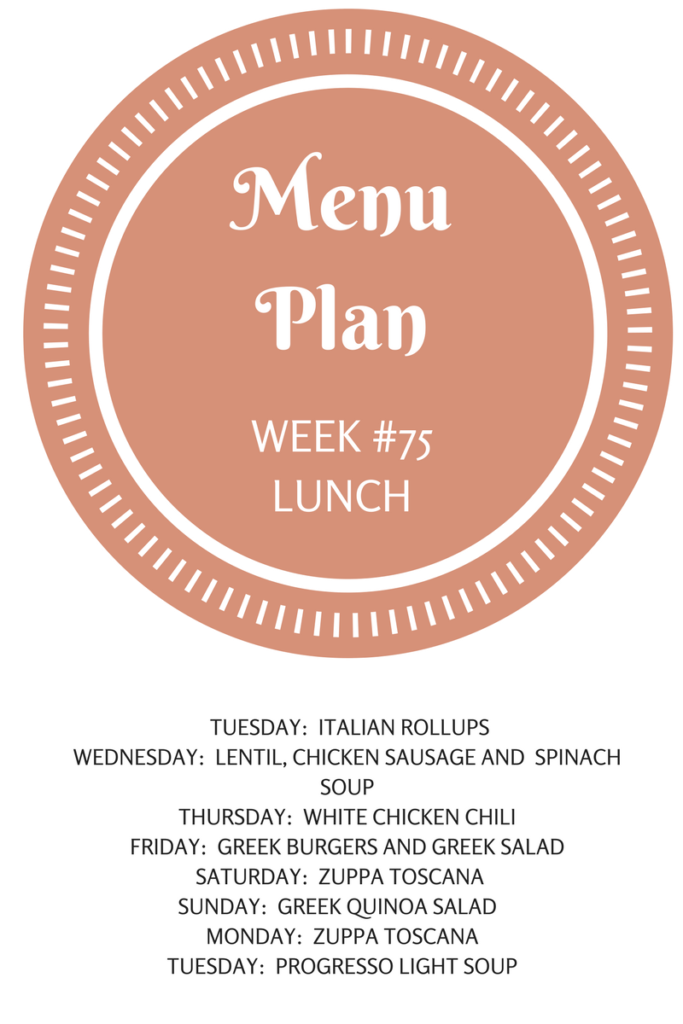 Dinners for the week include several cook once/eat twice entrees.  The twice baked spaghetti squash was not a planned cook once/eat twice, but each shell half was so big that we split the half and each had 1/4 of a shell.  The 'Ole Buckeye was not a big fan.  I though it was good, but needed more pizzazz.  If I make it again I will either add more spice or change the cheese to a pepper jack.  The cowboy grub reminded me of meals I had as a kid or fixed for my kids.  It was kind of a thick chili/stew.  On Friday when we have it the second time I plan to make a THM cornbread to go with it.  Thursday night the 'Ole Buckeye's night to prepare dinner has been reinstated.  His speciality is Roasted Italian Sausage and Peppers and I have lots of peppers ready and waiting.  I have included a family favorite Pepperoni Pizza Chicken Bake.  The two new dinners planned are the stuffed peppers (remember that peppers were on sale) and the award winning chili pie from Trim Healthy Table.  I have read several facebook posts recently raving about the chili pie.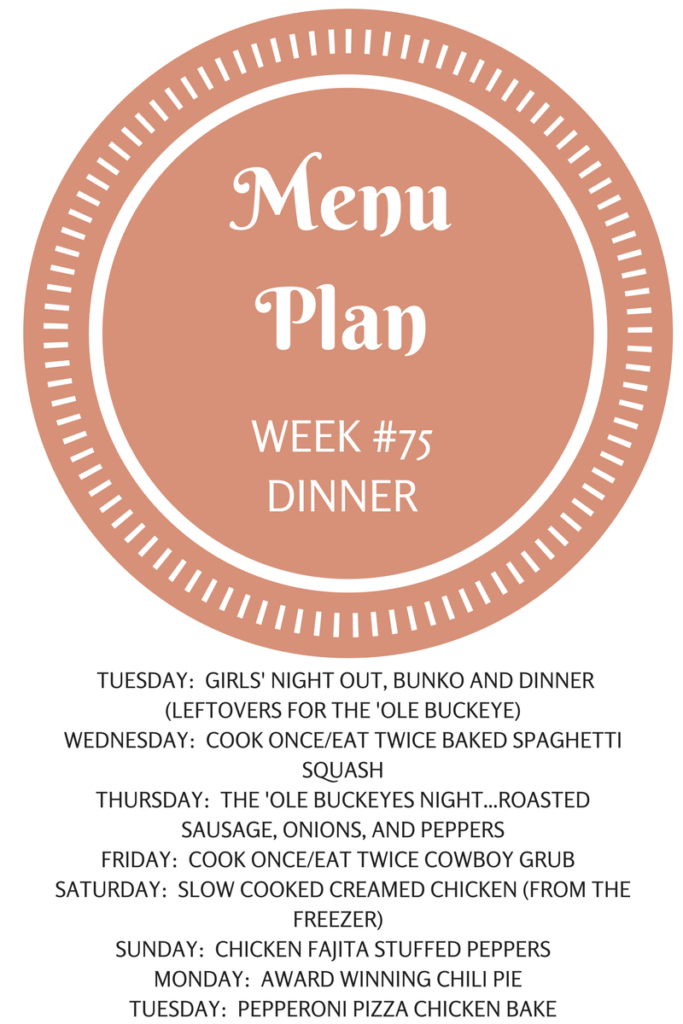 Roasted Italian Sausage and Peppers
Chicken Fajita Stuffed Peppers
Award Winning Chili Pie Trim Healthy Table page 142.
Another Tuesday "task" has been completed.  Week 75 continues to follow the Trim Healthy Mama healthy eating plan.  There are several recipes that I truly look forward to testing and others that I look forward to eating once again.  My energy level continues and my interest in the learning process for this way of eating has not subsided.  Hopefully there will be a few recipes that are of interest to you.  Regardless this process continues to be an important way for me to run my household effectively.  Until the next time…Bon Appetit!