The menu plan for week 68 is a combination of tried and true recipes and several recipes left over from week 67.  Actually the menu plan for week 67 went to hell in a hand basket.  I don't even remember what we ate last week and when we ate it.  I can say that several meals from previous weeks stretched into feeding us.  Rather than cooking more, I concentrated on creating meals from the leftovers before the Thanksgiving holiday.   I am finding that as I include new recipes, I neglect to determine just how far they will go.   Instead of cook once/eat twice, I have discovered that often it is cook once/eat thrice or more.  So here I am at week 68 with lunches and dinners previously included in week 67.   Obviously I still have ingredients on hand along with an abundance of leftover turkey.
My plan for breakfast this week includes only one major meal preparation.  The 'Ole Buckeye has requested another deep dish pancake and our favorite after trying several recipes is the apple one from divaherself.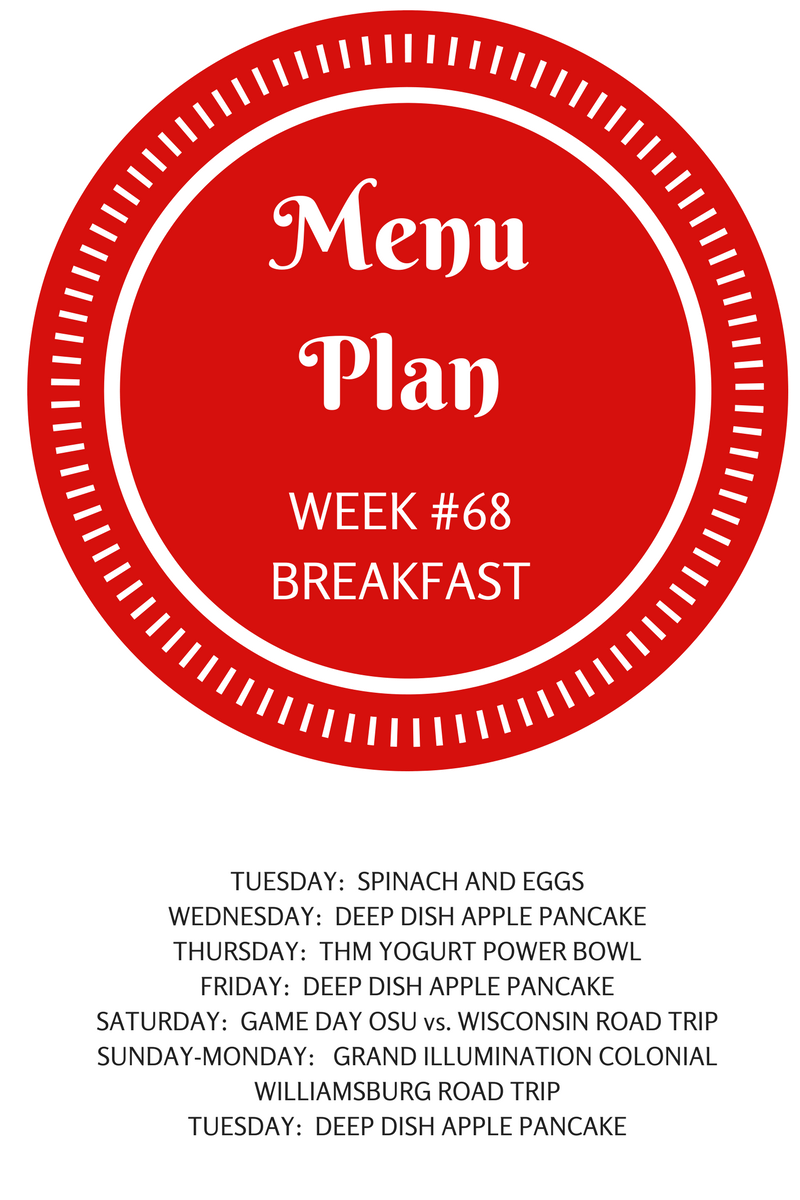 Deep Dish Apple Pancake Three Forks
The plan for lunch during week 68 includes a new soup.  I have decided to use a mild Italian sausage for the first attempt.  If the soup is a success I will decide how spicy to make it next time.  Hopefully it will supply us with several lunches.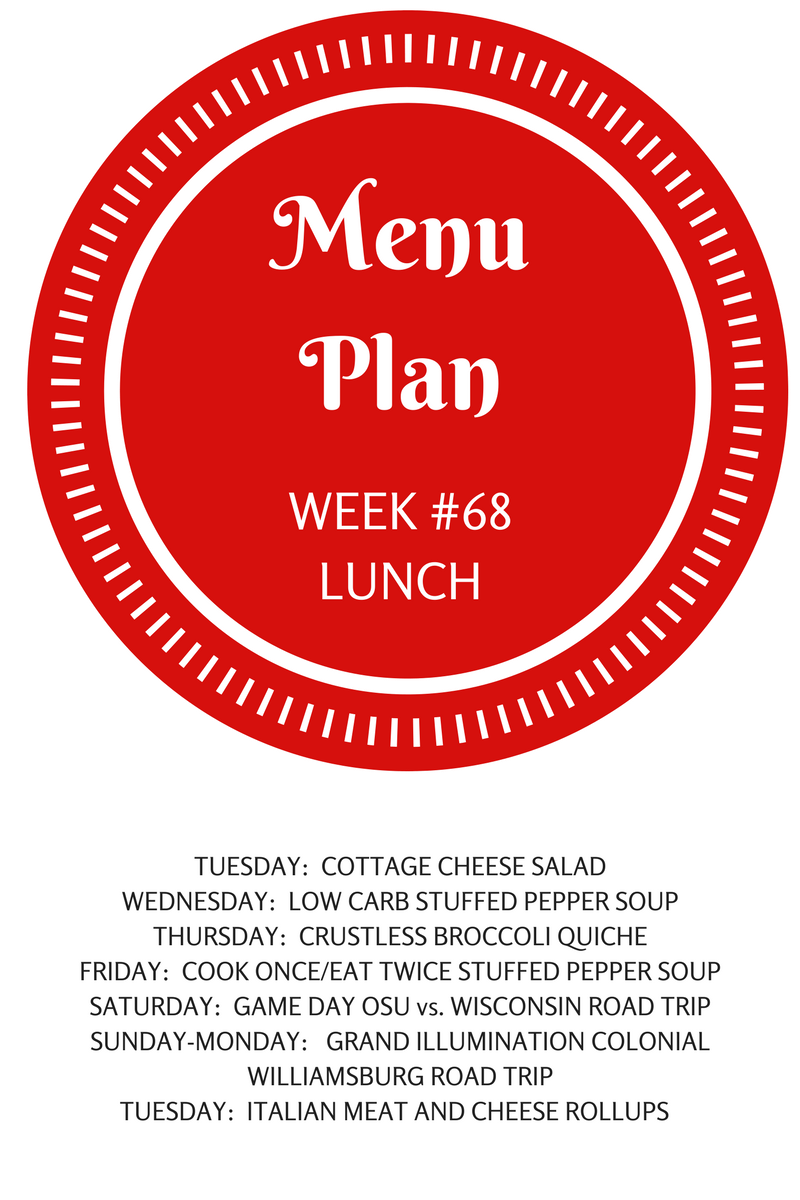 The dinner menus for week 68 include several that were planned but never prepared as well as a new favorite which utilizes much of the leftover Thanksgiving turkey.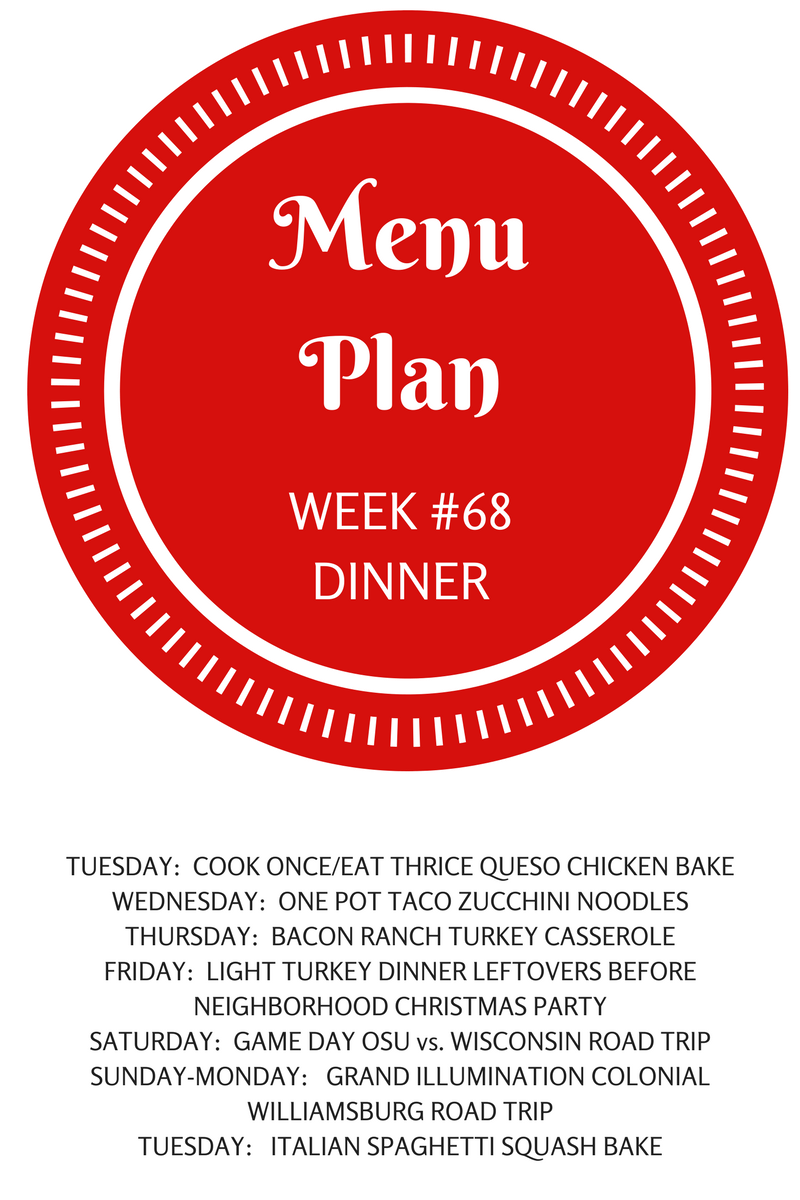 Bacon Ranch Chicken (Turkey) Casserole
Once again we are on the road taking advantage of time and opportunity to take part in events that are meaningful and important to us.  We will be sharing experiences with family and friends and look forward to the weekend.  The holidays are upon us and the decorating, shopping, cooking and baking are in full swing.  We look forward to celebrating the season as we continue to follow our new healthy way of eating and learn more about the Trim Healthy Mama eating plan.  Bon Appetit.