The menu plan for week 64 must include preparations for guests.  Friends from Illinois will be flying in on Thursday evening, and leaving Sunday late afternoon.  With their visit in mind, I need to prepare meals that taste good, can be prepared ahead, and will continue to adhere to the Trim Healthy Mama eating plan.  I also want week 64 meals to be easily heated and prepared since we plan sightseeing during the day.  That of course means preparing some of those meals in advance and hoping they will hold well for reheating later.
I will admit that I have tested several meals over the past weeks with this in mind.  Our breakfasts will be a repeat of our current favorites…the blueberry baked pancake and the easy breakfast casserole.  If I serve these with fresh fruit, yogurt, coffee and juice it should prove to be no fuss and delicious.
I am planning the quiche for Sunday breakfast, but it could also sub as a lunch or even a dinner for two if we don't get around to eating it.  Simply add a salad and it makes a perfect evening meal.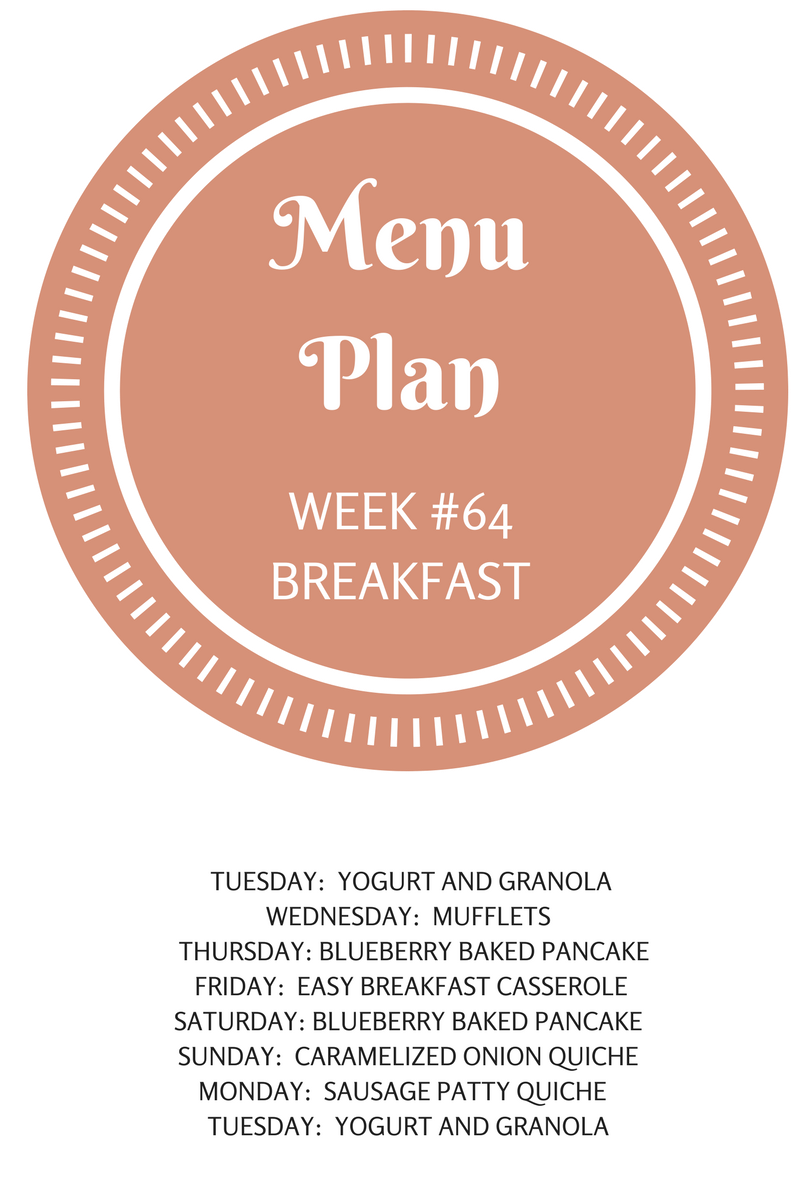 As you can see I start out week 64 with several days of the wicked white chili.  Why?…because it is still taking room in the frig and needs to be finished!  I had pulled pork in the freezer.  Since the 'Ole Buckeye loves North Carolina BBQ (the vinegar kind), I decided to give a new recipe a try and use it on the thawed pulled pork.  I will get some Hawaiian rolls and slaw and it will make a perfect lunch.  I have made the Zuppa Toscana ahead and it will serve as a good lunch choice as well.  I also decided to do a casserole I have wanted to try, thinking that I can use it for a brunch, lunch, or a late lunch on the day they depart.  If it isn't used for lunch, the 'Ole Buckeye and I can have it for dinner on Sunday or later in the week.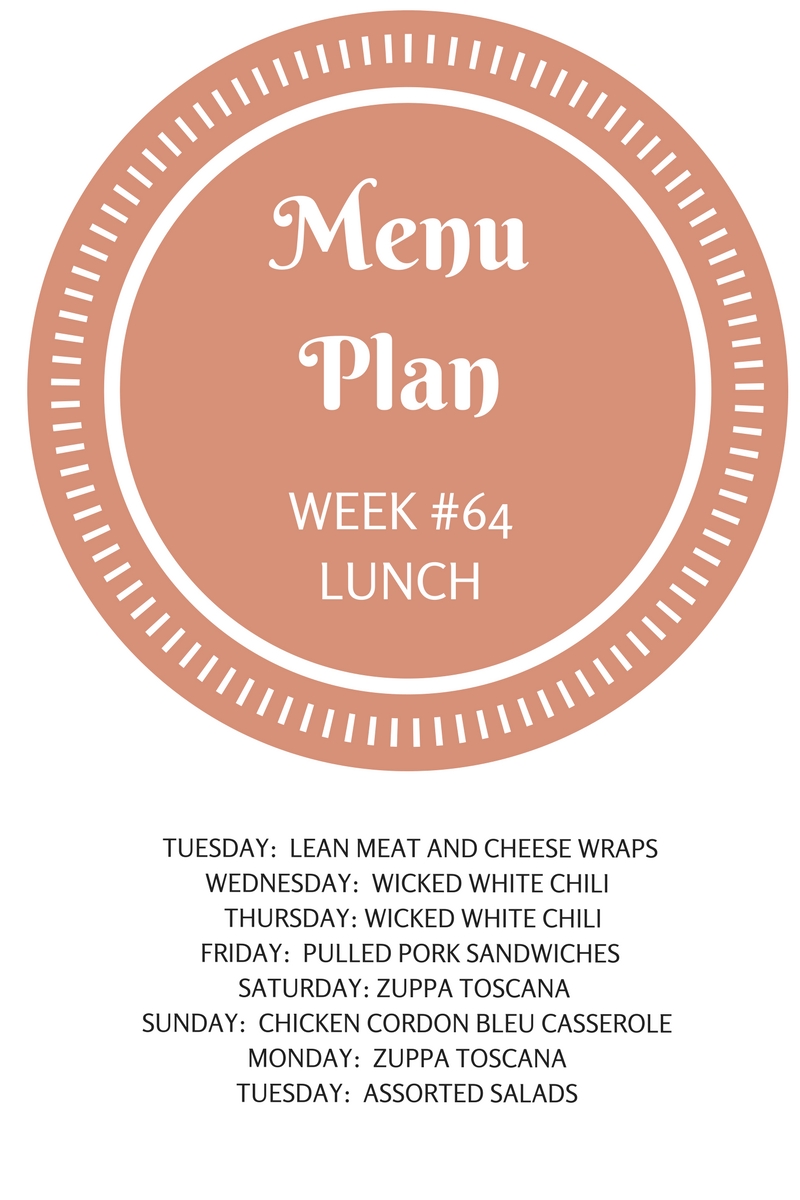 The dinner plans for week 64 will include several that were omitted several weeks ago due to changing circumstances.  All of the ingredients are on hand and no additional shopping is required.  I have decided to have the Greek Shrimp, Tomatoes and Feta the first night our guests are here because it can be made in advance and is a quick and easy reheat.  Saturday we will have a big family meal planned.  We are doing gourmet burgers on the grill (Harris Teeter has the best gourmet burgers!!!) and a variety of salads and condiments.  I just need to come up with a fabulous dessert. (that I can eat)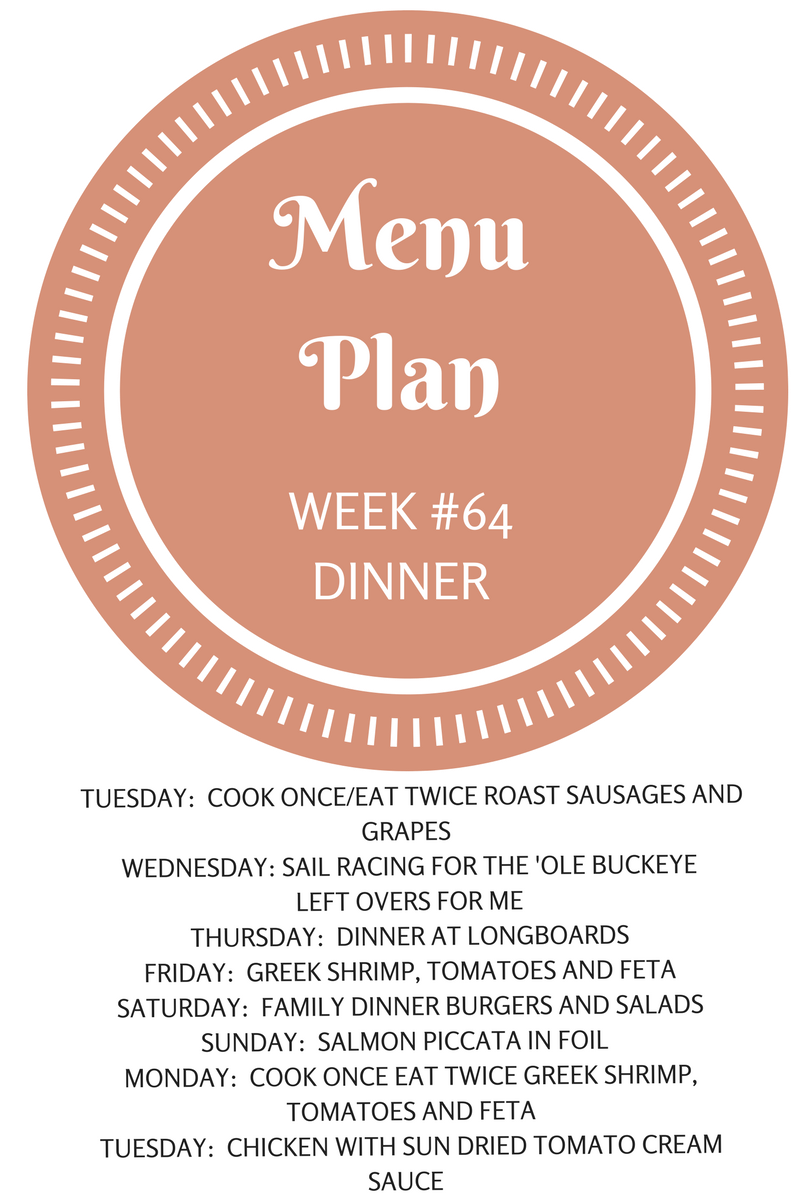 I have begun some food preparation in advance.  We are planning to explore Virginia while our guests are here with our excursions weather dependent.  I want to have food on hand to serve if we are at home at mealtime.  If our day takes us to adventures that require a meal "out", the foods I have planned will be easily utilized after their departure.
Greek Shrimp, Tomatoes and Feta
Chicken with Sun Dried Tomato Cream Sauce
Just a note…I made a dinner for my son's family and took it over to them Tuesday night. It is a favorite of their's and I thought that I would include the recipe.  It is not compliant to the THM food plan, but it is a family "fav" that will still be incorporated into our lifestyle.
HITS AND MISSES from Week 63
Easiest Breakfast Casserole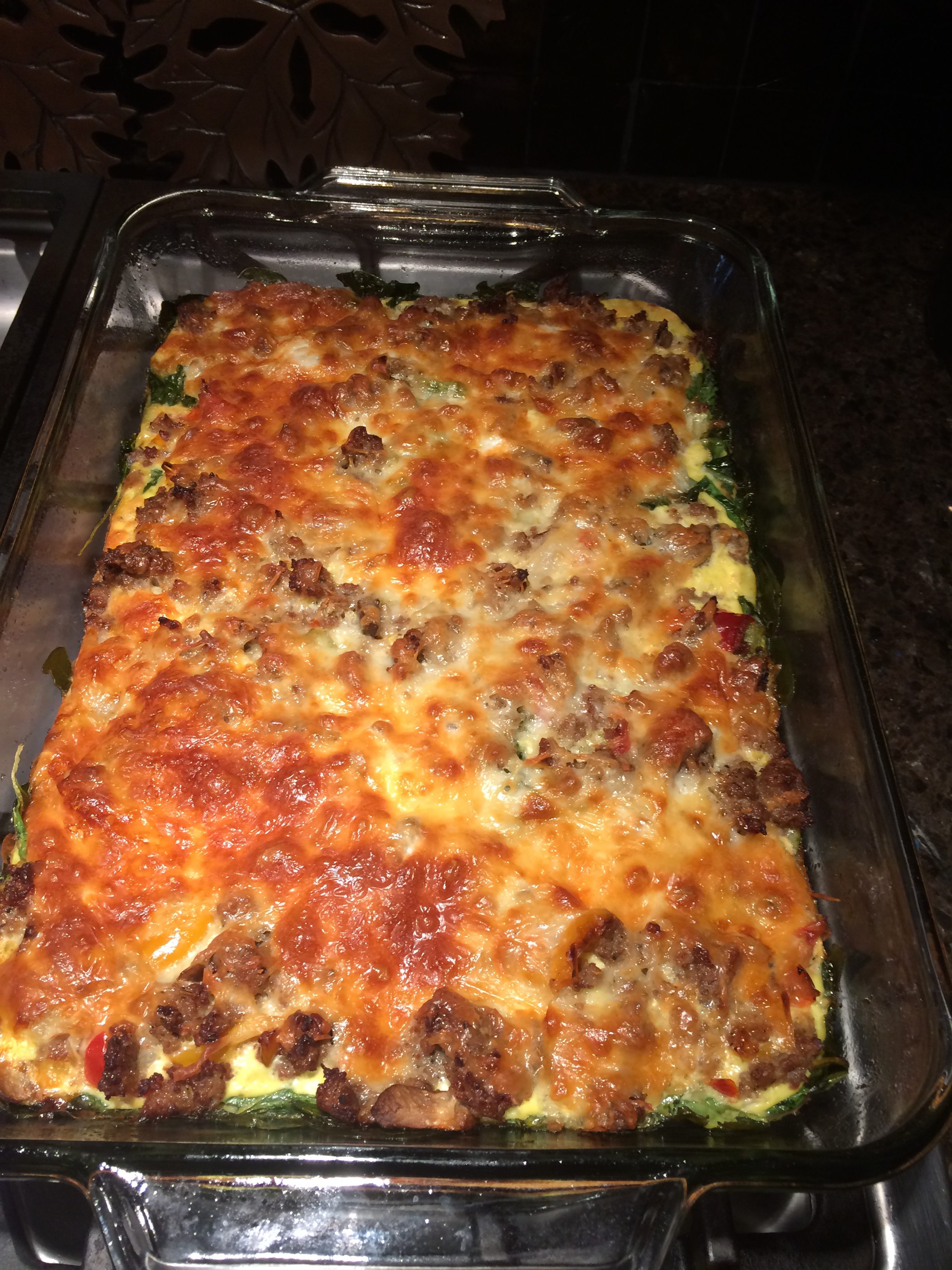 This recipe was a big hit.  In fact of all the new breakfast egg casserole recipes that I have tried, this one is our favorite.  The recipe is found on page 328 of the new Trim Healthy Mama Cookbook, Trim Healthy Table.  This was the first recipe that I have tried from Pearl and Serene's newest book and if it is any indication of what's to come, I am quite excited.
Giant Blueberry Baked Pancake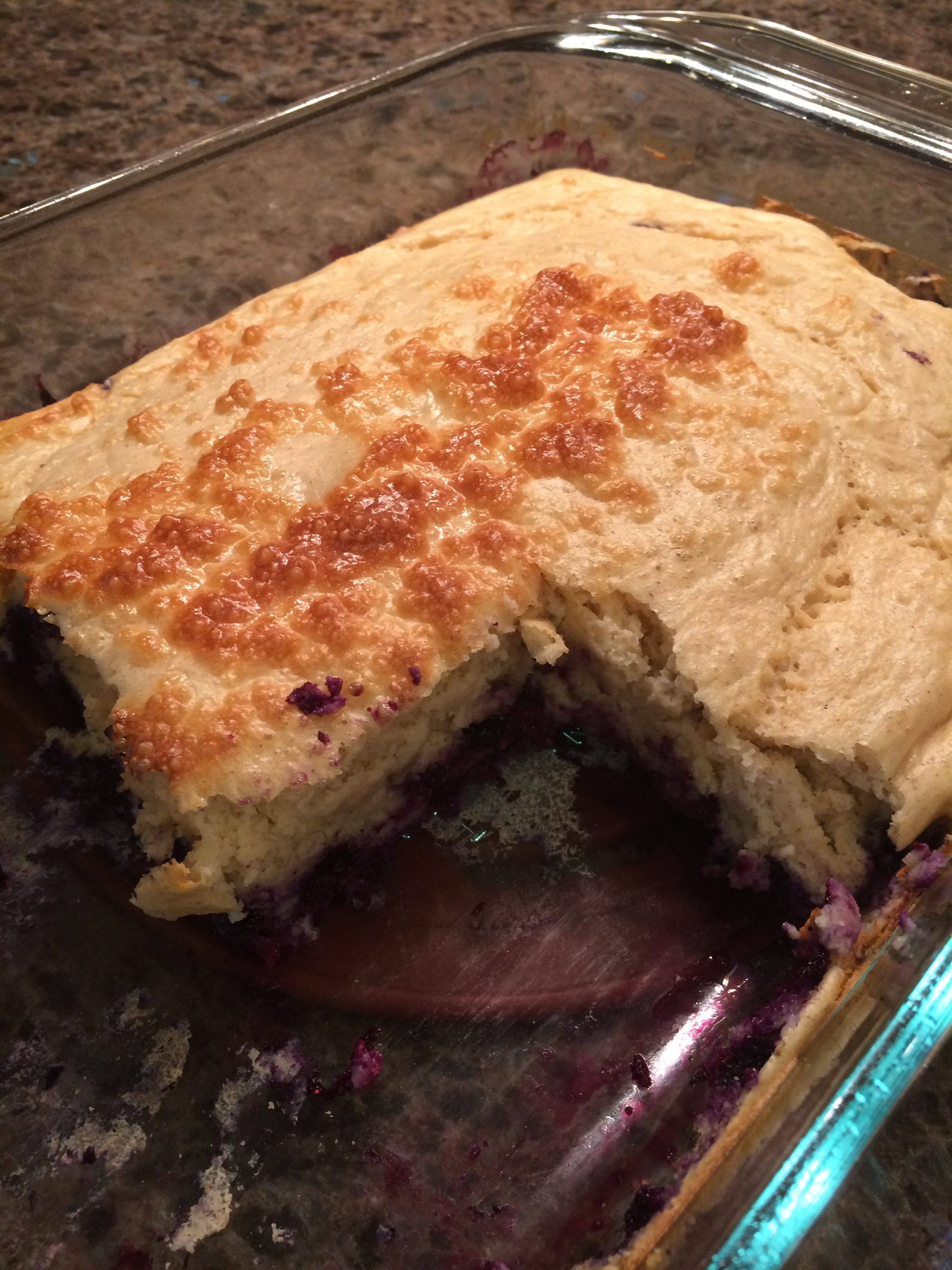 I know, I know…terrible picture.  Don't let that be a deterrent.  This was an excellent breakfast as well.   The recipe is from the first Trim Healthy Mama Cookbook, page 261.  The 'Ole Buckeye even commented that he wasn't hungry mid morning as he often is with a carb breakfast.  This is packed with protein, easily reheated and a breakfast delight on multiple mornings.  This will definitely be added to the timeshare meal plans. The grand girls will love it.  You may have noted that it is on the menu plan for week 64 when we have guests.
Zuppa Toscana
Trim Healthy Mama Cookbook page 86.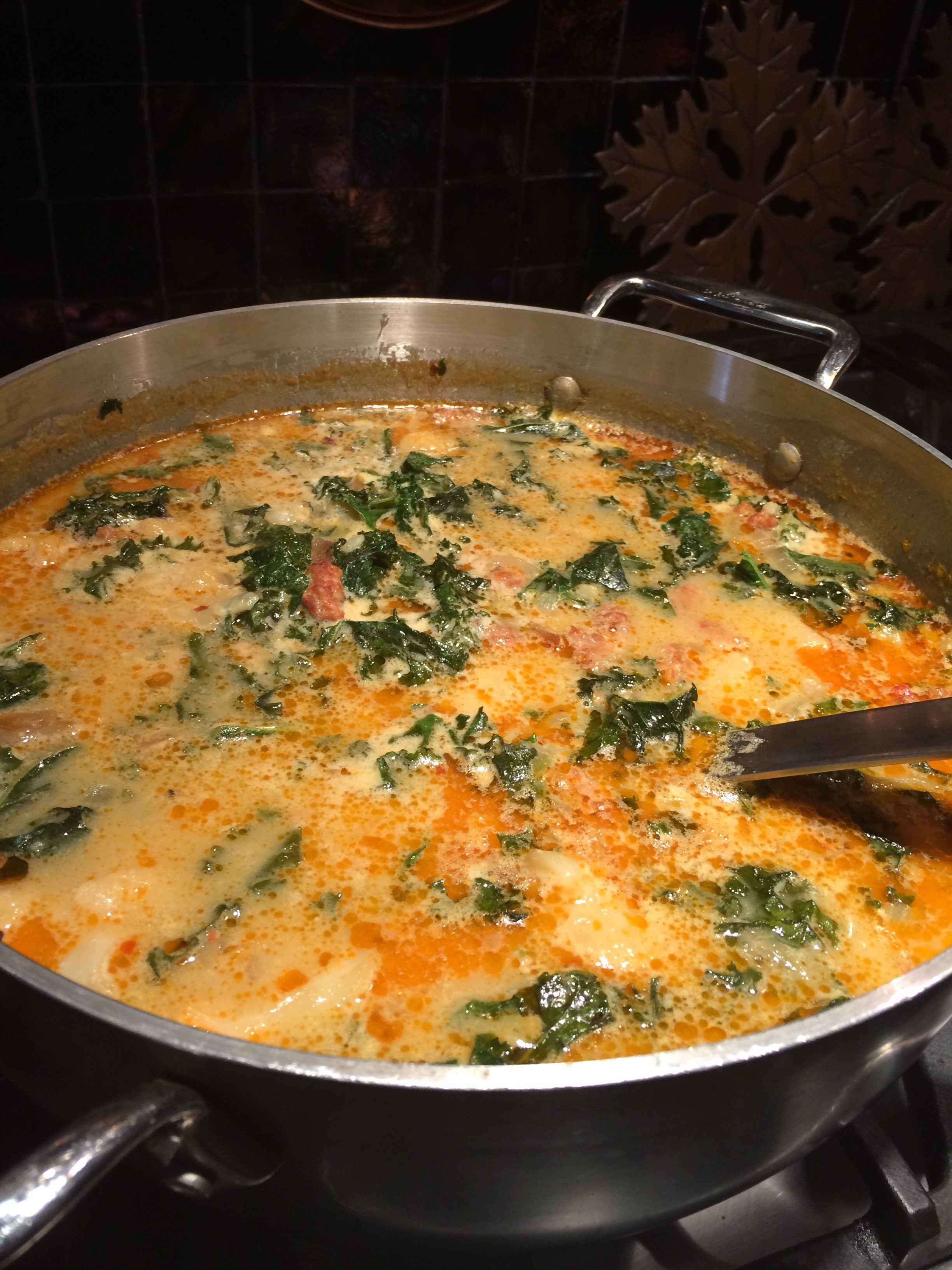 This soup recipe held much more interest for me when my fresh bunch of kale from the farmer's market froze in the shelf of my refrigerator.  Why is that?  Occasionally things freeze and I have not figured out why.  I salvaged some of the leaves for a salad but the remaining went into this soup.  I will have it on the menu this weekend as a backup lunch when guests are here.  I thought it was quite good, but I was also fighting a sinus infection, so it was exceptionally soothing and healing.
I just wanted to repost the link to this recipe from Rachael Ray.  It is one of our family favorites and oh so easy.  It does not comply with the Trim Healthy Mama guidelines, but once in a while a great meal deserves to be served.  We shared this with my daughter who happens to love it as well.  This time I mixed sweet Italian Sausage and Spicy Hot Italian Sausage.  The 'Ole Buckeye and I preferred the spicy.
Well that is it, the Menu Plan for week 64 is a wrap.  Aside from finding a great dessert recipe, the plan is complete.
We are looking forward to a week ahead of fun, family, friends, and food.  Bon Appetit!