Menu Plan Week 77 With Trim Healthy Mama
Creating the Menu Plan for Week 77 took a little more time than usual.  The grocery specials were not enticing and I had used nearly all of my cook once/eat twice meals, leaving me with more cooking than normal.  In addition, I found I wasn't very creative.  I struggled.
My breakfast plan for week 77 revolved around a remake of a favorite, and experimenting with three new recipes; a quick and easy smoothie, bars that could also be stored and used for snacks, and an overnight oatmeal that I never made a few weeks ago.  The Creamy Maple and Brown Sugar Oatmeal required an overnight stay in the refrigerator and I consistently forgot to prepare it ahead.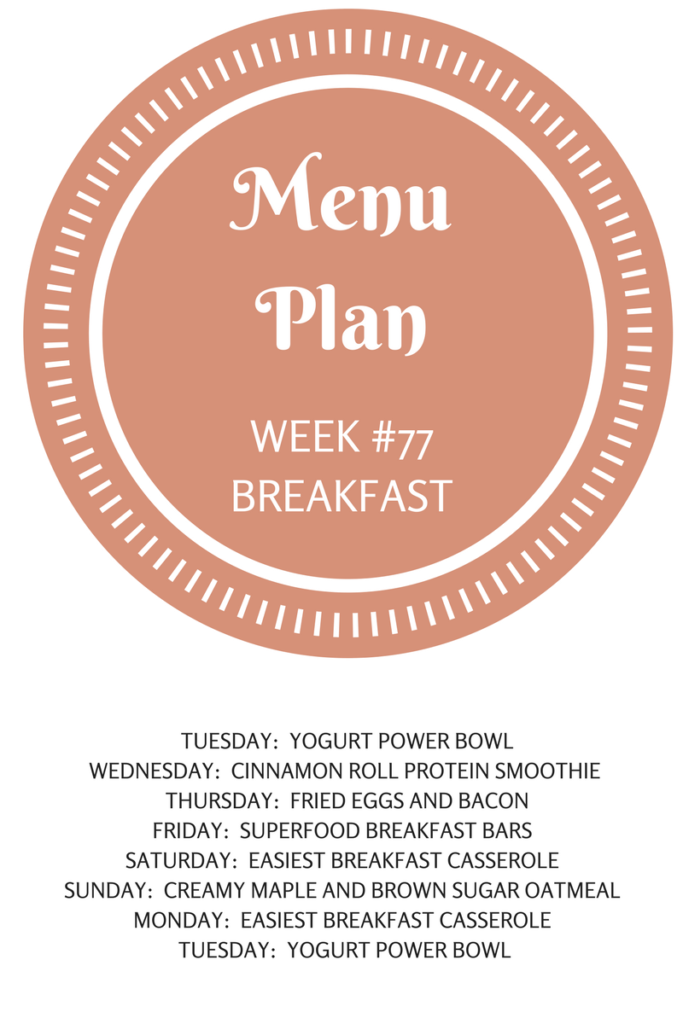 Cinnamon Roll Protein Smoothie  THM E
Super Food Breakfast Bars  THM S
Easiest Breakfast Casserole page 328 Trim Healthy Table (family favorite)
Creamy Maple and "Brown Sugar" Oatmeal   THM E
The lunches planned for week 77 feature 2 repeat salads.  We have thoroughly enjoyed both of them in the past and I want to be certain that they should be included in our lunch rotation.  The taco salad also traveled extremely well on one of our road trips.  I know that it will feed us at least 3 times.  I am also fairly certain that we will have some soup left over from our lunches during plan 76.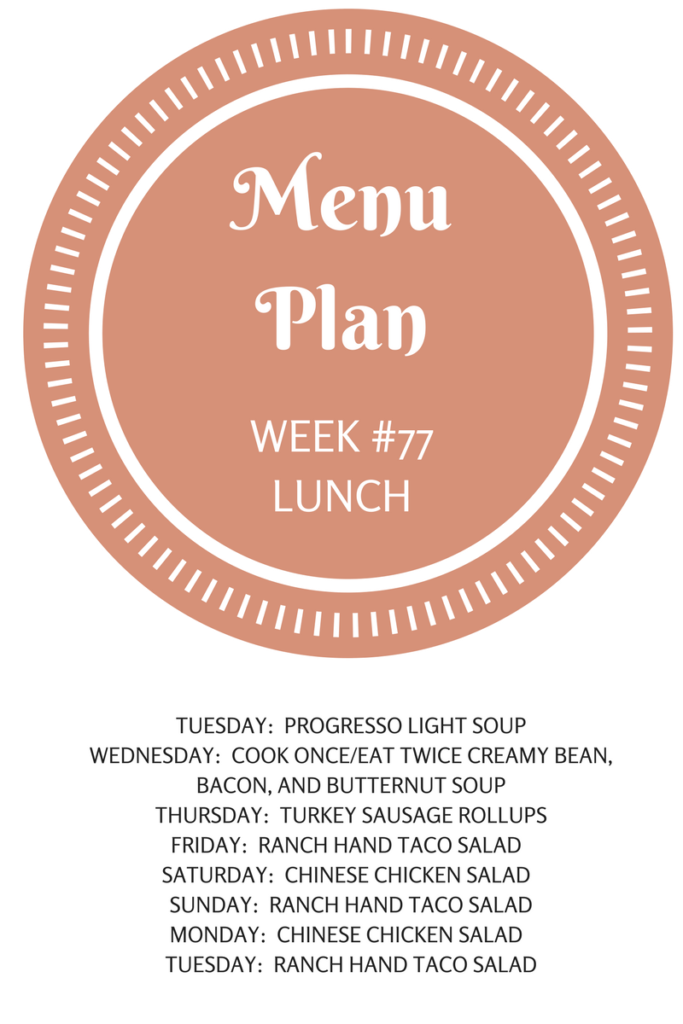 Ranch Hand Taco Salad page 200 Trim Healthy Table
Chinese Chicken Salad page 199 Trim Heathy Table
The dinner plans for week 77 include three untried but appealing S meals, all of which fulfill my cook once/eat twice time saving philosophy.  The slow cooker Beef Brisket will need some "tweaks" to make it THM compliant, but it has caught my eye several times over these past weeks.  It sounds delicious and is an easy crock pot meal as well.  A big plus is that the 'Ole Buckeye loves beef brisket.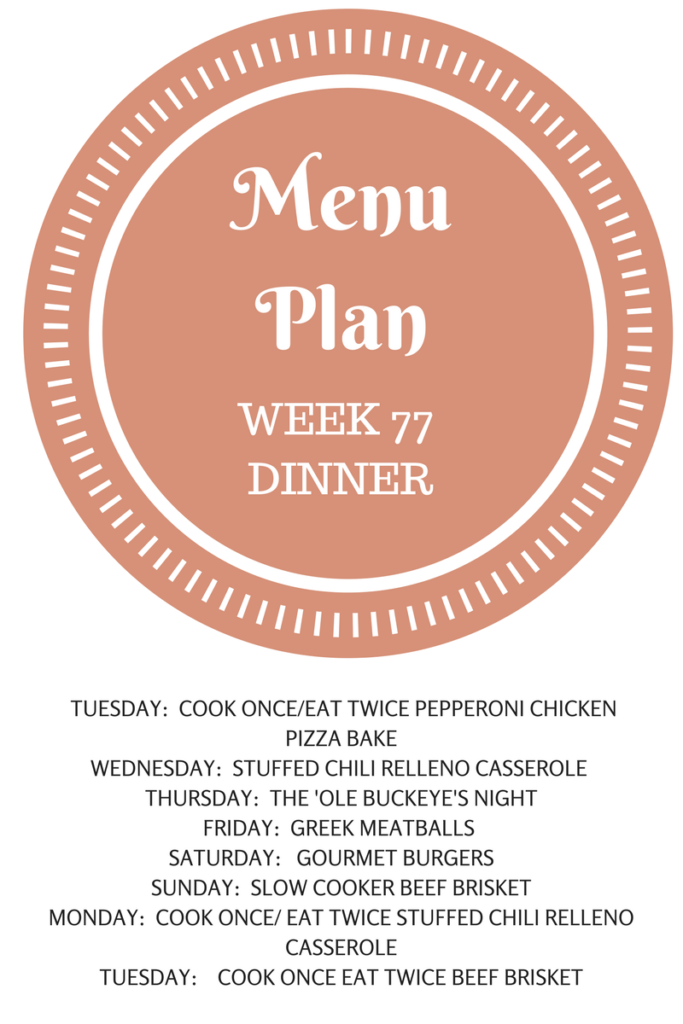 Stuffed Chili Relleno Casserole
At this point I would like to do a quick recap of the hits and misses from last week.  The breakfasts were much more successful than the lunches.
As revealed in a previous post many of the planned dinner entrees were replaced with an unexpected delivery of Blue Apron meals.  Since much of the week featured the second round of cook once/eat twice there is not much to report from our evening meals.
The Oat Berry Breakfast Cake (tastes better than the image suggests) was a success, although we agreed that we enjoy the giant blueberry pancake much more.  The next time I prepare the pancake I will use frozen mixed berries because the amount of berries in the cake was what was most appealing.  This was more dessert like than breakfast like.  In fact we had it for dessert the first day I made it.  It reheats extremely well.
The Cream Cheese Easy Egg Bake is a keeper.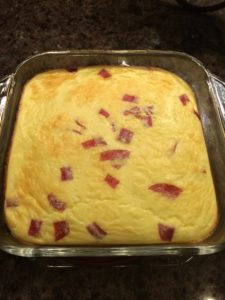 It is a terrific base for adding your favorite meats, cheeses, and vegetables.  I wasn't totally prepared with creativity the morning I made this for the first time.  I simply chopped some turkey pepperoni and shedded Mozzarella.  The casserole came out fluffy and very good.  I will definitely be more creative the next time.  This is a great way to use up a variety of left over veggie's in the frig.
Bobby Flay's Greek Quinoa Salad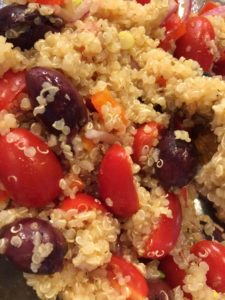 I made this salad the way the recipe was written completely forgetting that the plan was to make it more THM friendly by using less fat in the recipe.  I really liked this and so did the 'Ole Buckeye, who usually likes to avoid quinoa.  Note to self, the next time (and there will be a next time) thinly slice the olives and use fewer…maybe 5 or 6 olives and try using a tablespoon or less of the olive oil in the dressing.  I did not have a cucumber but used chopped red pepper…Great.  If I use cucumber in the future I will add it at each serving.  I am not a fan of left over cucumber days later in my salad.
The chicken fajita soup and the bean, bacon, and butternut squash soup were both taken from the new Trim Healthy Table cookbook.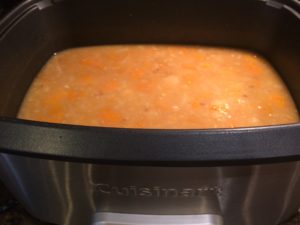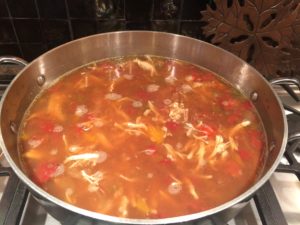 The chicken fajita soup is a keeper mainly because it is a full pull.  The flavors are very good.  I tried the bean, bacon, and butternut squash soup as a recommendation of my daughter.  It was a disappointment and will not be a repeat.
We continue to explore new healthy recipes while learning the Trim Healthy Mama method of eating.  I continue learning and there are days that I take a few steps forward and others that I take a few steps back.  Sometimes I think I make it more complicated than it actually is.  My biggest frustration is when I finish a meal and realize that I combined the wrong foods…  or forget the protein…or simply forgot to eat.  It is a process.
There you have it, the menu plan for week 77 is filled with a variety of tried and true favorites and new and exciting first appearances.  It should be a great week of eating.
As we push onward, we continue on a healthy eating path.  Bon Appetit.
What Exactly Are You Looking For?