OMG.  How did it possibly get to be the middle of May!  It seems like just yesterday that I formulated my non-meal plan for the past week.  It is hard to believe that I am putting together the menu plan for week 48.  I  am not very inspired in creating the plan for week 48 either.  We just returned last night from our long weekend in Washington DC.  The refrigerator is rather barren to say the least.  The grocery specials are of little interest and the grocery shopping is of even less interest.
Since I continue to have a goal of utilizing my freezer stock and I have some beautiful leeks on hand that I didn't use last week, the recipe for creamy chicken with mushrooms and leeks sounds particularly appealing.  I also have a chuck roast in the freezer taking up quite a bit of space.  Knowing that the crock pot Mississippi pot roast is a family favorite and all of the ingredients are on hand, adding it the the meal plan is quite simple.   Since I volunteered to provide a spiral cut ham for the Garden Club dinner, I have decided to utilize the ham bone as a base for an adapted version of the bean with bacon soup.  If I don't use the ham bone right away it will end up taking space in the freezer which I am actively trying to avoid.
Since I know there will be left overs from at least one of the meals, I will delegate one night for a cook once/eat twice meal.  The class that the 'Ole Buckeye has been taking (providing an evening meal) comes to a conclusion tonight.  I have to admit I am a little sad!  For the past 6 weeks I have had two nights off each week from kitchen duty.  Planning for Tuesdays will once again come into play.
Week 48 looks to be good eating.  I am attempting to keep meals as low-carb as possible.  I have been doing this for myself for about a month now, but I am going to become a little more aggressive.  Obviously, it is not the main dish protein that is the problem.  The problem is coming up with the sides that satisfy, but are not heavy on the carbohydrates.  My sister Jan posted a new diet regime that she and her family are using which I intend to investigate further.  For now I have reverted back to the Suzanne Somer's diet plan which I used years ago and successfully lost 30 pounds.
I have attempted to resume that plan, but I have not followed it as carefully as I should.  Travel and restaurant eating makes following any diet quiet difficult…at least for me.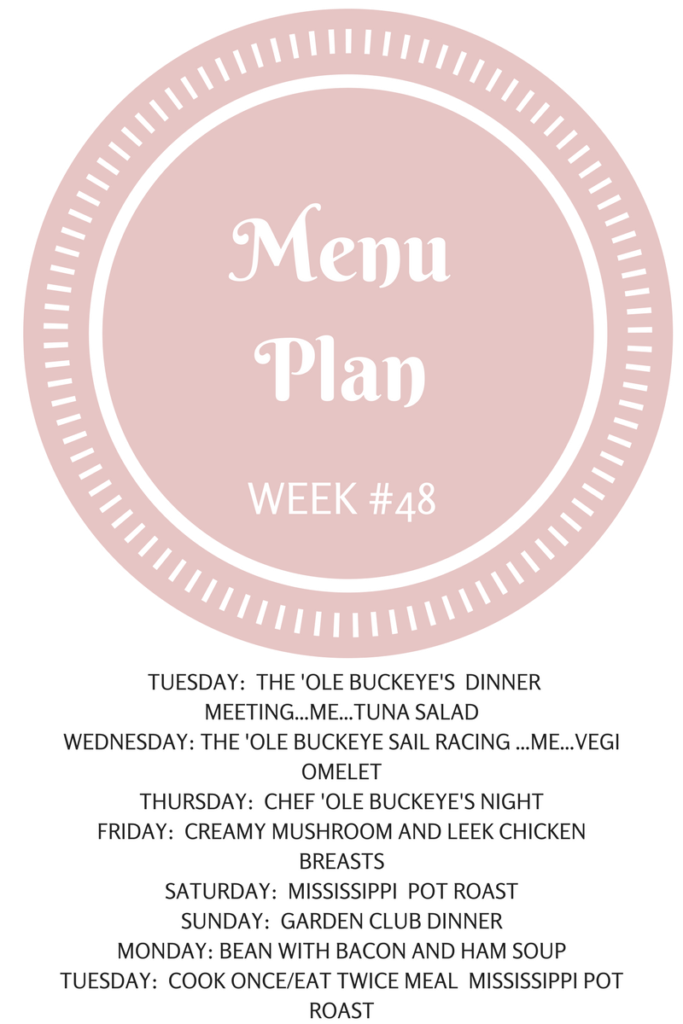 The menu plan for week 48 looks appetizing and appealing.  It requires only a quick trip to the grocery store for a few items.  That makes me overjoyed.   Hopefully the meals planned for week 48 will make us happy as well!  Bon Appetit.