/
Tag: Washington DC Restaurants
Menu Plan Week 47
The menu plan for week 47 took absolutely no thought.  When you see plan 47 you will understand the reason why.  We are on the road again.  This week we are planning a road trip to Washington DC. and we will be traveling Thursday through Monday.  Basically the Menu Plan for week 47 is non existent aside from attempting to utilize perishables from the refrigerator.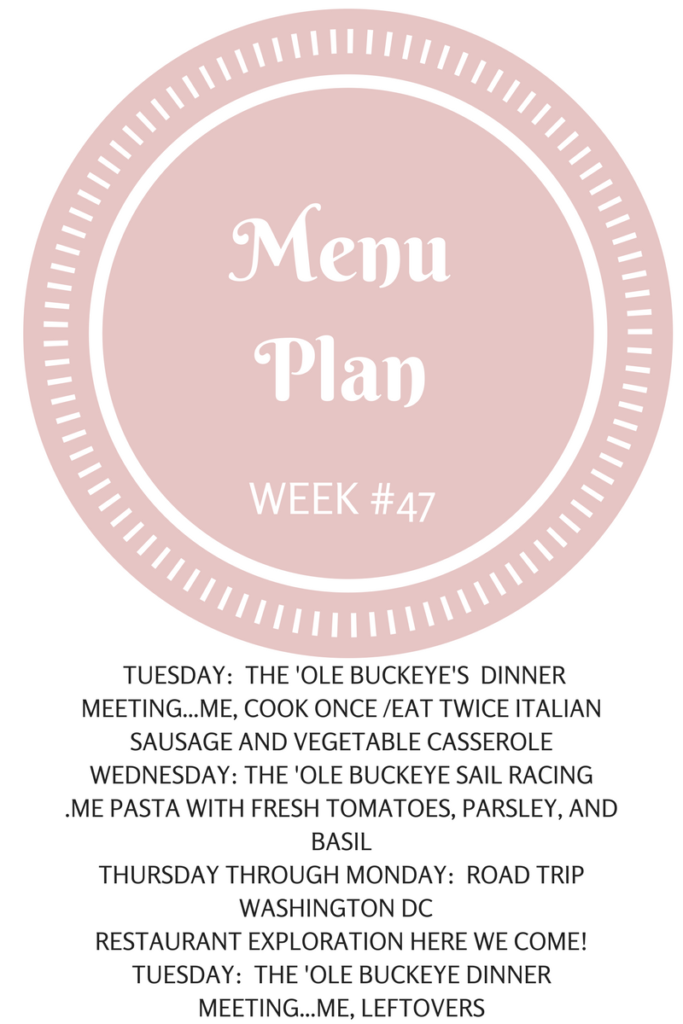 I will say that planning for a trip also involves taking the time to research new and exciting places to eat.  We were hoping that the weather for this trip would be more cooperative than our last visit.  The last time we ventured to Washington for a long weekend it was extremely cold and windy.  This trip there is rain in the forecast nearly every day.
We will explore a variety of restaurants as we continue to explore the city.  We are anxious to try the Tabard Inn which was suggested to us during our last visit.
On Friday evening we have reservations to see the Marine Corp Sunset Parade.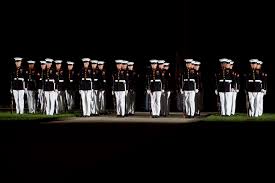 I have also researched restaurants in the area that provide a casual early dinner where we can eat prior to the March.  We have eaten previously at a Ted's Bulletin when we were in Reston for an event with my daughter.  Since it is tried, true and proven, we plan to eat there on Friday evening.  This time I am planning to partake of one of their famous "adult" milk shakes…maybe the Nutty Professor.
Our plan for Sunday, and another reason for the trip, is to see our grand daughter play soccer in Annandale.  Her team is scheduled to play at noon.  We will plan to eat a late lunch/early dinner after her game.  Since it is Mother's Day I am uncertain where that will be just yet, but hopefully the timing will avoid some of the crowds.  In my research I have found that one of our all time favorite restaurants has a location nearby.   One of our very favorite restaurants in Chicagoland is Wildfire.  In fact we ate there twice on our last trip back, once with friends for dinner and once again for drinks and appetizers.  I just discovered that Wildfire's second location outside of Illinois happens to be only 15 minutes from the location of the soccer game.  What a perfect place to have a late lunch/early dinner on Mother's Day!  I have made reservations at Wildfire in Tyson's Corner/Mclean, Va.
Our second restaurant outside of Illinois, Wildfire McLean is conveniently situated in Tysons Galleria – a popular shopping destination. Opened in 2007, we're pleased to bring Chicago-quality steaks, chops and seafood to Virginia.
Since the Mayflower Hotel has evening drinks and appetizers in the Concierge Lounge we can return and relax.  We will be set for the entire day.
On Monday we will be heading home early enough to avoid the DC traffic…if that is possible.  At this point we plan to have dinner at Stella's in Richmond.  It is our favorite Greek restaurant and we try to plan a meal there whenever we pass through Richmond.
Stella's honors rustic & modern Greek cuisine, bringing the freshest ingredients & Mediterranean fare table side.
After dinner we will return home and go back to our normal routine. After another exploration of the history and majesty of Virginia and Washington DC it will be good to be back home again.
And…
It will be time once again to plan another menu!
What Exactly Are You Looking For?