Menu Plan Week 43
You would think that after nearly a week away from the kitchen, I would be excited to plan the menu for next week.  Not.  The menu plan for week 43 is loosely developed, but I anticipate change.
We came home late Saturday night to a wet floor in the kitchen.  You guessed it.  We had a leak somewhere in the water line to the ice maker or a malfunctioning ice maker.  I won't bore you with the details, however we have a temporary fix and are waiting with baited breath to see if the problem might be totally solved.  If it is not, we will need to call a repair man and empty the freezer.  Empty the freezer…that strikes terror in my heart and mind.  I guess you need to see my freezer to understand.
Full.
The plan to have pork roast for Easter will help substantially, but certainly not solve the issue.  I am praying for a permanent fix!  If the leak reoccurs, the menu plan will change significantly and the next weeks will be spent utilizing frozen food.
For now, I have formulated menu plan for week 43.  It begins and ends with no planned meals.
The 'Ole Buckeye has two evenings for the next few weeks that he will have dinner out.  On Tuesdays he is taking a course that offers a light meal and on Wednesdays he begins his sail racing schedule and the boys have a beer and light dinner after the sail.  That means for 2 nights a week I am on my own and need no menu plan.  In addition, the 'Ole Buckeye lucks out with his Thursday meal.  He has a cook once/eat twice dinner from last week that was saved in the freezer and will be thawed and ready for Thursday.
The rest of plan 43 includes selections from past plans not yet tried.  The salmon and French onion chicken remain untried and interesting.  The sausage and home fries a comfort food meal and a nod to the packet of Simply Potatoes Shredded Hash Browns because they near the usage date.
Of course our family Easter Dinner takes the top spot for the week.  We are having a Roast Pork Loin which I have come to call Fire Alarm Pork Loin.  No one had interest in a ham and the pork loin was a huge occupant of my freezer space.  My daughter and I will collaborate on the sides and the dessert.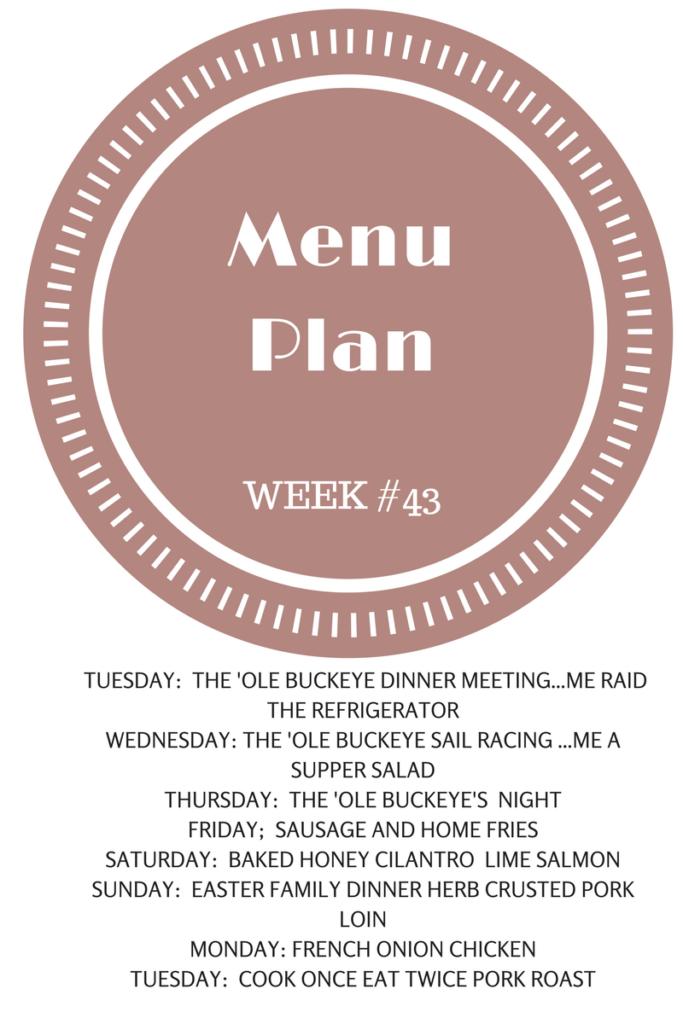 In case you were waiting for a review of week 42, I will of course fill you in.  Aside from left overs for cook once/eat twice meals, we enjoyed fabulous food in Chicagoland.  Our eating adventure began with lunch with our favorite neighbor at Jameson's Steak House, wine and catching up after her acute illness.  Our first evening took us to dinner with close friends at Wildfire, one of our favorite restaurants and it continues to be top notch for food and service.
Thursday was a treat.  After a barrage of Dr. appointments I had brunch with some of my old staff at Brunch Cafe…new for me, but excellent.  It provided much needed time for catching up.  The evening afforded the opportunity to continue a tradition with dear friends.  We bring our very favorite pizza of all time and they provide appetizers, salad and a deck of cards.  We play eucre and laugh as always.  Times I truly miss.
After days away week 43 begins and we will see how the plans develop.  Bon Appetit!
What Exactly Are You Looking For?