Making the Best of a Bad Situation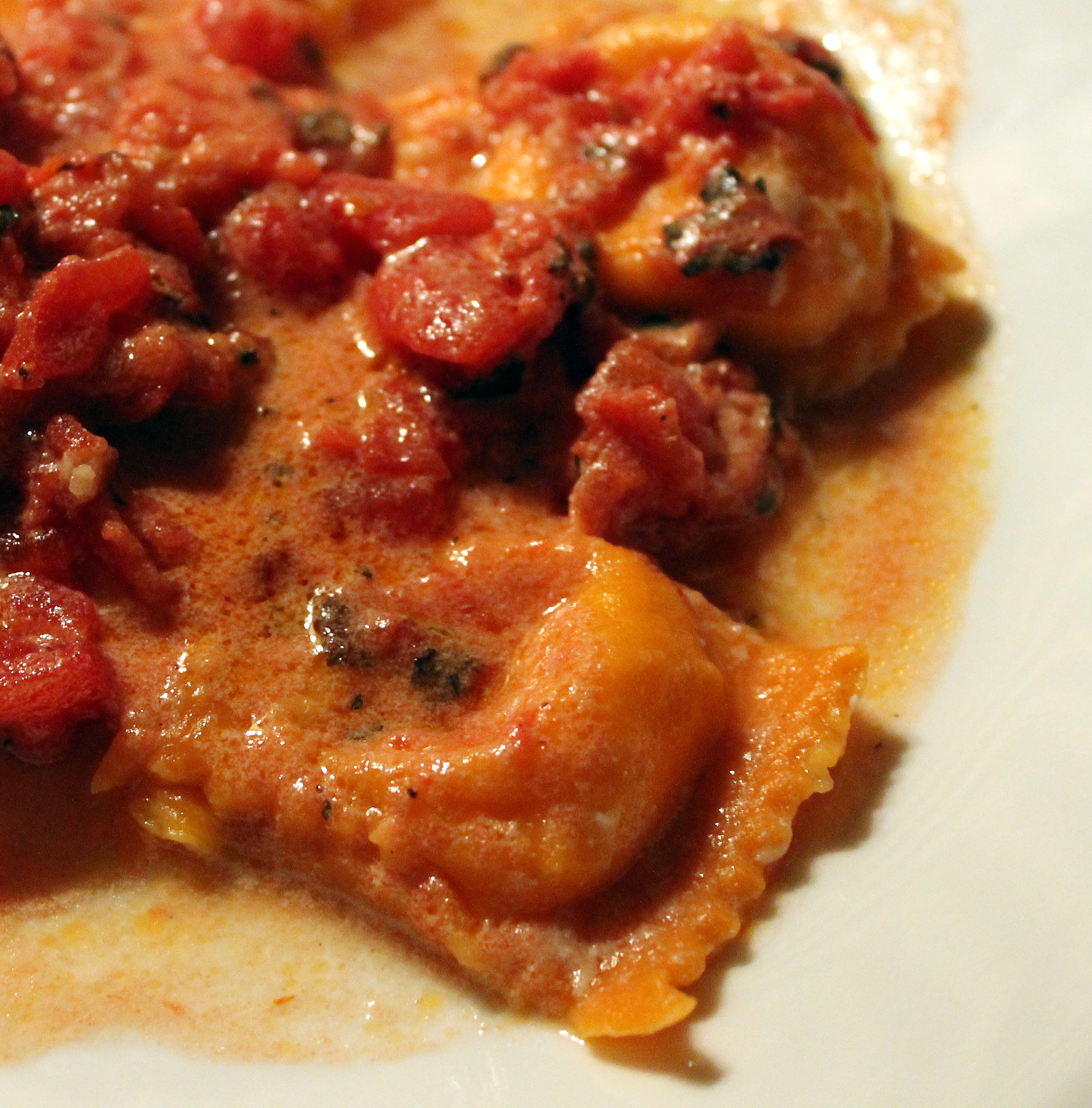 As I mentioned before, food is a centerpiece of our family get togethers.  Thus when we discovered that we had planned too much food to possibly consume (though we did give it our best effort), we edited our food plan and eliminated some meals.
We had planned a homemade ravioli meal for Sunday night.  Pat and I knew that the three of us enjoy cooking together, so we thought that preparing fresh pasta, filling and sauce would be fun and break up the work of this time consuming task.  After two days of eating though, we knew Sunday morning that we were not going to be hungry enough to eat this heavy meal that night.
But the pleasure of cooking together did make us decide to go ahead and make the ravioli and freeze it for future use.  Carol had never made homemade pasta so it was to be a learning experience for her.  Pat and I had made this recipe two years ago with the assistance of her husband.  We knew it was delicious so we were all in!
The process began.
At this point we combined the cheeses for the filling then began to roll out the dough.  Where was the camera when we were doing this?  Too bad, because it was at this point that the process took a definite turn for the worse.
I must confess that it was later in the day and a few adult beverages may have been consumed between the three of us.  I am not saying that it was the direct cause of the southward turn, I'm just sayin…
Uh.  The ravioli would not come off the maker.  The cheese filling burst through the pasta.  The dough stretched and split as we gently…and later brutally…pulled it from the ravioli form.  The product: a cheesy, doughy mound of failure.
We put the remaining dough and cheese in the refrigerator to wait for a more temperate moment.  Carol swore that she had never made pasta before and she would not be attempting it in the future.  She, however, would not give up on our mound of gooey mess.
She patted it out on a baking sheet and baked it.  She cut it with cookie cutters and served it to the unsuspecting guys on the porch as an appetizer.  They ate it.  Actually, it wasn't all that bad but it was probably flavored with laughter.
Two days later, fueled by coffee, I made the ravioli.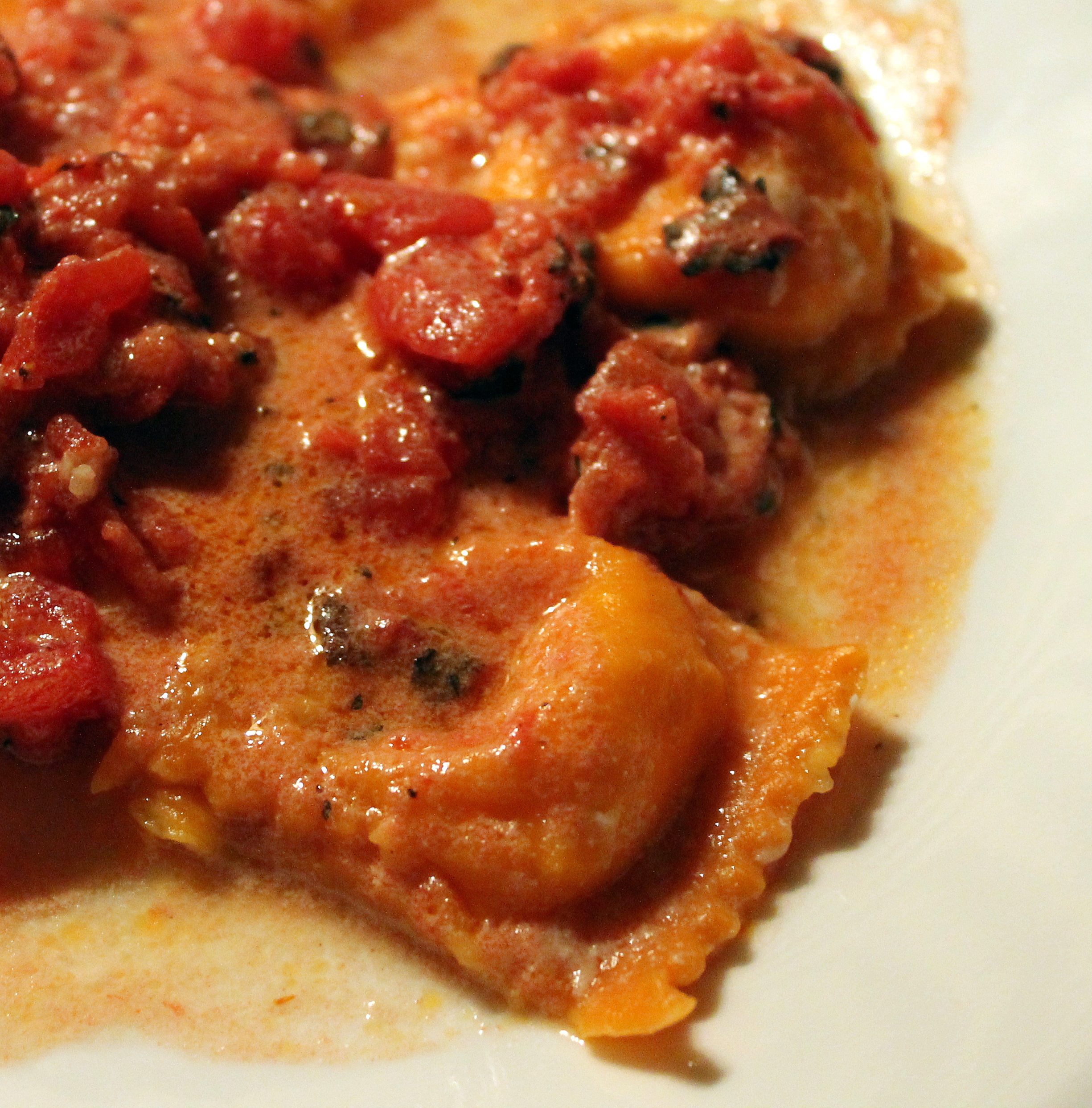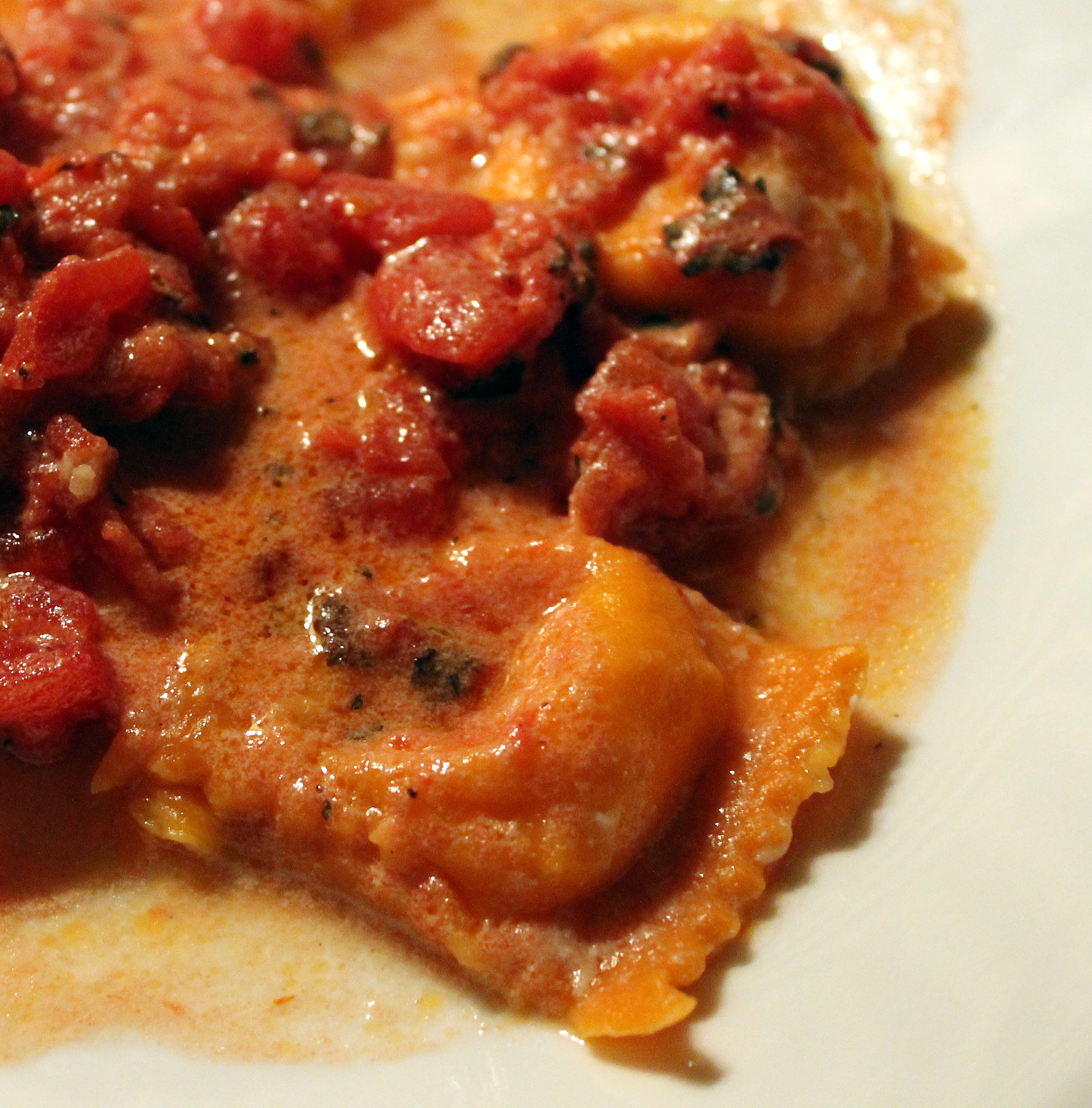 It was more than delicious.  Some of us will definitely make this again.
Four Cheese Roasted Red Pepper Ravioli
servings=4-6  time=1-2 hours depending on your skill  difficulty=time consuming and must use judgement
Adapted from a recipe by Guy Fieri from Food Network
Ingredients
2 large red bell peppers
2 1/2 teaspoons olive oil, plus more for roasting
3 eggs, divided
1/2 teaspoon salt, plus more for cooking pasta
12 to 16 ounces fine semolina flour, plus more for bench flour
1 cup all-purpose flour, for bench flour
1/2 cup grated Parmigiano-Reggiano
1/4 cup grated Asiago
1/2 cup grated pecorino
1 cup ricotta
2 teaspoons freshly cracked black pepper
Roast the red peppers in the oven, on a gas burner or grill, blackening the skins.  Put the hot peppers in a paper bag or in a tightly covered bowl for a few minutes until cool enough to handle.  Skins should easily be removed at this point.  Place peppers in a food processor and puree.
Add 1 egg, 2 1/2 teaspoons olive oil, and salt; pulse to combine. Add in 12 ounces of the semolina and pulse to combine. A dough ball should start to form after 6 to 7 pulses. If the mixture is too wet, add more semolina until a dough ball forms. Process for 1 minute and turn the dough out onto a lightly semolina-floured cutting board. Sprinkle with a little more semolina and knead until smooth. (We needed to add all the semolina the day we made our ravioli but it will depend on the juiciness of your peppers and the size of your eggs.) Wrap in plastic wrap and allow to rest for 30 to 45 minutes.
Combine the cheeses with the pepper and stir in two beaten eggs.
If you have a pasta machine like we did.  Pass the dough through the machine until you have thin sheets.  We took ours to level 6 on our machine.  Guy Fieri suggests taking it to level 9.  We must have very different machines.  Our finished ravioli was tender and delicious at this setting.
Place a sheet of dough down, put small (1 to1 1/2 t) of filling at intervals on the dough.  Place another sheet over the filling and, working from the center out carefully seal the pillows.  Make sure you push out the air pockets as you gently work from the center of the dough outwards. I am sure there are a myriad of  Youtube videos on how to do this.  Or use a ravioli form like we did.  Very handy.  Just oil it so the dough doesn't stick.
Cook the ravioli in gently boiling salted water for 2-3 minutes.  Treat the gently after all that work.  Serve with Tomato Vodka Cream Sauce (recipe follows).  Don't worry, the sauce is easy peasy.
Tomato Vodka Cream Sauce
servings=4-6   time=20 minutes   difficulty="easy
Adapted from a recipe from Cook's Illustrated
2 (15 oz) cans fire roasted tomatoes
2 cloves garlic
3 tablespoons olive oil
1/4 teaspoon red pepper flakes
1/2cup vodka
1 cup half and half
Ground black pepper
1/4 teaspoon  sugar
1/2 teaspoons salt
Put garlic cloves through garlic press into a small bowl and add 1 t water.  Heat 2 T oil and the garlic and pepper flakes in a saute pan over medium heat until fragrant not brown (about 2 minutes).  Stir in tomatoes and simmer 5 minutes.  Add vodka and simmer another 5 minutes.  Stir in cream, pepper to taste, sugar and 1/2 t salt.  Simmer 2 to 3 minutes and serve.
Some day when you have time, patience, and want to create a delicious meal, try this one.  It is terrific!  Entertaining too!