Chronicle of a Bad Situation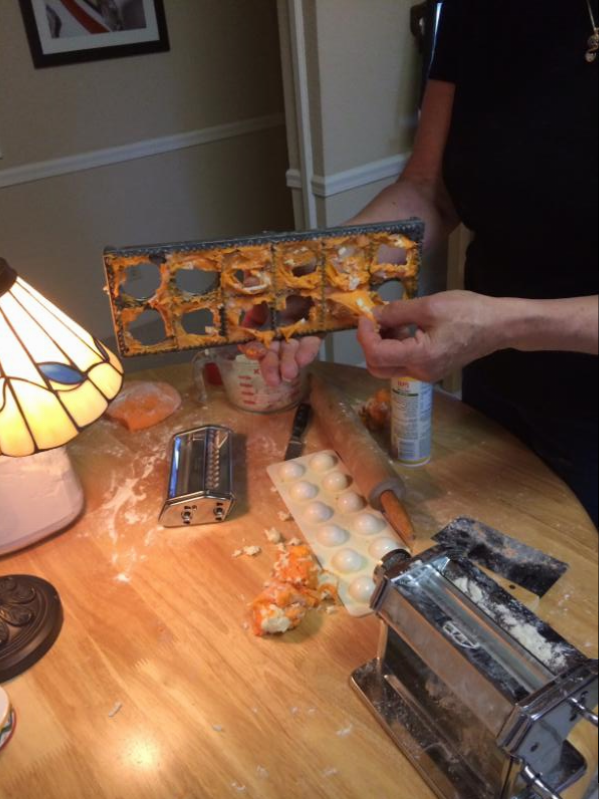 In Jan's blog post dated February 20th,  Making the Best of a Bad Situation, she wrote…"Where was the camera when we were doing this?  Too bad, because it was at this point that the process took a definite turn for the worse".  Obviously, Jan did not realize that I could document this learning experience perfectly.  I was bent on chronicling this disaster as it developed!
I was truly mesmorizied to read that my two sisters created such a delightful ravoli meal after I left.  I am certain that it was delicious.
However, after my experience observing the creation of homemade pasta, I continue to vow never to attempt ravioli!
So here goes my rendition of making ravioli.
The tool.  Using it would be my job.  This process was not detailed with imagery  because I was busy cranking and making the dough paper thin.
The initial dough.  I had reservations when it was sticking to everything, however, after offering my not so humble opinion, I was told, "Adding more flour should do the trick."
As Jan describes…"Uh.  The ravioli would not come off the maker.  The cheese filling burst through the pasta.  The dough stretched and split as we gently…and later brutally…pulled it from the ravioli form."
"The product: a cheesy, doughy mound of failure."
Jan continues…
"We put the remaining dough and cheese in the refrigerator to wait for a more temperate moment."
"Carol swore that she had never made pasta before and she would not be attempting it in the future.  She, however, would not give up on our mound of gooey mess."  "She patted it out on a baking sheet and baked it.  She cut it with cookie cutters and served it to the unsuspecting guys on the porch as an appetizer.  They ate it.  Actually, it wasn't all that bad but it was probably flavored with laughter."
To be perfectly honest my little four cheese roasted red pepper stars and stripes were very creative, even if I do say so myself.   I most likely will never have the opportunity to serve my unique pasta creations again.  I will say that the only comment from the guys as they ate each doughy morsel was, "These would have been better if we could have dipped them into some Marina Sauce!"
Lessons learned:
1.  I will not venture into pasta making anytime in the near future.
2.  Guys relaxing on the porch with drinks in hand will eat anything!
3.  Some things are better with Marina Sauce.