Staging the Bathrooms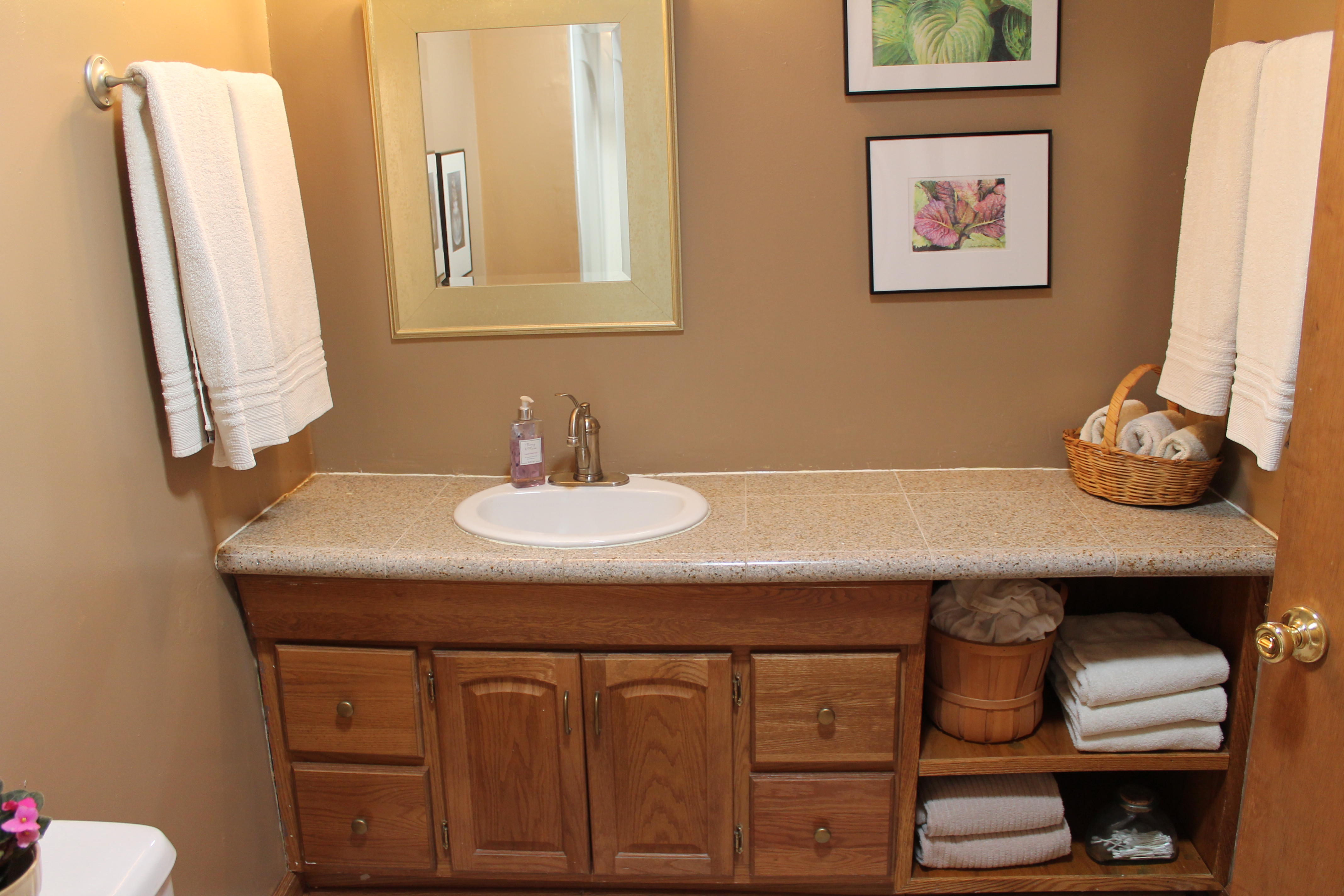 So, they say kitchens and bathrooms sell houses.  For that reason, I focused attention on some details in my fairly humdrum, average bathrooms.
Each of my bathrooms is the same size about 6′ x 9′.  They were built before the mega bathroom trend began.
The master bath has a shower.  The guest bath, a tub.  Let me show you some before and after pics.  Since pictures speak more loudly, you know.
The Master Bathroom
Before staging the master bathroom was mainly territory claimed by The Bearded One.  He is a guy who loves cars and gardening, his kids and quirky things (remember all those interesting things in the den?).  The master bath reflected that.  We had updated the vanity and sink two years ago so no big physical changes were needed.
Only fairly minor cosmetic changes in this bathroom but what a nice difference.  A lot of time was also spent on detailed cleaning of the shower and shower doors.  Out with the old caulk and in with new.  Also I cannot say enough about Meguiar's Hard Water Spot Remover!  Pat recommended it for the shower doors.  She had experience with it cleaning automobiles.  It is terrific.  I have tried many things over the years to clean hard water spots off glass shower doors.  This was the best ever!
The Guest Bath
The guest bath was wallpapered.  Fairly subdued faux painting type wallpaper but wallpaper none the less.  The biggest job was stripping the wallpaper.  Thank goodness it is a small room!  The marble tile countertop was added a few years ago and fixtures did not need updating.
With the vanity area complete, I turned to the tub.  Pat suggested the rack (she has an eye for detail.  The tub is staged as a spa-like retreat.  Just needs a glass of wine!
So the bathrooms are complete!  The house goes on the market in two days so I am putting finishing touches on other rooms.  I will update you soon!
What Exactly Are You Looking For?