Mother's Week
It is Mother's Day and I am thankful today for the very special mom that I shared with my 2 sisters.  I think that we all had very individual relationships with her and I know she tried to treat us each fairly making certain things were as "even" as possible.  Although we are all very different and unique women, her guidance and influence in our lives gave us the strength and integrity needed to be successful wives and mothers ourselves.
My post earlier this week talked about moms and grandmas, pennies and cardinals.  Since that post, 3 pennies have appeared in three separate areas in our townhouse; places that had already been loosely surveyed…uncanny.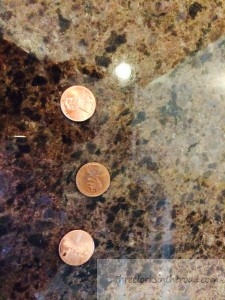 Although I haven't seen the cardinal again, on Friday evening when the Ol' Buckeye and I had a few moments in the courtyard, we heard the tell tale cheeps nearby.  Yesterday we made a special trip to buy black sunflower seeds and I spent part of the day untangling a feeder from the pergola there.  The live and dead branches of the unkept vines had incapsulated the hidden feeder.   After a conserted effort the feeder (exactly like the one in our home in Illinois) was freed.  It was cleaned, filled with seed, and hung in a spot for better viewing.  In addition the Ol' Buckeye cleaned out the decayed leaves from the fountain and  rinsed it several times.  Although this project is far from complete, it is much better.
As we continue to spend time preparing our home to be "move in" ready, we will watch the feeder as well.
It is Mother's Day today, but I have been blessed with a Mother's Week, full of reminders from the two women who have touched me most.  To them…Happy Mother's Day.