Fall Fruit Salad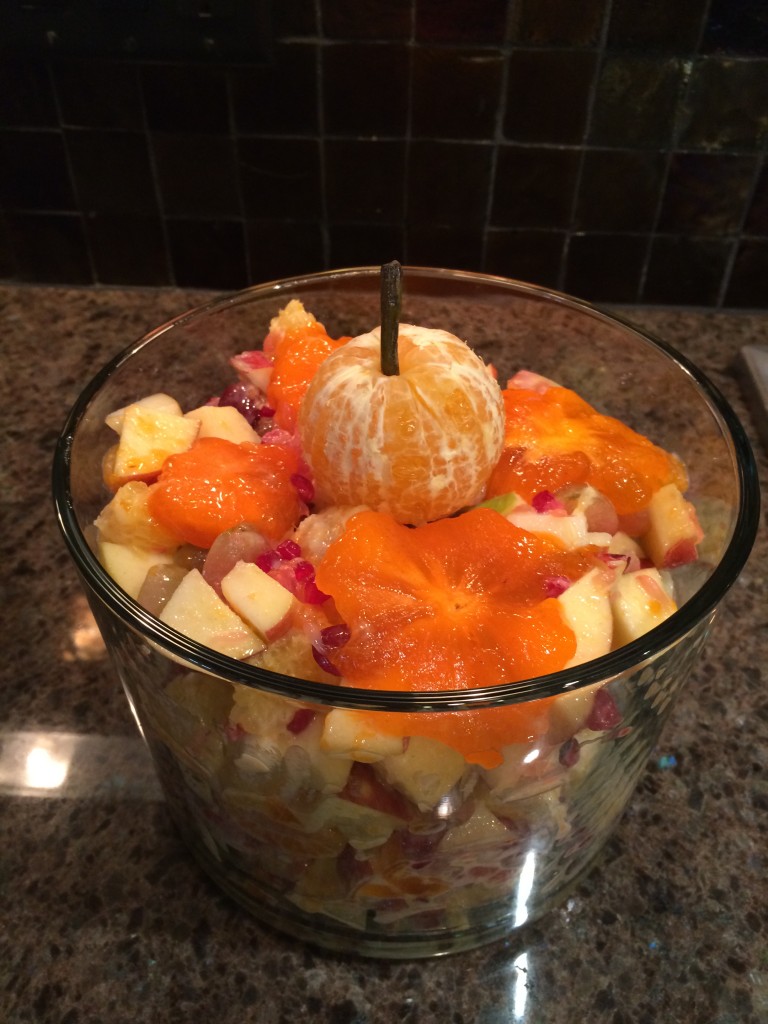 We were invited to a brunch yesterday honoring recent newlyweds.   I was asked to bring a fruit salad.  Pretty simple…right?   First you must understand that many of those attending the brunch are paleo  including the hostess.  In addition, I am more than slightly intimidated by the cooking skills of the host and hostess.
I like to consider myself  a master of summer fruit salads….fall salads, not so much.  After scouring the internet and discarding a simple Waldorf apple salad, I decided to strike out on my own.  I wanted to use fall fruits, and incorporate additional seasonal  treats only found at this time of year.  I wanted to stretch and try additions that I have never used before.
I had on hand red grapes, apples…Fuiji, and Honey Crisps, a red grapefruit, a pomegranate and Red Anjou pears. a variety I had not used before.  On Friday I went on a search for something more exotic and found Satsuma mandarin oranges and Persimmons.  I also added toasted pumpkin seeds to my basket….I hadn't done a jack o lantern this year…so no seeds on hand.
I have never purchased pomegranates or Persimmons.  I tend to do the familiar especially with fruits.  Selecting for ripeness and correct preparation can be intimidating.  I had never seen the Satsuma mandarins before….amazingly delicious!
I was excited about the combination
The dressing…another matter.  Most had sugar.  I wanted something to bind and enhance, but let the fruit shine.  Nothing sounded just right.  Finally I settled on a yogurt dressing with cinnamon and maple.  I knew it would be great with the fruits selected.
Prepare the fruits. I used lemon juice on the pears and apples to prevent browning.

Combine all of the fruits and refrigerate before serving

Mix all of the dressing ingredients together and chill.

Just prior to serving add the seeds and the dressing to the fruit. Add just enough dressing to lightly coat. I used about 1/2 of the dressing.

Add the sliced Persimmons to the top of the salad. I also added a pumpkin tangerine to add a festive touch.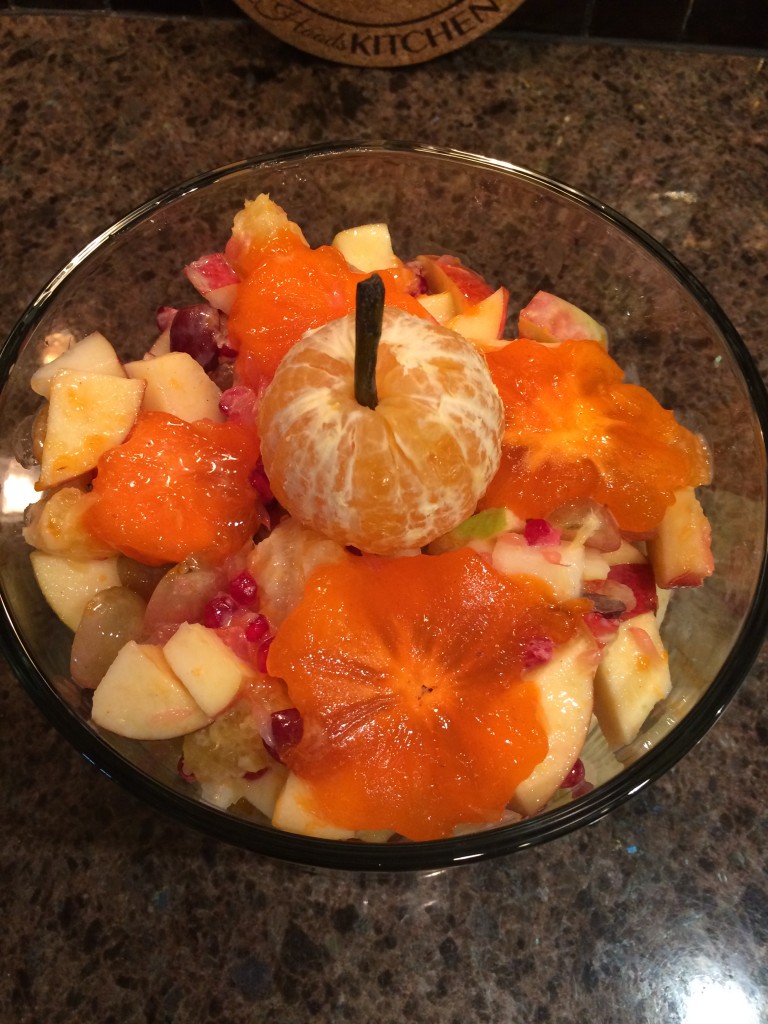 The dressing on this salad will separate if combined to far in advance and the seeds will get soggy.  Be sure to dress the salad just prior to serving.  Enjoy!
An additional footnote.  We had the leftover salad for lunch today.  It was still delicious.  The pears and apples had not browned and remained crisp and all the other fruits retained their consistency and flavor...an unexpected treat!
***Pumpkin tangerine.  Peel the fruit and add a stem.  I usually use a short stalk of celery, but for Sunday I used the stem of the persimmon.
What Exactly Are You Looking For?