Menu Plan Week #40
The menu plan for week #40 ended up being a breeze to create.  I elected to arrange meal delivery from Blue Apron for several reasons.   The choices included catfish which intrigued the 'Ole Buckeye, meatballs (there are never enough good meatball recipes), and a new category announced by Blue Apron…a guest chef series.  The initial offering is a recipe adapted from the winning dish seen in Bravo's Top Chef Season 14 finale. The original recipe was created by the season's winner, Brooke Williamson—Co-Executive Chef and Co-Owner of Hudson House, Playa Provisions, The Tripel and Da Kikokiko in Los Angeles.
Although the feedback from Blue Apron subscribers was not positive, since the original recipe called for pork belly rather than pork loin, I decided to give Blue Apron the benefit of the doubt.  Week #40 will once again feature Blue Apron creations.
Aside from repeating several meals…cook once/eat twice, I have included Rachael Ray's roasted grapes and sausage.  Red grapes were a great buy at Kroger.  The additional meal pulled from Looks Good Enough to Try is an Ina Garten recipe for pot roast.  She calls it company pot roast and I happened to catch the segment on Food Network when she was preparing it.  Chuck roasts were on sale at Kroger.  What better time to give her rendition a try.  Plus if it is indeed good enough for company, it could be a future family dinner meal.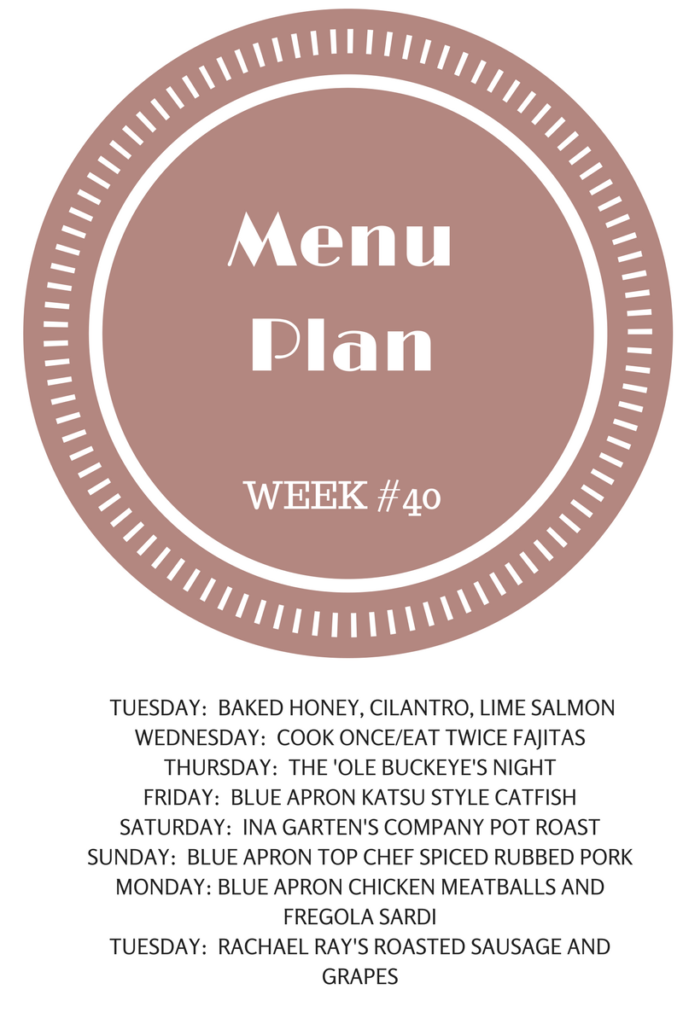 In planning week #40 I relied on grocery specials as inspiration.  It is easy with so many recipe options on my pinterest board, which by the way continues to grow.  It really has gotten out of hand.  (790 pins!)
The 'Ole Buckeye has been complaining lately.  He has requested that we just do a rotation of tried and true recipes that we enjoy.   I remind him that many of those recipes have evolved from Looks Good Enough to Try.  https://www.pinterest.com/carolhood2/looks-good-enough-to-try/
I guess a compromise is in order.  Over the past weeks I have incorporated some of our family favorites, which have been thoroughly enjoyed.  I have also included new recipes which have been added to our favorites.  The menu plan for week #40 includes Rachael Ray's recipe for roasted sausage and grapes, which we tried for the first time earlier this year.  Not only am I repeating it, but my daughter has added it to their meal rotation and I have added it to family favs.  Point made.
Menu planning is a process.  The benefits have been innumerable.  Week # 40 is no exception.  Here's to another week of happy cooking and enjoyable eating.
What Exactly Are You Looking For?