The menu plan for week 62 is filled with family favs.  Many of the planned dinners have become a true favorite of ours.  Many of the recipes fall within the THM guidelines.  The others I will adapt to make them comply.  I know that we will thoroughly enjoy our evening meals.  No evening experiments this week.  Actually the experiments in week 62 will be during breakfasts and lunches.
I have decided to go light on the eggs for breakfast this week.  I am normally not hungry enough when I get up for an egg laden morning meal.  This week I am "shaken it up".  I keep trying shakes finding some acceptable and some not so much.  What I like about a shake as my first meal is that I can manage the preparation and savor the amount.  More often than not, I give part of the shake to the 'Ole Buckeye.  I ask for his assessment as well.  I have become much more accustomed to some of the flavors than he has, so his feedback is important to me.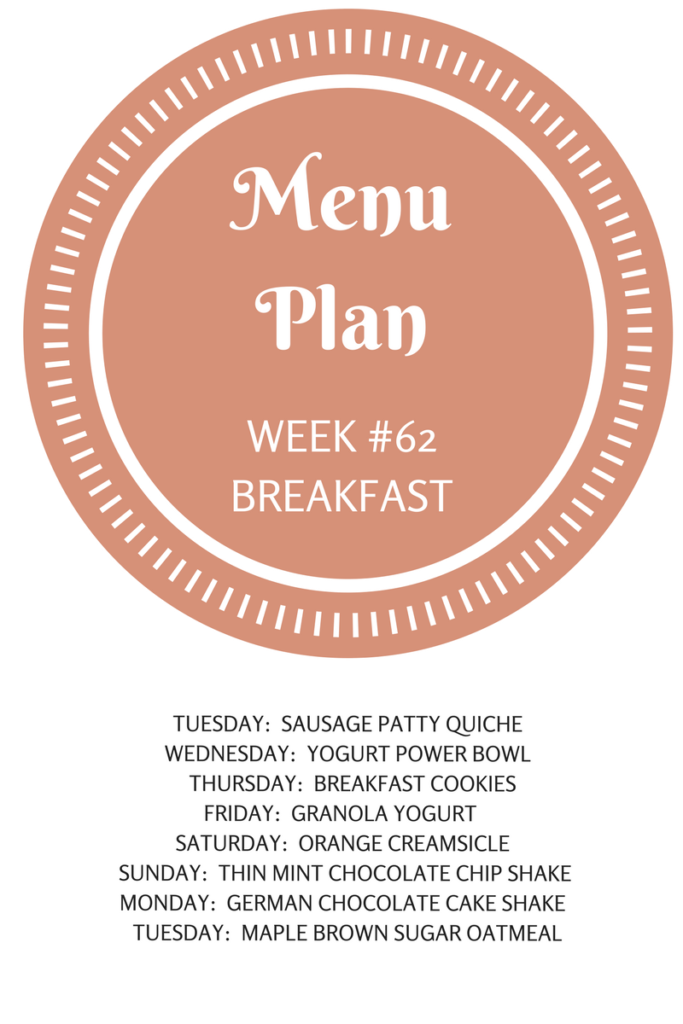 Aside from the cook once/eat twice (plus) quiche, I have planned 2 new versions of yogurt and an oatmeal recipe still untried.  The breakfast cookies are right out of the freezer.  The rest of the AM fare consists of shakes.  Some are repeats, some are new.   I would like to come up with 7-10 outstanding shakes, and just leave it at that.  I could then put them on a rotation and not fret about having the correct ingredients on hand.
Orange Creamsicle  page 409 Trim Healthy Mama Cookbook
Thin Mint Chocolate Chip Shake  Page 410 Trim Healthy Mama Cookbook
German Chocolate Shake  Page 413 Trim Healthy Mama Cookbook
The lunches planned for week 62 are mostly repeats.  I find that lunches are the meals that require the most flexibility due to our schedule.  I also find that even though I have something planned, we have left overs that would be better.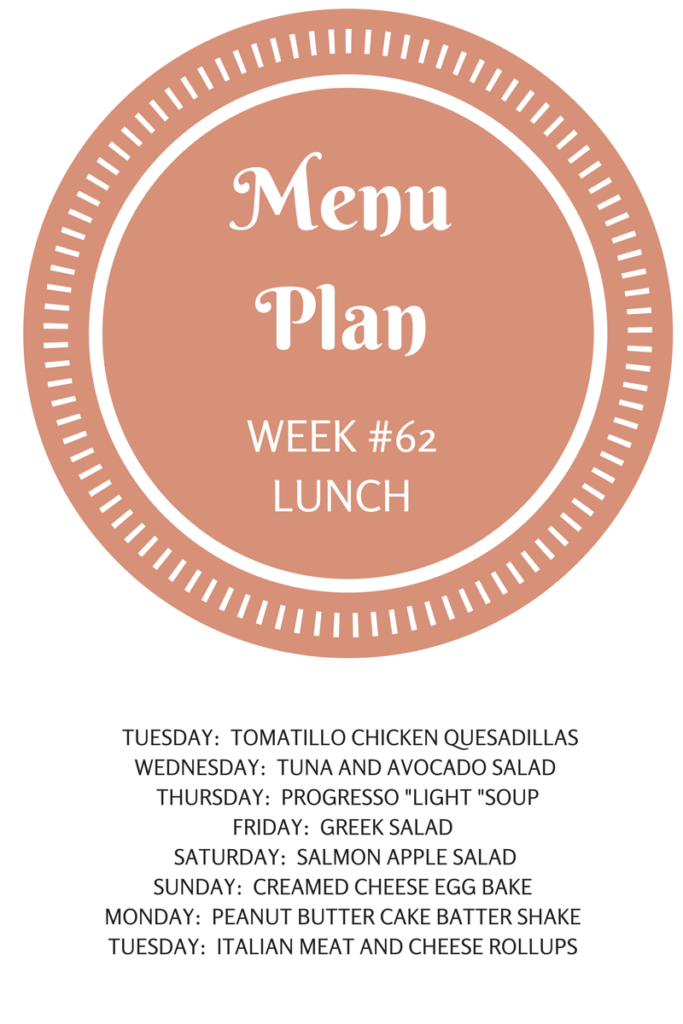 or
Peanut Butter Cake Batter Shake
As I explained at the onset, the dinners planned during week 62 are some of our very favorites.  Several I have not made in quite some time.  Most of them are extremely close to the THM guidelines.  I will tweak them.  It would be wonderful if our family favorites were part of this new healthy eating lifestyle.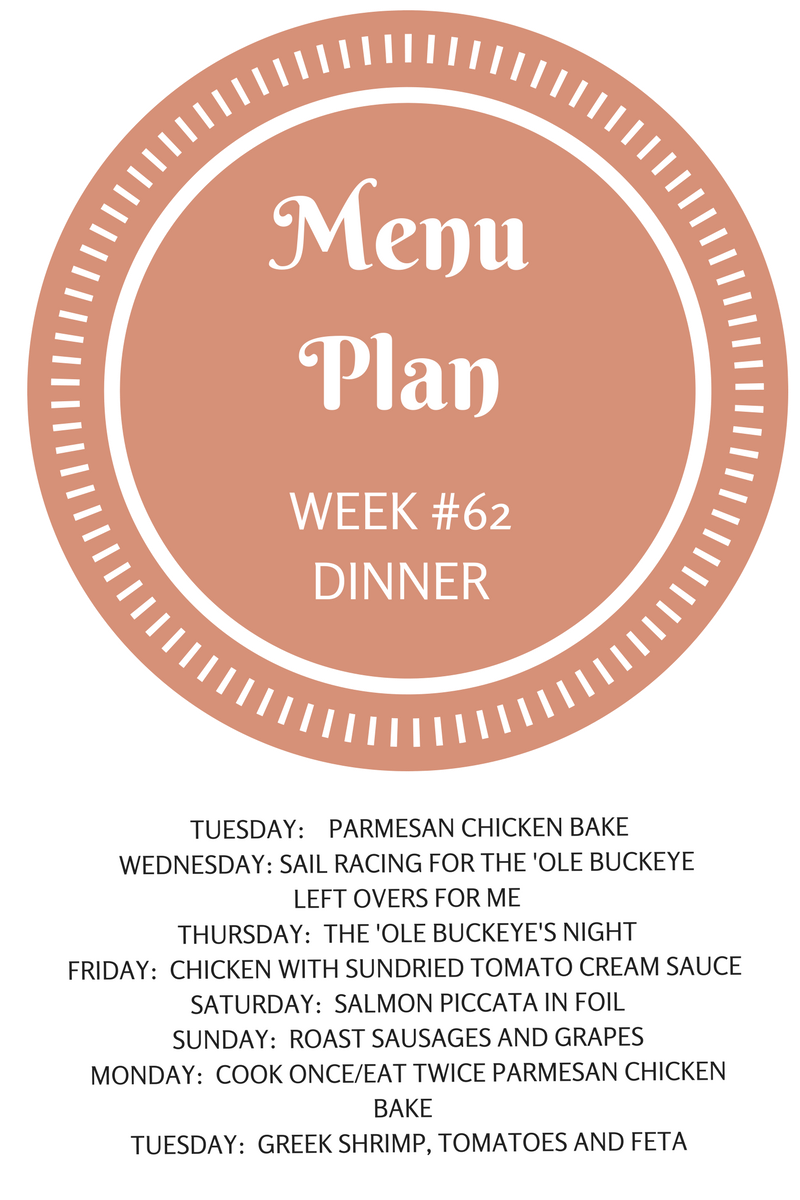 TREAT TRYS…Just what I need, another category, right.  Well beginning with week 62 I will experiment with at least one new treat.  I am not a sweet eater.  I normally crave salty crunch, but I do want to add some sweet treats to my favorites.   This week it will be Pumpkin Energy Bites
HITS AND MISSES
Zucchini and Green Chili Breakfast Casserole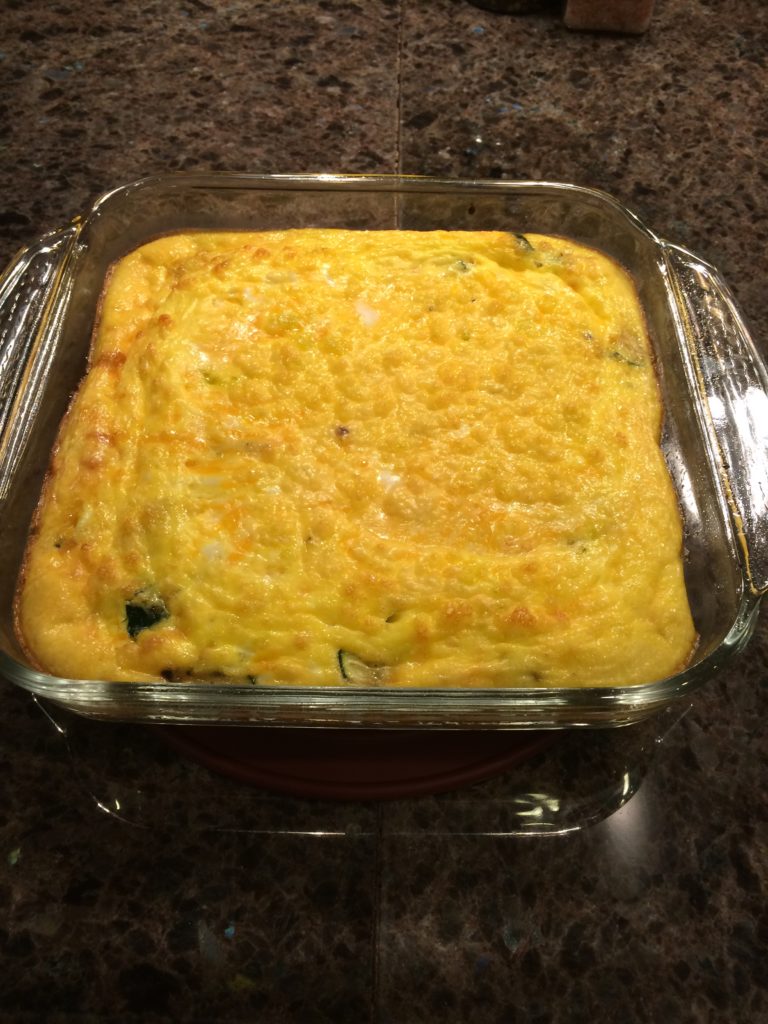 Delish…says the 'Ole Buckeye.  This casserole is quite good.  I used canned Jalapeño peppers since I had them on hand.  I used abut 2 tablespoons of chopped "hot" from the can.  The eggs were spicy, but not too spicy.  The 'Ole Buckeye liked the flavor a lot, but missed the meat (bacon) that was in the Bacon and Eggs Cottage Casserole.  Bacon and Egg Cottage Casserole  Maybe the next time I will add a little meat for him.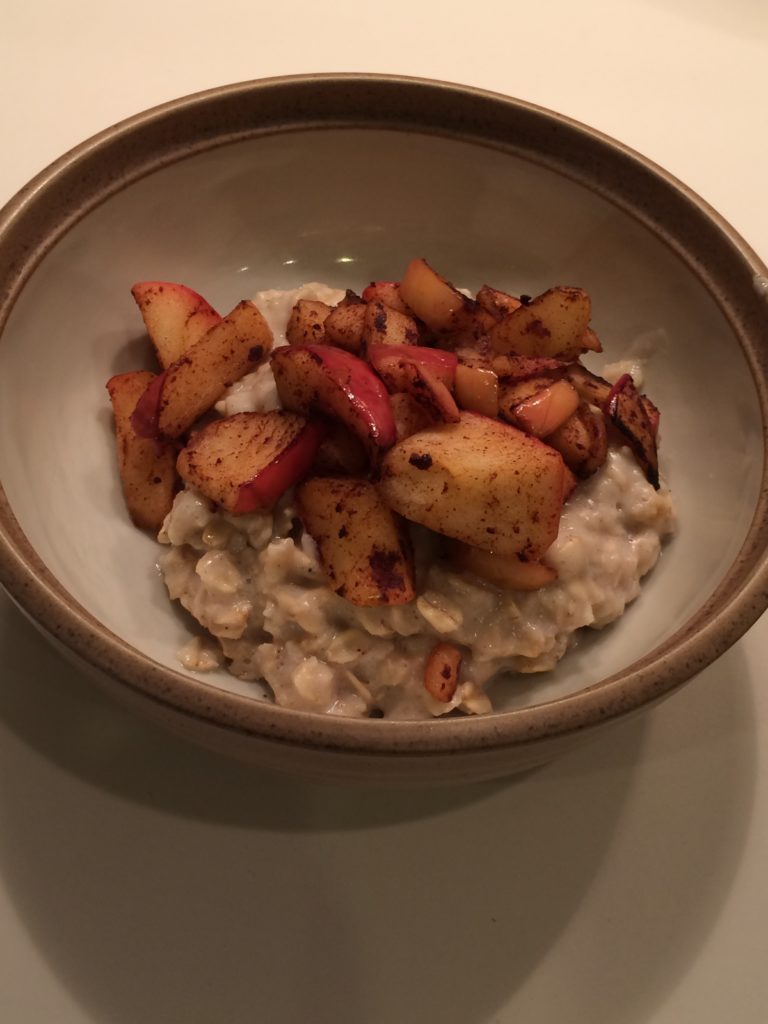 This was a pleasant surprise!   Extremely satisfying especially when you crave some sweetness and some carb.  I did add some egg whites to the oatmeal to beef up the protein.  I will definitely make this a breakfast staple, especially this winter.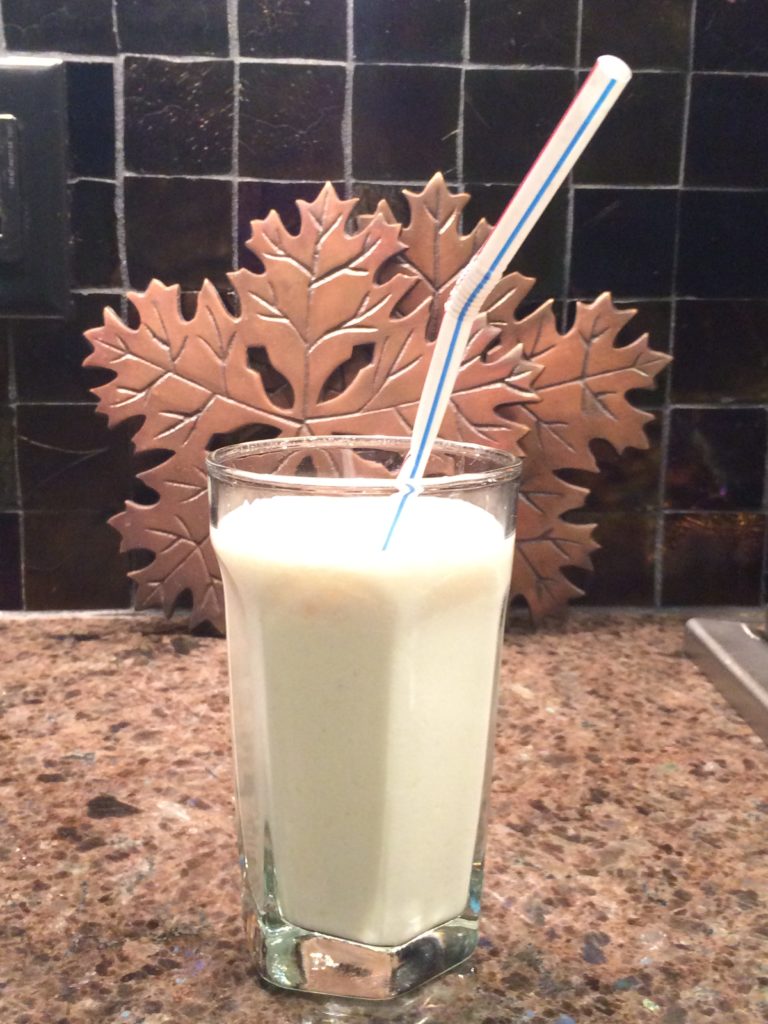 Don't get me wrong…I love Lemon, thus the reason for planning two different lemon drinks this week.  This frosted lemonade was a fail.  It tasted like lemon flavored protein powder in a drink.  I won't be making this again.  Since it was a fail, I decided against another Lemon drink this week.  I will save it for a later edition.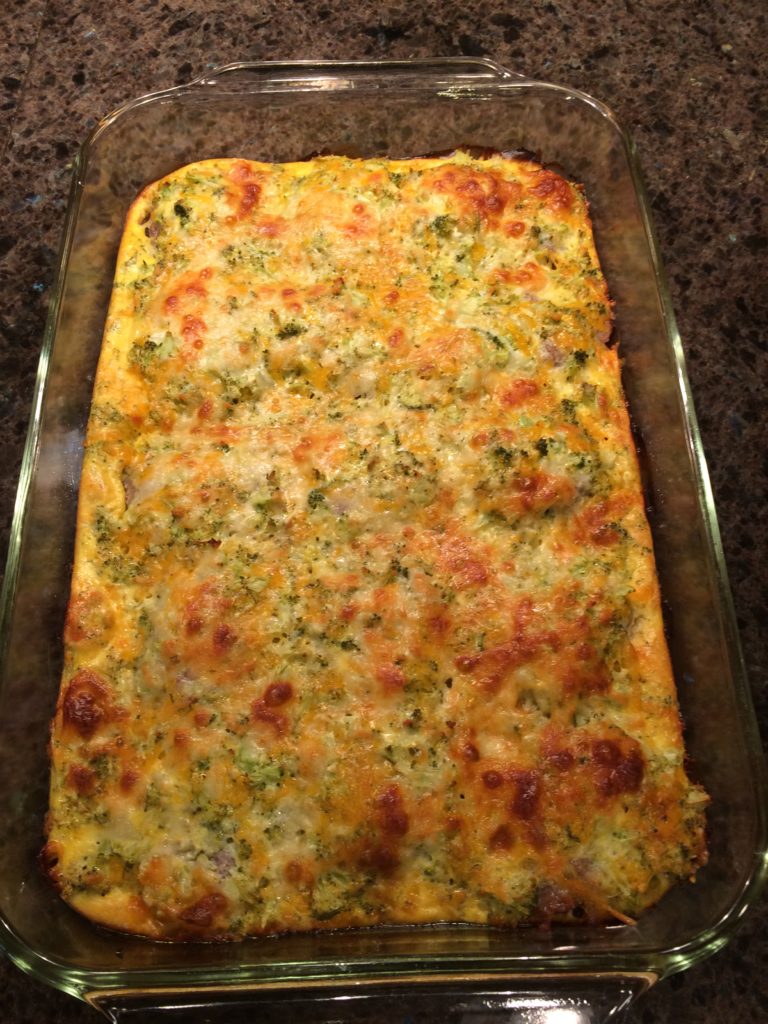 I must say that this is a hearty breakfast.  I cut the servings into squares…3 across, since there was a sausage patty centered on each.  It was difficult for me to eat 2 squares.  As breakfast casseroles go, it is fairly good.  I did think that finely chopping the broccoli as suggested was a bit labor intensive for a morning prep.  The 'Ole Buckeye liked it a lot and has been eating it all week.  The next time I may choose to crumble the sausage in the bottom of the casserole to more evenly distribute the flavor of the meat.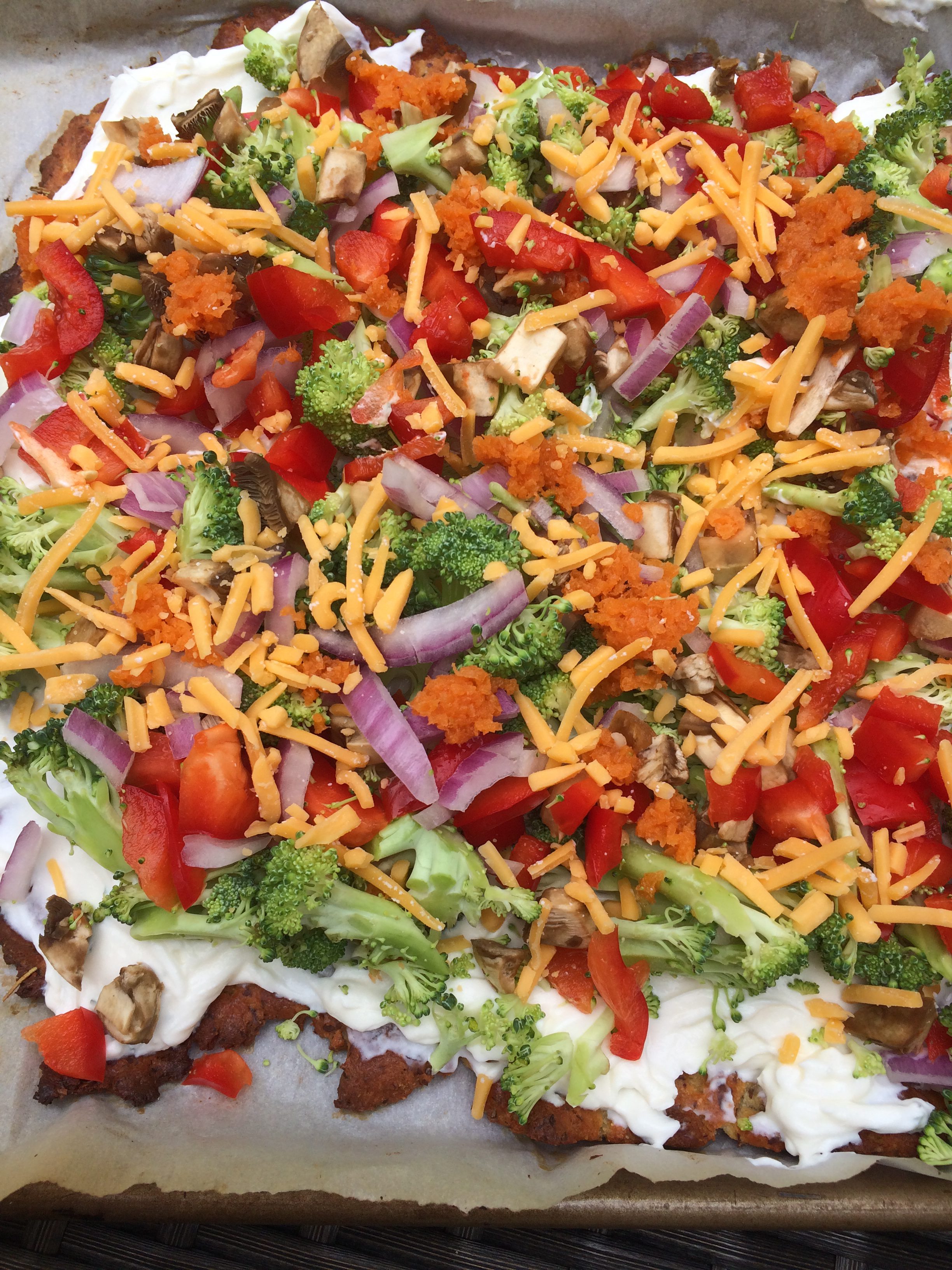 This was quite good although I baked the crust just a little too long.  The recipe called for 12-15 minutes and I set the time for 13 minutes.  It would have been perfect at 12.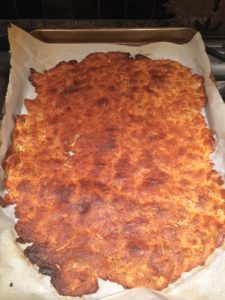 We had this for lunch, and there was enough remaining for a cook once/eat twice meal, however I elected to serve this for  "Happy Hour" as an appetizer.  It was a great way to utilize a multitude of veggies.  I added mushrooms, and doubled the broccoli.  Quite good, although I will add more spices and herbs.  This would have been much better with lots of fresh dill.
Once again I forgot to take a picture!  Years ago I made a Tomatillo Quesadilla recipe that knocked it out of the park.  After eating the THM quesadilla recipe last week, I knew I could make something with more flavor.  I spent some time looking for the recipe I used at that time, but no luck.  I found this one and it looked like it might be a close match.  The quesadillas were good (actually the 'Ole Buckeye really liked them).  I was a little disappointed, however that may have been because I had low carb tortillas and scant cheese.  I think I will continue to look for my original recipe.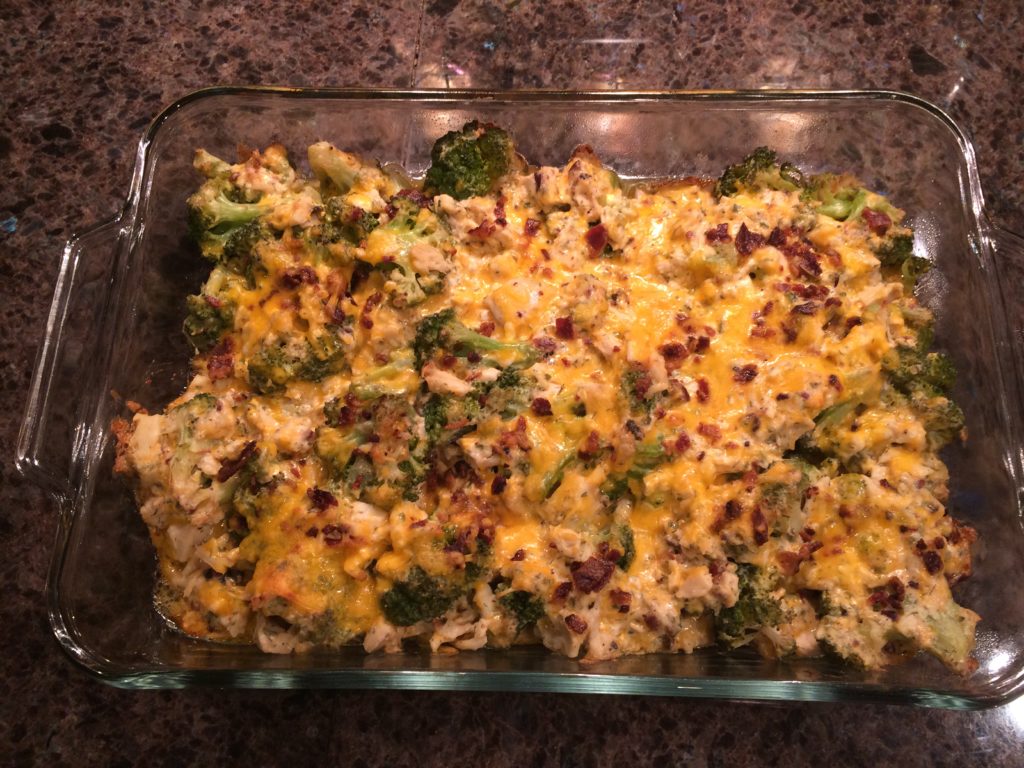 Let me begin by saying that I have a recipe for chicken (turkey) divan that I have been making for years.  It was a favorite of my children when they were growing up.  It was always on the menu after the holidays because it utilized left overs.  Normally I would not have even tried this recipe, but I needed to use up some broccoli and the addition of bacon was intriguing.  I am so glad that I tried it.  It is a winner!  Kids of all ages will love this as did the 'Ole Buckeye.  It could be a brunch, lunch or dinner.  This preparation made it possible to have all of the flavors combined in each bite.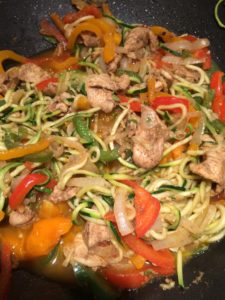 One Pot Fajita Pasta with Zucchini Zoodles
I am frequently on the look out for a flavorful meal that will satisfy my longing for pasta.  Although this one is nor Italian, the flavors were delicious.
The brightness of the meal was brought out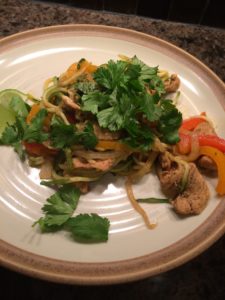 by the addition of the lime and cilantro.  The next time I think a will add a little more heat.  I think I will add just a small amout of sliced jalapeño.  The 'Ole Buckeye does not like meals too spicy, but this needed a little more.  I will also add more of the chicken.  It is definitely helpful to allow the chicken and peppers to marinade for a while before sautéing them.  Very good dinner and worth a repeat.
Wicked White Chili from the Trim Healthy Mama Cookbook page 37.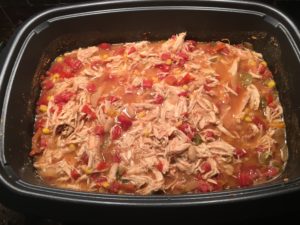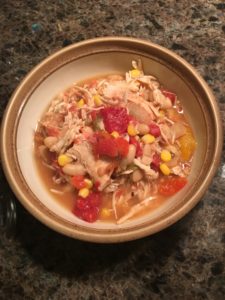 Of course I fixed this crockpot dinner thinking "welcome fall", however it was 85 degrees here today.  Not a particularly good choice for a hot day.  That being said, it was very good and I am sure it will be a repeat over the winter.  I don't have very many E meals for dinners and this one fits the bill.  It will be a great cook/once eat twice addition.  In fact it will feed us more than twice.  I will freeze some for lunches or dinners in the future.
So there you have it.  We have had yet again another week of healthy eating.  Some of the meals on the plan were again bumped due to various happenings, but they will reappear in the future.  Luckily I continue to have good fortune finding delicious meals to continue the journey on Trim Healthy Mama eating plan while keeping the 'Ole Buckeye happy.  The fact that there are nearly always interesting egg preps for breakfast makes his mornings.
We are off once again, looking forward to week 62 and  another week of healthy eating.  Bon Appetit!
SaveSave
SaveSave
SaveSave
SaveSave
SaveSave
SaveSave